The Final Call |
Sister Space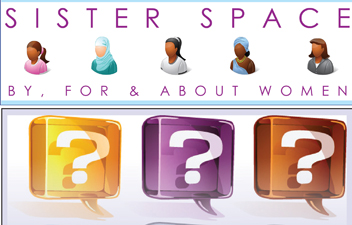 by Raven Smith -Guest Columnist-
Life can be interesting when navigating the world and understanding your fellow man and woman. Brothers are attempting to reach sisters. There are several questions that a sister at times... »
FEATURED STORIES
Life can be interesting when navigating the world and understanding...
In February of this year, women and girls of various...
New Haven, Conn. - Sisters of Today and Tomorrow (SOT)...
UNITED NATIONS - A leading non-governmental organization (NGO), advocating the...
HOUSTON, Texas - Ebony Muhammad studies death, dying, bereavement, and...
WASHINGTON - Aminah Muhammad known across the Nation of Islam...
UNITED NATIONS (IPS) - Addressing violence against women, in all...
Picture a world of conscious people who greet one another...
How many successful Black women are shown married to decent...
One of my favorite sections of the Holy Qur'an is...
There is no success in building a nation without the...
I began the journey to become a vegetarian about 7...