The Final Call |
Sister Space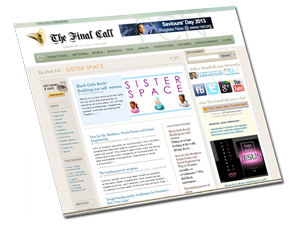 by Laila Muhammad
Dynamic influencing factors—such as technology, social media and online connectivity—enable the Black consumer segment to leverage its collective power and influence.... »
FEATURED STORIES
Dynamic influencing factors—such as technology, social media and online connectivity—enable...
The liver is the second largest organ in the human...
There is a heartbeat that flows through the universe. There...
A Nation is judged by its woman and until we...
WASHINGTON - When BriGette McCoy joined the military she wanted...
One of the most important relationships that a girl can...
With the monetary increase in healthcare, the adverse effects of...
Upon first hearing her voice, she sounds like a mixture...