The Final Call |
Business & Money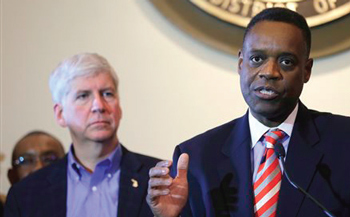 by DCurt Guyette
The Michigan Citizen
It began in early 2012, when lawyers from the Jones Day law firm, in conjunction with the investment banking firm Miller Buckfire, began secretly meeting with Gov. Snyder's office and... »
FEATURED STORIES
Black people pooling economic resources is not an unrealistic fantasy...
George Fraser may not be among the most well known...
It began in early 2012, when lawyers from the Jones...
WASHINGTON - The banking industry seems to bring out dishonesty...
Over the past few decades Black people have been led...
Here's an intriguing concept: Arrest the Black dollar. Say what,...
Remember the Jena Six? Some 15,000 to 20,000 protesters went...
In just a few days, the debt trap at the...
Lower wage jobs are gaining in the employment market while...
The wealth gap in the U.S. has been widening since...
NEW YORK - Six years after the financial crisis, Wall...
Imagine the U.S. dollar being worthless. Picture millionaires and billionaires...