The Final Call |
National News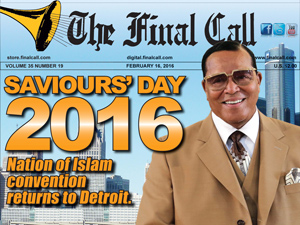 by
Ashahed M. Muhammad
-Assistant Editor-
Self-determination fuels Nation of Islam Saviours' Day 2016 in Detroit DETROIT—Anticipation and excitement grows as final preparations are being made for the Nation of Islam's annual 2016 Saviours' Day Convention.... »
FEATURED STORIES
Following the monumental #JusticeOrElse gathering on October 10, 2015 in...
PHOENIX—In an exclusive interview, the Honorable Minister Louis Farrakhan dealt...
WASHINGTON - Despite a long list of major political victories...
Millions see Christmas as the birth anniversary of Jesus and...
If 2015 is any indication, more direct action is coming...
With his back against a wall, a hail of police...
LOS ANGELES - Coming out of the extremely successful organizing...
COLUMBIA, S.C. - Disdain nationwide and protests in South Carolina...
Farrakhan warns Hip Hop artists traps are being set by...
COLUMBIA, S.C. - Leaders and youth from street organizations, also...
PHILADELPHIA - The city of Brotherly Love is a great...
Farrakhan delivers bold call for Justice Or Else! in Cleveland....