The Final Call |
National News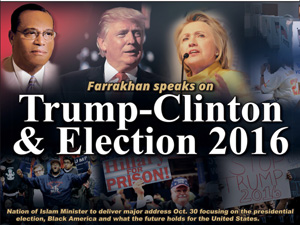 by Final Call News
Nation of Islam Minister to deliver major address Oct. 30 focusing on the presidential election, Black America and what the future holds for the United States. CHICAGO— The Honorable Minister... »
FEATURED STORIES
With Blacks at the brink of extinction and the country...
LOS ANGELES—America's contradictions and struggles with the old, ugly, and...
CHICAGO—A research report accusing the Bureau of Alcohol, Tobacco, Firearms...
Fatal police shootings in Charlotte and Tulsa increase anger, frustration....
Farrakhan delivers words of warning, guidance and call to action...
WASHINGTON — Flanked by his top military brass, President Barack...
LOS ANGELES— Prison abolition groups are fighting to cut the...
MILWAUKEE, Wisc.—The physical clean-up is underway but charred buildings and...
In the midst of police violence crisis, Black youth in...
Police killings, race hatred, protests and ever increasing tension, division...
DALLAS — The raw racial wounds that go to America's...
The physical passing of the man known worldwide as Muhammad...