The Final Call |
National News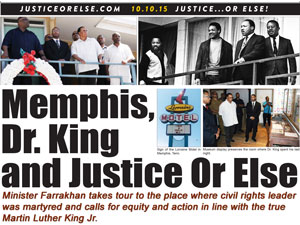 by
Ashahed M. Muhammad
-Assistant Editor-
MEMPHIS - A capacity crowd packed the Cannon Center for the Performing Arts to hear the Honorable Minister Louis Farrakhan speak to those living in the Mid-South region as part... »
FEATURED STORIES
LOS ANGELES - Fifty years after Blacks in Watts rose...
FERGUSON, Mo. - The image of a young Black male,...
MIAMI - Between men and women there is a demand...
LOS ANGELES - The National Bar Association's 90th annual convention's...
In a society that paints them as hyper sexual and...
Farrakhan warns Hip Hop artists traps are being set by...
Activists, leaders rally around Minister Louis Farrakhan as organizing begins...
Mass killing inside historic Black church comes as Blacks grapple...
Minister Louis Farrakhan starts to crisscross the country engaging young...
Nation of Islam leader delivers powerful message about 'Justice...or Else!'...
Controversy over movie about Chicago violence again raises questions about...
Police killings and abuses, discrimination and racism highlighted during United...