The Final Call |
National News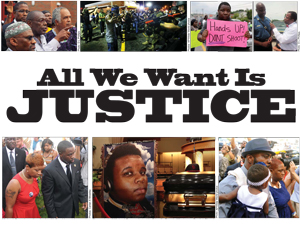 by Richard B. Muhammad and Charlene Muhammad -Final Call Staffers-
What many see as the daylight execution of a Black teenager has ignited a desire, a passion and a demand for a simple thing Black America has never received. From... »
FEATURED STORIES
CHICAGO - The Honorable Minister Louis Farrakhan mounted the marble...
FERGUSON, Mo. - The National Guard has rolled in, but...
Shooting of young, Black Male in Missouri ignites protests, demands...
LOS ANGELES - When Audrey Morrissey tells teenage girls to...
PHILADELPHIA - It was with great pride that the board...
CHICAGO (FinalCall.com) - The Honorable Minister Louis Farrakhan continued his...
NBA owner Don Sterling has been condemned and sanctioned but...
Reality TV shows may make Black females look bad and...
Secret gov't operations, set-ups, stool pigeons and political assassinations were...
In a society that paints them as hyper sexual and...
Activists upset as program aimed at reaching youth, combating violence...
President Obama announces 'My Brother's Keeper' initiative but are we...