The Final Call |
National News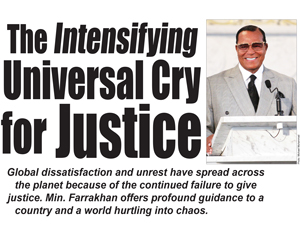 by
Ashahed M. Muhammad
-Assistant Editor-
CHICAGO (Mosque Maryam) - Speaking from the Nation of Islam's international headquarters, the Honorable Minister Louis Farrakhan recently delivered Part 2 of his electrifying keynote address titled "The Intensifying Universal... »
FEATURED STORIES
Conflict, clashes and war are spread across the globe with...
What Hollywood got right and wrong about the civil rights...
As police violence worsens and anger mounts in the streets,...
NEW YORK (FinalCall.com) - Whether it was standing out in...
Boycott of Black Friday and holiday spending-kicked off by protesters...
FERGUSON, Mo. - On the 108th day after the 18-year-old's...
The final two years of President Barack Obama's term in...
Kill the Messenger movie rekindles interest and outrage over Central...
Threats are a standard circumstance for the presidency, but the...
Justice for Mike Brown Leadership Coalition pushes action agenda and...
Shooting of young, Black Male in Missouri ignites protests, demands...
FERGUSON, Mo. - The National Guard has rolled in, but...