The Final Call |
National News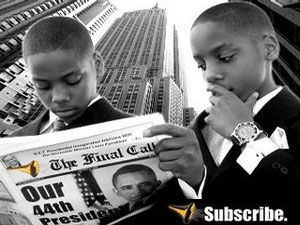 by
Nisa Islam Muhammad
—Staff Writer—
WASHINGTON—At 10 a.m. when the official program for Justice or Else started in front of a swelling crowd, some there as early as 4 a.m., Justice or Else was trending... »
FEATURED STORIES
COLUMBIA, S.C. - Leaders and youth from street organizations, also...
PHILADELPHIA - The city of Brotherly Love is a great...
Farrakhan delivers bold call for Justice Or Else! in Cleveland....
MEMPHIS - A capacity crowd packed the Cannon Center for...
LOS ANGELES - Fifty years after Blacks in Watts rose...
FERGUSON, Mo. - The image of a young Black male,...
MIAMI - Between men and women there is a demand...
LOS ANGELES - The National Bar Association's 90th annual convention's...
In a society that paints them as hyper sexual and...
Farrakhan warns Hip Hop artists traps are being set by...
Activists, leaders rally around Minister Louis Farrakhan as organizing begins...
Mass killing inside historic Black church comes as Blacks grapple...