The Final Call |
National News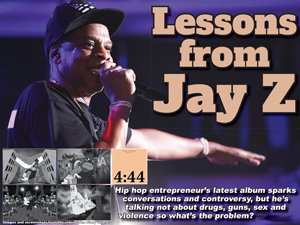 by
Charlene Muhammad
-National Correspondent-
Hip hop entrepreneur's album sparks conversations and controversy, but he's talking not about drugs, guns, sex and violence so what's the problem? Hip-hop legend and business mogul Jay Z delivered... »
FEATURED STORIES
In the four years since the disappearance of Ryan Singleton,...
If 2015 is any indication, more direct action is coming...
The police killing of a Texas teenager incited outrage amid...
She could have a baby doll in one hand and...
Flag waving, cookouts, fireworks and parades are staples of the...
WASHINGTON—The blood sport of political rhetoric—which has led to wanton...
Despite obstacles and roadblocks, Black men are stepping up to...
CHICAGO — Trap music, drill music, gangsta rap and lyrical...
LaVar Ball is shaking up professional basketball with his outspokenness...
Nation of Islam Minister warns of troubled times and explains...
The death of Terrill Thomas in a Milwaukee Jail was...
CHICAGO — Every day Black communities are inundated with violence....