The Final Call |
National News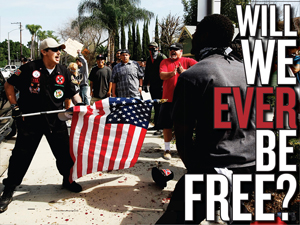 by Richard B. Muhammad and Starla Muhammad, Final Call Staffers
Independence celebrations bring up questions about the reality of Black life in America. Flag waving, cookouts, fireworks and parades are staples of the July 4 celebrations that punctuate America every... »
FEATURED STORIES
WASHINGTON—The blood sport of political rhetoric—which has led to wanton...
Despite obstacles and roadblocks, Black men are stepping up to...
CHICAGO — Trap music, drill music, gangsta rap and lyrical...
LaVar Ball is shaking up professional basketball with his outspokenness...
Nation of Islam Minister warns of troubled times and explains...
The death of Terrill Thomas in a Milwaukee Jail was...
The police killing of a Texas teenager incited outrage amid...
CHICAGO — Every day Black communities are inundated with violence....
Ugly encounters between Blacks and police officers seem to be...
DALLAS — The raw racial wounds that go to America's...
CHICAGO—Nation of Islam Minister Louis Farrakhan recently delivered an address...
The suffering of a poor, majority Black city is far...