The Final Call |
National News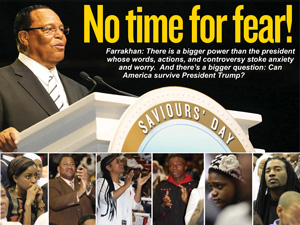 by
James G. Muhammad
-Contributing Editor-
Farrakhan: There is a bigger power than the president whose words, actions, and controversy stoke anxiety and worry. And there's a bigger question: Can America survive President Trump? DETROIT—Donald J.... »
FEATURED STORIES
Saviours' Day 2017, the Crowning Event of Black History Month...
CHICAGO—Nation of Islam Minister Louis Farrakhan recently delivered an address...
WASHINGTON—Donald J. Trump is President of the United States. And,...
WASHINGTON — Although human trafficking generally operates out of the...
CHICAGO—Barack Obama's term as the 45th president of the United...
CHICAGO—While the year 2016 brought pain, suffering and struggle to...
CHICAGO—Each year has its own unique footprint that leaves an...
Echoing a call by the Honorable Minister Louis Farrakhan of...
COLUMBIA, S.C.—The Federal death penalty trial of Dylann Roof, the...
A movement to use economic power to bring justice to...
WASHINGTON—Fidel Castro, the Commandant of the Revolution is dead. Long...
NEWARK—In a time of political and social wailing and gnashing...