The Final Call |
National News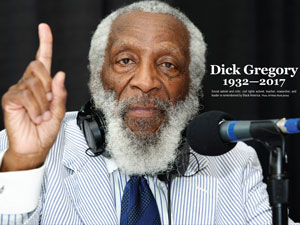 by
Askia Muhammad
-Senior Editor-
Social satirist and critic, civil rights activist, teacher, researcher, and leader is remembered by Black America. LANDOVER, Md.—Dick Gregory was a comedian, but he was so much more. He was... »
FEATURED STORIES
Nuclear hurricane. Storm of the Century. Monster storm. These unimaginable...
As flood waters recede and recovery and cleanup from the...
Hurricane Harvey unleashed unprecedented rain, causing massive damage in just...
Controversy and turmoil continue plaguing the Trump administration sparking more...
James Alex Fields, Jr., an alleged White supremacist, has been...
In a major attack on free speech and religious rights,...
Nation of Islam minister delivers divine guidance, powerful insight on...
Arriving by way of the Trans-Atlantic Slave Trade, hate has...
Hip hop entrepreneur's album sparks conversations and controversy, but he's...
In the four years since the disappearance of Ryan Singleton,...
If 2015 is any indication, more direct action is coming...
The police killing of a Texas teenager incited outrage amid...