The Final Call |
National News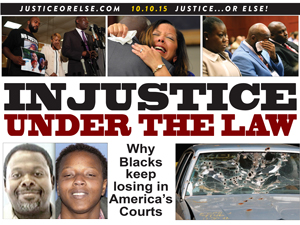 by
Charlene Muhammad
-National Correspondent-
Black attorneys battle inside a criminally unjust court system LOS ANGELES - The National Bar Association's 90th annual convention's message of fighting police brutality mirrored the fight Black Americans face... »
FEATURED STORIES
Farrakhan warns Hip Hop artists traps are being set by...
Activists, leaders rally around Minister Louis Farrakhan as organizing begins...
Mass killing inside historic Black church comes as Blacks grapple...
Minister Louis Farrakhan starts to crisscross the country engaging young...
Nation of Islam leader delivers powerful message about 'Justice...or Else!'...
Controversy over movie about Chicago violence again raises questions about...
Police killings and abuses, discrimination and racism highlighted during United...
Baltimore state's attorney files unprecedented indictment against 6 police officers...
Thousands of women hear powerful message from Min. Farrakhan on...
Kill the Messenger movie rekindles interest and outrage over Central...
What Hollywood got right and wrong about the civil rights...
CHICAGO (Mosque Maryam) - Speaking from the Nation of Islam's...