The Final Call |
Straight Words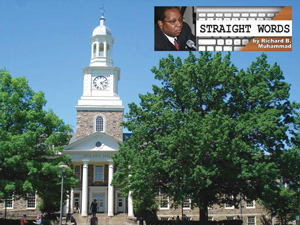 by
Richard B. Muhammad
BALTIMORE, Md. - There are few things as dear to me as my Nation, my family and Morgan State University, where I went to school and graduated. All three of... »
FEATURED STORIES
BALTIMORE, Md. - There are few things as dear to...
The horrific thing about the failure of a jury to...
Black-oriented social media, blogs, TV and radio were ablaze over...
The perils and plight of young Black men and obstacles...
Youth prowl streets and lash out in a dangerous game:...
Wealth can be bad for your health. Having too much...
Mr. Mandela could not have a relationship with leaders Arafat,...
Black life in America doesn't require looking for racial strife....
Our history is great but today the survival of our...
When I heard about the passing of Jim Kelly it...
I tried watching the first part of the PBS Series...
It was the worst news a Michigan family, or any...