The Final Call |
Straight Words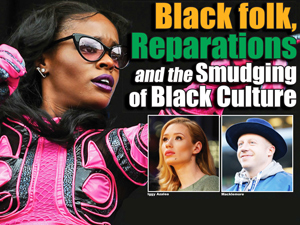 by
Richard B. Muhammad
Azealia Banks isn't the queen of Twitter beefs. She is a talented and a rare person: An unapologetically Black artist with a social conscience and a strong voice.... »
FEATURED STORIES
Azealia Banks isn't the queen of Twitter beefs. She is...
Seeking nearness to the White power structure while structural racism,...
Reparations, redress for slavery and centuries of suffering, was a...
By every public account given Brother Arthur Hearn was an...
FERGUSON, Mo.—Fire still burns in Ferguson, not the fires that...
It is typical today for people to say nothing can...
When the federal government tried to bus immigrants, many of...
Violence and drugs are ever present tools and threats. Unlike...
It's common on social media to join "Throwback Thursday," and...
With the weather breaking in Chicago, in a scenario found...
After threatening federal authorities with weapons, and surrounded by other...
BALTIMORE, Md. - There are few things as dear to...