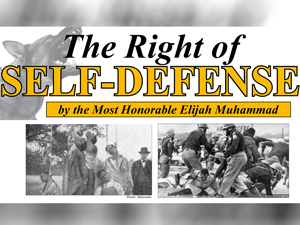 by the Most Honorable Elijah Muhammad
The message I bring is not for the cowards. Those of you who follow me must be ready to withstand the barbs and insults of those who come to investigate,... »
FEATURED STORIES
The message I bring is not for the cowards. Those...
Minister Farrakhan is just about the most sought after Black...
We come from the Divine and we return to the...
WE ARE going to have plenty of trouble here in...
For the last several weeks, we have taken up the...
In 1974 the Honorable Minister Louis Farrakhan was teaching thousands...
The Black man in America faces a serious economic problem...
Imagine, you close your eyes, now imagine the whole entire...
According to the Divine Teachings of the Honorable Elijah Muhammad,...
The great commotion of the government and people of America;...
I want to make it very clear to you that...
The first use of the word "cave man" or "cavy"...