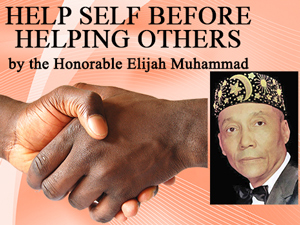 by the Most Honorable Elijah Muhammad
Many of my people, the so-called Negroes, say we should help the nations of Africa which are awakening. This has been said as if we owned America. We are so... »
FEATURED STORIES
Many of my people, the so-called Negroes, say we should...
Allah, Himself, has said that we cannot return to our...
In 1955 the Honorable Elijah Muhammad first saw the Honorable...
According to the word of Allah (God) and the history...
Certainly, many of us heard the Honorable Elijah Muhammad state...
We, the Black lost-found of our people here in America...
Moses' grave has not been found nor has Moses been...
The present world (White people) have had their time and...
Many people think Jesus was raised from the dead. They...
Those who study The Final Call newspaper, if you study...
With the right understanding and with business unity we can...
In 1977 the Honorable Minister Louis Farrakhan determined that he...