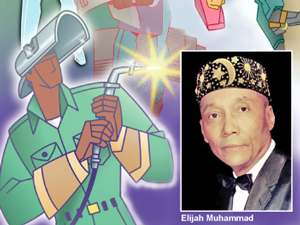 by The Most Honorable Elijah Muhammad
Men everywhere are seeking unity among themselves. Every race of people want unity with their own kind first, except my people, the so-called Negro in America. Our condition and lack... »
FEATURED STORIES
Only the Black man and family members of America have...
Being a student of Latin, you become knowledgeable of suffixes...
Men everywhere are seeking unity among themselves. Every race of...
The Most Honorable Elijah Muhammad taught us that one must...
"We are told in the scriptures that 'as a man...
You can never boast of being equal while still a...
Do you read the Bible? What was the relationship between...
Our former slavemasters, knowing of our dependence upon them, maliciously...
The Most Honorable Elijah Muhammad always encouraged those around him...
The Right Time, The Right Call, The Right Man. We...
It is on the basis of this high science of...
The government only wants to pacify her once slaves with...