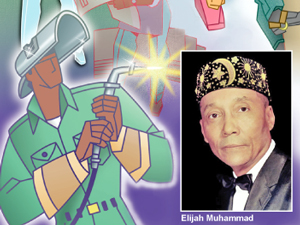 by the Most Honorable Elijah Muhammad
It is almost unbelievable to see and talk with our people and find in their talk, in this modern rise of advanced education for all, that our very educators and... »
FEATURED STORIES
It is almost unbelievable to see and talk with our...
By the guidance of Master Fard Muhammad, the Honorable Elijah...
You are an ignorant and foolish people. Your first desire...
Let us not trifle with such a serious matter, which...
Perhaps the most controversial questions of our time revolves around...
One of the prophets of the Bible prophesied in regard...
How much good have the two parties (Republican and Democrat)...
Our former slavemasters, knowing of our dependence upon them, maliciously...
The answer to the above question is YES! We do...
I would like to start by going back to the...
The Most Honorable Elijah Muhammad informed many of his followers...
If one examines the powerful arguments for God's existence given...