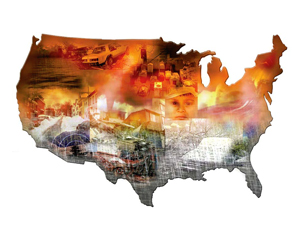 by the Most Honorable Elijah Muhammad
Today is the day in which the God of Justice (Allah) is judging between man and man and nation and nation. To understand the present, we must learn of the... »
FEATURED STORIES
Today is the day in which the God of Justice...
In a little mountain village, in the country of Mexico,...
We have no objection to that person who makes up...
I always desired to feed the Muslim community. They were...
The government only wants to pacify her once slaves with...
The prophets have warned us of a time that would...
Nature teaches us that when the body ceases to function,...
Context is the circumstance that forms the setting for an...
The Old World of mischief making and bloodshed is now...
I came to understand early on in my life as...
It's written that Allah will produce special signs of His...
The Honorable Elijah Muhammad told many of us that he...