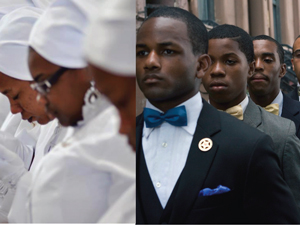 by the Most Honorable Elijah Muhammad
Let us examine our thoughts to see what we are actually thinking about and just what we would like to be. Let us present ourselves to the world as we... »
FEATURED STORIES
The word context means: "the circumstances that form the setting...
"Allah takes (men's) souls at the time of their death,...
Let us examine our thoughts to see what we are...
I understood that security was in my mom, but from...
The destruction and fall of the world that we have...
When I was registered in the Nation of Islam in...
According to the 97th Surah entitled, Al-Qadr: The Majesty, it...
The whole world has been and is looking for the...
Without knowing that history you cannot fully see or understand...
The Bible's forbidden tree (Gen. 2:17) was a tree of...
As we landed on the tarmac at the small airport...
When the Honorable Elijah Muhammad met with Master Fard Muhammad,...