The Final Call |
NOI Prison Reform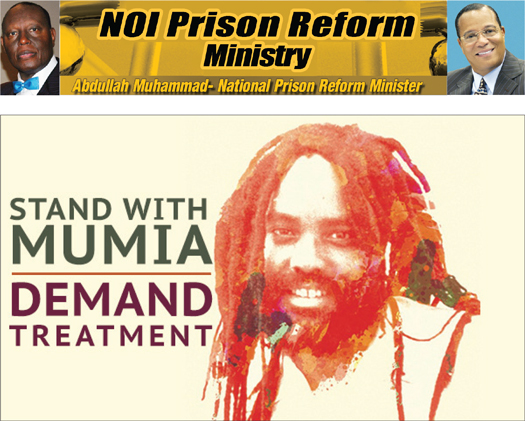 by Gregory Muhammad
On December 18, 2015 the NOI Prison Reform Ministry Delaware Valley Region members were present at Mumia Abu-Jamal's evidentiary hearing held in Scranton, Pennsylvania to address his right to receive... »
FEATURED STORIES
On December 18, 2015 the NOI Prison Reform Ministry Delaware...
We thank the Honorable Minister Louis Farrakhan for commissioning Bro....
The East Coast Regional Prison Reform Ministry Conference was held...
The last time Student Minister Troy Muhammad walked the hallways...
"Our primary motivation for having a prison reform ministry," said...
The injustice in Ferguson and the passing of Pennsylvania SB508...
PHILADELPHIA—The Nation of Islam Delaware Valley Prison Reform Ministry consists...
PHILADELPHIA - The Nation of Islam's Delaware Valley Regional Prison...
DETROIT - The Nation of Islam Prison Reform Ministry workshop...
Student Minister Abdullah Muhammad, director N.O.I. National Prison Reform Ministry...
PHILADELPHIA - Student National Prison Reform Minister Abdullah Muhammad, who...
The Prison Reform Department of the Nation of Islam in...