The Final Call |
Entertainment News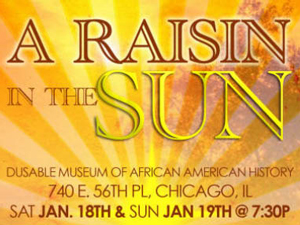 by
FinalCall.com News
CHICAGO - Mahdi Theatre Company presents A Raisin in the Sun, a classic story written by Lorraine Hansberry and directed by Margaret Mahdi to be held at DuSable Museum of... »
FEATURED STORIES
Star power, social responsibility and controversy surfaced again over a...
The Brooklyn bred rapper has recently added "author" to her...
ST. LOUIS - The Honorable Minister Louis Farrakhan said he...
During Pt. 49 of his weekly "Time and What Must...
CHICAGO - One of the most recognizable figures on the...
CHICAGO - The Internet is buzzing about "Black Coffee" a...
CHICAGO - Mahdi Theatre Company presents A Raisin in the...
WASHINGNTON (NNPA) - Under its television deal, each Big-10 university...
Artistic expressions, especially in music, were important components in bringing...
Voicemail rants and e-mails directed at a Black player for...
There's only one reason our HBCUs schedule games against schools...
The movie 12 Years A Slave tells a harrowing and...