The Final Call |
Entertainment News
Kanye, choices, slavery and the truth
By
Final Call
| Last updated: May 9, 2018 - 7:57:56 AM
What's your opinion on this article?
The headlines exploded and Twitter erupted with discussion and debate about Kanye West.
It started with him posting pictures of himself wearing a "Make America Great Again" cap flanked by longtime music industry executive Lyor Cohen, and Universal Music Group CEO Lucian Grainge. Kanye then posted an image of a Make America Great Again cap signed by Donald Trump, followed by a tweet which read, "You don't have to agree with Trump but the mob can't make me not love him. We are both dragon energy. He is my brother. I love everyone. I don't agree with everything anyone does. That's what makes us individuals. And we have the right to independent thought."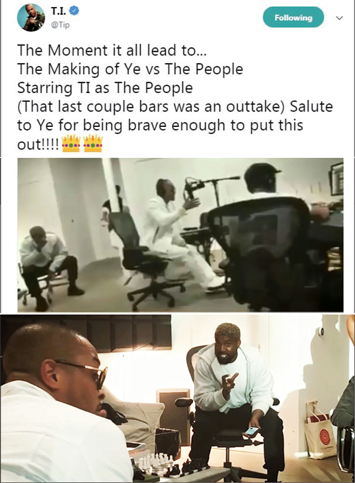 Then came two interviews—one with Charlamagne Tha God, co-host of The Breakfast Club morning show in New York, and the other with Harvey Levin, founder of the celebrity gossip site TMZ. The first interview with Charlamagne had many in the Black community sympathizing with Kanye. He spoke openly and candidly about his physical and mental health, his issues with prescription drugs and opioids, the death of his mother, and his relationship with Jay-Z, among other topics.
However, his TMZ interview turned the most heads, particularly the comment he made about slavery being a choice for Black people. "When you hear about slavery for 400 years ... For 400 years? That sounds like a choice. You were there for 400 years and it's all of  y'all? It's like we're mentally imprisoned," he said.
While that comment was the one prompted the most vitriol, there were other things Kanye said that seemed to go unnoticed and gained no traction, such as him saying, "White supremacy is a redundant statement in America. Whites are supreme in America. That's what we're taught."
Kanye also gave an anecdote about his young daughter, North, who had an experience in school where he says she learned that her mother was White and her dad is Black, and she was told this by a White teacher. "We had to tell her because of Martin Luther King's birthday, but a White teacher told her that," he lamented.
"What does it mean to be Black in America if a White teacher tells her that she's Black? You might be Kanye West's daughter, but you're Black. My daughter was free. [But] we start putting these ideas and ideals on people." What occurred was widespread Black criticism as questions arose about whether Kanye was saying forget about slavery and disrespecting the suffering of Black ancestors.
Next came a discussion and new song featuring Kanye and the rapper T.I., "Ye vs. the People," with the hip hop artists engaged in a dialogue. In a Breakfast Club May 2 interview, T.I. talked about the song and how it came out of a four-hour discussion. "He said, just being a free thinker man and I was huh, what do you mean?" said T.I. "But just imagine right now I'm really like looking trying not to trip. …  He doesn't seem like malicious. It seems extremely sincere and passionate. … I said, look man have you thought about the people who supported you that you hurt when you put that out? And he looked different. I could see an epiphany, 'hurt someone for having my own opinion.' … He was like, naw I didn't think about that."
The Final Call is following this story as it unfolds and look for coverage in an upcoming edition.