The Final Call |
NOI Prison Reform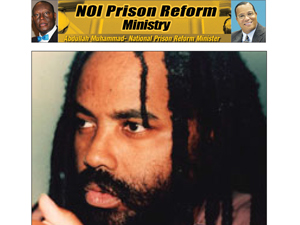 by
Michael Z. Muhammad
-Contributing Writer-
PHILADELPHIA—As the COVID 19 virus continued to ravage America over 100 participants making up a global audience joined a unique virtual press conference.... »
FEATURED STORIES
PHILADELPHIA—As the COVID 19 virus continued to ravage America over...
This writer remembers living on 416 N. Preston Street, in...
DETROIT—The National Prison Ministry of the Nation of Islam, headed...
"This, 38 years has been fulfilling, for I would not...
Forty years ago, Mike and Debbie were separated from each...
PHILADELPHIA—The Nation of Islam Prison Reform Ministry Delaware Valley Region...
Muhammad Mosque No. 1 Prison Reform Ministry team toured the...
The Nation of Islam Prison Reform Ministry hosted a community...
Nation of Islam Student National Prison Reform Minister Abdullah Muhammad...
Mumia Abu-Jamal has found the pathway to justice extended, winding...
I could never thank Allah enough for the Honorable Minister...
During the "Ask Farrakhan," Twitter and Social Media townhall held...