The Final Call |
NOI Prison Reform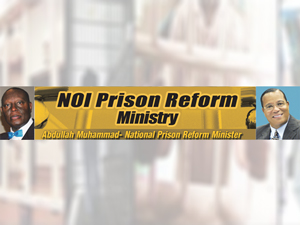 by
Michael Z. Muhammad
-Contributing Writer-
The Nation of Islam Delaware Valley Prison Ministry has been at the forefront and instrumental in advocating for justice for Mumia Abu-Jamal. The political prisoner and activist is serving a... »
FEATURED STORIES
The Nation of Islam Delaware Valley Prison Ministry has been...
On a special Saturday, inmates at the Coleman Federal Correctional...
According to a May 2016 report, approximately 500 juvenile lifers...
The city of Nashville is blessed to have Brothers of...
The water issue at SCI-Graterford must be investigated by an...
As the curtain falls on the presidency of Barack Obama...
There are over 2.3 million prisoners in the American criminal...
The United States Court of Appeals for the District of...
Mumia Abu-Jamal's 63rd birth anniversary included a hearing on his...
Mumia Abu-Jamal's life continues to be critical and in danger....
ATLANTA—In 2014, the Obama administration allowed Federal Bureau of Prisons...
As a husband, a father of four with 3 grandchildren,...