The Final Call |
National News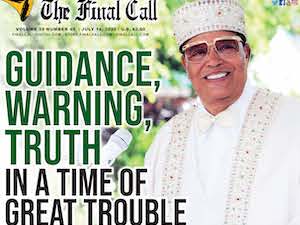 by Naba'a Muhammad Editor @RMfinalcall
In the Bible, Jesus prays in the garden of Gethsemane as the fateful, final hours in his life approach. He accepts his fate, placing his life and what is to... »
FEATURED STORIES
The death of George Floyd in the custody of Minneapolis...
The young mother and wife was poised initially, holding her...
In the days since the country erupted in protests after...
Unrest gripped the city in the aftermath of the death...
The city of Minneapolis experienced days of unrest after 46-year-old...
Many cities across the U.S. implemented stay-at-home orders to offer...
A police shooting in Kentucky and vigilantes in Georgia and...
Seventy-four days. That's how long it took for two White...
For nearly six decades the Republic of Cuba has been...
As some governors are removing restrictions in the name of...
Covid-19 has carved a deep and deadly path through Black...
Words of condolences, memories of cherished moments and reflections of...