The Final Call |
National News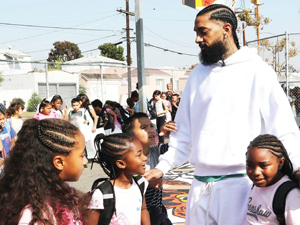 by Richard B. Muhammad, Editor
Hip hop's prophetic voice is gone but the light that Nipsey Hussle offered to his neighborhood has spread and will light up the world, said family members, admirers, close friends,... »
FEATURED STORIES
The life, death and legacy of Nipsey Hussle not only...
Numbness, despair, shock, and confusion permeated the air around ground...
Fallout continues for the Southern Poverty Law Center (SPLC) in...
Murderous rage in New Zealand, which left 50 people killed...
Since she entered Congress in January, Rep. Ilhan Omar has...
During a riveting day of testimony before the House Oversight...
The FBI's arrest of a Coast Guard lieutenant who they...
Even though she was never charged with a crime, U.S....
The 2019 Women's March was smaller than the previous two...
People across the country—from those barely familiar with the Honorable...
Hate targeted the Black community from the beginning to the...
WASHINGTON—Pure bedlam rules in the councils of U.S. power after...