The Final Call |
National News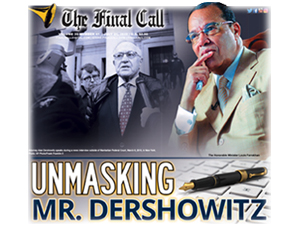 by Abdul Arif Muhammad, Esq.
Mr. Dershowitz, in writing and publishing several false claims in your article of July 8th, one of which is the Honorable Minister Louis Farrakhan "threatened" you during his worldwide address... »
FEATURED STORIES
In the Bible, Jesus prays in the garden of Gethsemane...
Since high profile police killings of Blacks sparked national unrest...
The death of George Floyd in the custody of Minneapolis...
The young mother and wife was poised initially, holding her...
In the days since the country erupted in protests after...
Unrest gripped the city in the aftermath of the death...
The city of Minneapolis experienced days of unrest after 46-year-old...
Many cities across the U.S. implemented stay-at-home orders to offer...
A police shooting in Kentucky and vigilantes in Georgia and...
Seventy-four days. That's how long it took for two White...
For nearly six decades the Republic of Cuba has been...
As some governors are removing restrictions in the name of...