The Final Call |
National News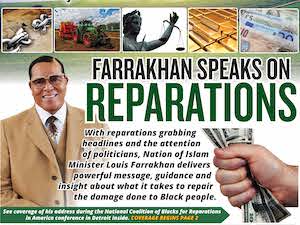 by
Starla Muhammad
-Managing Editor-
he Honorable Minister Louis Farrakhan and the Nation of Islam are no strangers in the fight for the freedom and liberation of Black people in the United States and abroad.... »
FEATURED STORIES
WASHINGTON-President Donald J. Trump seems to want war with Iran....
The Honorable Minister Louis Farrakhan and a delegation from the...
Deadly tornadoes, severe storms, and flooding ravaged America from coast...
There are many organizations and individuals who have spent decades...
Bloods and Crips street organization plans for an all-out family...
Livid. Outraged. Undeterred and determined. These are just a few...
The 87 year old beloved "Rock of the South" transitioned...
More and more, Black athletes and entertainers are looking to...
Hip hop's prophetic voice is gone but the light that...
The life, death and legacy of Nipsey Hussle not only...
Numbness, despair, shock, and confusion permeated the air around ground...
Fallout continues for the Southern Poverty Law Center (SPLC) in...