The Final Call |
National News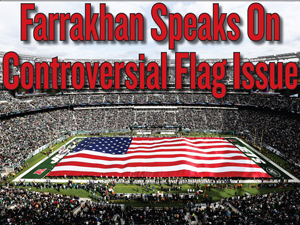 by Askia Muhammad And Richard B. Muhammad, Final Call Staffers
The Honorable Minister Louis Farrakhan delivers truth behind manufactured controversy surrounding American flag and efforts to crush Black cries for justice NEWARK—Some scholars and scientists demonstrate their intellectual prowess by... »
FEATURED STORIES
There are harsh realities facing our communities nationwide. What is...
Terror has struck again on American soil in the form...
An outrageous statement by President Trump forces NFL owners to...
LANDOVER, Md.—Dick Gregory was a comedian, but he was so...
Nuclear hurricane. Storm of the Century. Monster storm. These unimaginable...
As flood waters recede and recovery and cleanup from the...
Hurricane Harvey unleashed unprecedented rain, causing massive damage in just...
Controversy and turmoil continue plaguing the Trump administration sparking more...
James Alex Fields, Jr., an alleged White supremacist, has been...
In a major attack on free speech and religious rights,...
Nation of Islam minister delivers divine guidance, powerful insight on...
Arriving by way of the Trans-Atlantic Slave Trade, hate has...