The Final Call |
National News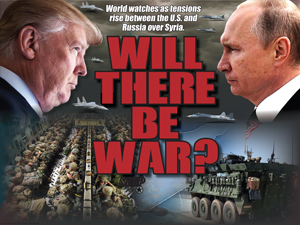 by
Askia Muhammad
-Senior Editor-
WASHINGTON—United States military forces, joined by the United Kingdom and France, launched hundreds of military strikes against Syria, ostensibly to punish Syrian President Bashar Assad, for his alleged use of... »
FEATURED STORIES
Family members share the pain of loss and their resolve...
Winnie Madikizela Mandela, the queen mother in the struggle for...
When reports circulated that Israeli Sephardi Chief Rabbi Yitzhak Yosef...
Resolution seeking to condemn Farrakhan, blasted by activists, analysts: Congressional...
The Jewish stranglehold on Black political leaders was manifested when...
Jewish and Zionist groups who have harassed, slandered, and stalked...
CHICAGO—Saviours' Day, the annual Nation of Islam celebration and crowning...
.Minister Louis Farrakhan 'unmasks the deceivers,' confronts the haters, warns...
"We're witnessing a fundamental changing of our demographics around the...
Multi-talented artist finds herself under attack as writer drops the...
CHICAGO — Chicago's issues with gun violence isn't as hotly...
FBI targets what it calls "Black Identity Extremist" groups according...