The Final Call |
National News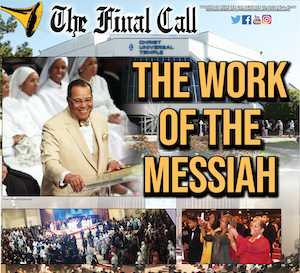 by James G. Muhammad Contributing Editor @jgm3000
The stench of Satan's world has fouled the whole of humanity and the earth is "entering a new day" where God and His Christ have come to take over rulership,... »
FEATURED STORIES
The biggest talk in the world of college athletics isn't...
The Honorable Minister Louis Farrakhan delivered a serious and sobering...
United States antagonism against the Islamic Republic of Iran escalated...
While some consider marijuana, or weed, a natural healer or...
Sports, we're told, is the great equalizer. On the field,...
Many Black men and women today understand the social climate...
LOS ANGELES—The world is celebrating the life of Aretha Franklin,...
Jay-Z was roundly criticized for his decision by many, while...
The little town that was the catalyst for a national...
It was a hail of bullets that sent families who...
It happens every presidential election cycle like clockwork. Political candidates...
CHICAGO—America is in great confusion today, and her institutions are...