The Final Call |
Editorials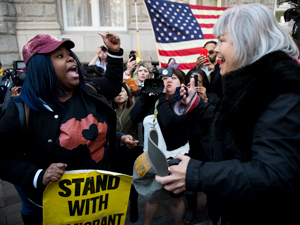 by Final Call News
When writer Andrew Hacker looked at race and reality in America, he reached a telling and almost prophetic conclusion. Inside the United States, he wrote, there were "Two Nations: Black... »
FEATURED STORIES
When writer Andrew Hacker looked at race and reality in...
The Divine Warner doesn't delight in the loss of life...
If we reflect over the series of ancient rites presented...
Many may feel comfortable condemning the Alt-Right, neo- Nazis, Klans-men...
Freedom of expression and freedom of religion are two cherished...
I am one of the blessed ones. I underwent prostate...
The July announcement that the "living quarters" for Sally Hemings...
America is in trouble. Her unpopular president and his unpopular...
While all things Russian, Putin and Trump dominate much of...
There seems to be no end to the sorrow spread...
President Trump delivered important words to the world and Saudi...
If Omarosa is wise enough and honest enough to show...