The Final Call |
Editorials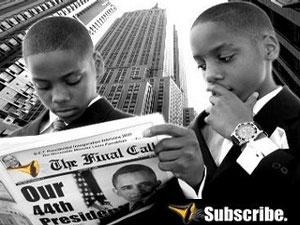 by The Final Call
Unrelenting attacks on the Honorable Minister Louis Farrakhan have continued and moved again into Congress under the guise of an anti-hate resolution. It is insulting and beyond ironic that a... »
FEATURED STORIES
Today's violence and division cannot be divorced from hatred deeply...
Unrelenting attacks on the Honorable Minister Louis Farrakhan have continued...
Whether Mr. Green has kowtowed to Democratic House leader Nancy...
Film and media maker Dream Hampton touched many emotions in...
Pastor Jamal Bryant is a brilliant Black man, who grew...
As the old year goes out and a new year...
And, as we close the year, should we close the...
It was a beautiful October day. The spirit was high...
Black Twitter was ablaze and much of Black America was...
"Sixteen shots and a cover up!" was the cry of...
While Jewish groups and leaders love to recite the myth...
The wailing and gnashing of teeth you heard from Fox...