The Final Call |
Editorials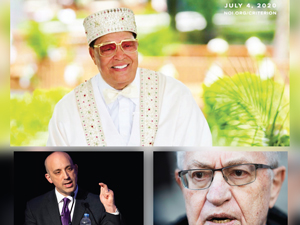 by Naba'a Muhammad Editor @RMfinalcall
No thanks to the usual Satanic actors and attackers, the Honorable Minister Louis Farrakhan delivered a major address July 4 offering warning, guidance and instruction to a world ravaged by... »
FEATURED STORIES
Analyst Angela Rye decided to wade in on the attacks...
Today's violence and division cannot be divorced from hatred deeply...
The reality is that Black young men and women are...
No thanks to the usual Satanic actors and attackers, the...
Polls, protests, and pictures are being used to declare a...
While thousands have been in the streets with protests in...
Despite calls from Democratic presidential hopeful Joe Biden to take...
Harvey Weinstein, the fallen movie industry giant, is a convicted...
When a video clip of powerhouse CBS interviewer Gayle King...
With the Senate essentially exonerating the president, an important episode...
It was not surprising but it was disturbing to find...
Dear America, Your president is a liar. It may seem...