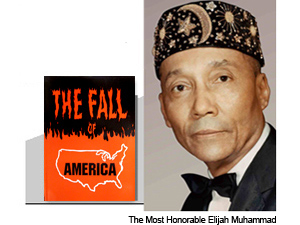 by The Most Honorable Elijah Muhammad
The dead are we, the Black once-slaves of the White man of America. We are a mentally Dead people. We are dead to the knowledge of self and others. The... »
FEATURED STORIES
In education there is a thing that is called a...
We are now 459 years up from slavery with the...
The dead are we, the Black once-slaves of the White...
"(If Moses' rod and book were given as a guide...
Could it be that thought never dies because it stores...
Jesus prophesied that when we see the fulfillment of the...
According to the scripture, at the time that the prophets...
The Most Honorable Elijah Muhammad speaking of these terrible times...
The present world (White people) have had their time and...
There are many interpretations of the scriptures. The one accepted...
Light surrounds us and is inside each and everyone of...
To be plagued with too much rain will destroy property...