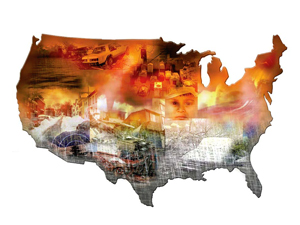 by The Honorable Elijah Muhammad
To be plagued with too much rain will destroy property and lives. It swells the rivers and creeks. Too much rain floods cities and towns. Large bodies of water at... »
FEATURED STORIES
There are many interpretations of the scriptures. The one accepted...
Light surrounds us and is inside each and everyone of...
To be plagued with too much rain will destroy property...
More and more religious scholars all over the planet are...
Minister Farrakhan's vision occurred on September 17, 1985 in a...
Muslims giveaway special reprint of The Final Call honoring Aretha...
We cannot deny the fact that the Christian West is...
Everyone does what he or she does from motives. Nothing...
It is very sad and horrible to look at the...
Master Fard Muhammad came to North America, as we are...
Among the points that the Honorable Minister Louis Farrakhan emphasized...
All students who will become apart of this new educational...