The Final Call |
Health & Fitness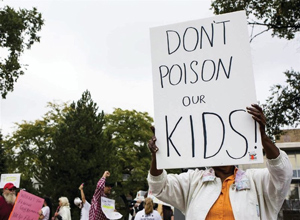 by
RT.com
Michigan Governor Rick Snyder declared a state of emergency over Flint's contaminated drinking water. The announcement comes less than a month after Flint's mayor declared the same, saying the city's... »
FEATURED STORIES
Michigan Governor Rick Snyder declared a state of emergency over...
Eating the wrong food and eating it too often starts...
WASHINGTON (NNPA)—Today, close to one in four Black children—as young...
With the new coverage options offered by the Affordable Care...
Stress is the mind and body's response to a real...
If we expect to live from what we eat, we...
Because of increased levels of high blood pressure and diabetes...
Eat one meal per day—nothing between meals and eat the...
Many of my followers write and tell me of the...
WASHINGTON (NNPA) - As families prepare to choose health insurance...
THE PIG IS another poison people are eating. The government...
The month of September is marked for Sickle Cell Disease...