The Final Call |
Editorials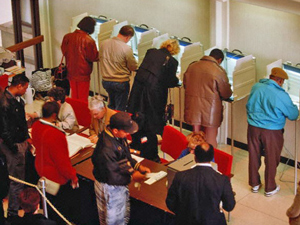 by
FinalCall.com News
Mid-term 2014 elections scheduled for Tuesday, Nov. 4, have candidates out shaking hands and running attack and counter attack ads with all of the seats in the House of Representatives... »
FEATURED STORIES
Mid-term 2014 elections scheduled for Tuesday, Nov. 4, have candidates...
KINGSTON, Jamaica - If time is the test of all...
The statistics, the protests, the pain of the deaths of...
News that U.S. Attorney General Eric Holder has resigned brought...
In Scotland, a Western and modernized country, a referendum was...
The videotaped encounter between former NFL player Ray Rice and...
FERGUSON, Mo.—Limiting Black thought, Black behavior and Black activity has...
FERGUSON, Mo.—There is an old adage about freedom of the...
The United States again engaged in military operations in Iraq...
News headlines and newscasts reported on the Israeli military campaign...
After spending billions of dollars and with the loss of...
The Nation of Islam doesn't celebrate the general holidays of...