The Final Call |
Editorials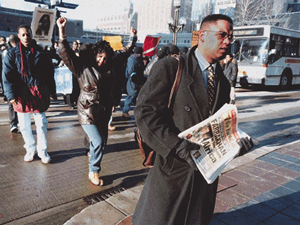 by
Richard B. Muhammad
- Editor
Mr. Ellison, who was captured in at least one photo distributing The Final Call while in college, condemned the Minister as he sought his new place. But his cowardly and... »
FEATURED STORIES
Mr. Ellison, who was captured in at least one photo...
After a stunning and historic political upset, President-elect Donald Trump...
The presidential election for 2016 is unlike any in modern...
The news is horrible and heartbreaking from Haiti with the...
As was widely reported George E. Curry departed this life...
Murder is a horrible thing but some killings are so...
The Independence Day celebrations are over. The barbeques are done....
Running for your life has to be one of the...
In a powerful message delivered at Mosque Maryam, the center...
Just over a year ago, The Final Call newspaper published...
Arrests may be down and killings may be up, but...
This year marked the 48th anniversary of the death of...