The Final Call |
Editorials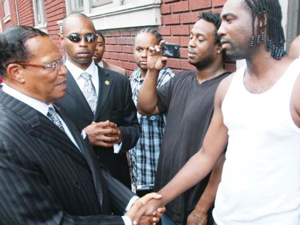 by Final Call News
In a powerful message delivered at Mosque Maryam, the center for the retraining of the Black Man and Woman and a house devoted to the work of the Messiah and... »
FEATURED STORIES
In a powerful message delivered at Mosque Maryam, the center...
Just over a year ago, The Final Call newspaper published...
Arrests may be down and killings may be up, but...
This year marked the 48th anniversary of the death of...
The United States has tried to export and bludgeon nations...
Revelations that the Nixon administration fostered the War On Drugs...
Jonathan Greenblatt, the national director and CEO of the Anti-Defamation...
Over the years, the Honorable Minister Louis Farrakhan has been...
Some of the latest slime was thrown by columnist Mary...
*Black voters and issues were given center stage in the...
With the decision not to indict officers in the killing...
In Baltimore a jury was unable to reach a verdict...