The Final Call |
Editorials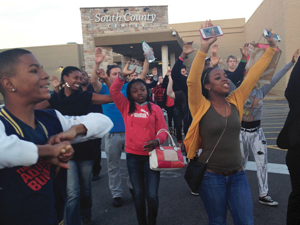 by
FinalCall.com News
It is Black youth and their fearlessness that shook Black Friday this year, prompting the staid and "respectable" Wall St. Journal to declare: "Retail spending over the Thanksgiving weekend fell... »
FEATURED STORIES
It is Black youth and their fearlessness that shook Black...
When the Honorable Minister Louis Farrakhan spoke at Morgan State...
The recent disclosure that a researcher found an unedited copy...
Midterm elections are over and the president whose party lost...
Mid-term 2014 elections scheduled for Tuesday, Nov. 4, have candidates...
If protests are supposed to last a maximum of three...
KINGSTON, Jamaica - If time is the test of all...
The statistics, the protests, the pain of the deaths of...
News that U.S. Attorney General Eric Holder has resigned brought...
In Scotland, a Western and modernized country, a referendum was...
The videotaped encounter between former NFL player Ray Rice and...
FERGUSON, Mo.—Limiting Black thought, Black behavior and Black activity has...