The Final Call |
Perspectives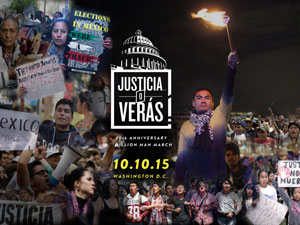 by Abel Muhammad - Guest Columnist-
The theme of "Justice Or Else!" is one that resonates with the masses of Black, Latino, Indigenous and poor people as we weather the ever increasing onslaught of disrespect and... »
FEATURED STORIES
This speech was said to have been delivered by Willie...
Minister Louis Farrakhan addressed the killing of unarmed Michael Brown...
Savage. Tatted. Angry. Saggin'. Just a few words used to...
(FinalCall.com) - The Honorable Minister Louis Farrakhan addressed students at...
On July 15, 2010 Rabbi Abraham Cooper, associate dean of...
What started off as a project with very little fanfare...
After months and months of racist bashing of mostly Latino...
During a recent interview in Los Angeles with CNN's Don Lemon the Honorable...
The recent revelation that the Federal Bureau of Investigation targeted...
We are the trusted voice of Black America and I...
When the Honorable Minister Louis Farrakhan spoke to the National...
The theme of "Justice Or Else!" is one that resonates...