The Final Call |
Perspectives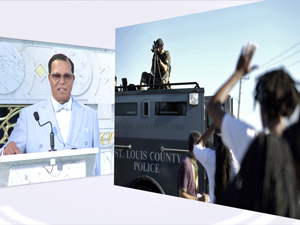 by
The Honorable Minister Louis Farrakhan
Minister Louis Farrakhan addressed the killing of unarmed Michael Brown by Ferguson police in the context of the conspiracy against Black youth in general. Minister Farrakhan delivered a powerful message... »
FEATURED STORIES
This speech was said to have been delivered by Willie...
Savage. Tatted. Angry. Saggin'. Just a few words used to...
(FinalCall.com) - The Honorable Minister Louis Farrakhan addressed students at...
On July 15, 2010 Rabbi Abraham Cooper, associate dean of...
What started off as a project with very little fanfare...
After months and months of racist bashing of mostly Latino...
During a recent interview in Los Angeles with CNN's Don Lemon the Honorable...
The recent revelation that the Federal Bureau of Investigation targeted...
Minister Louis Farrakhan addressed the killing of unarmed Michael Brown...
The United States again engaged in military operations in Iraq...
News headlines and newscasts reported on the Israeli military campaign...
I support President Obama on many things, but I cannot...