The Final Call |
Sister Space
Vegetarian Cooking Made Easy, my story
By Saaudiah Muhammad | Last updated: Sep 11, 2014 - 10:47:29 AM
What's your opinion on this article?
I began the journey to become a vegetarian about 7 years ago.  This was in tandem with the major weight loss I embarked upon.  I decided I was going to "go vegetarian" and LOVE it!  I had a personal struggle with my weight which was the catalyst for change.  I remember going to the doctor with severe knee pain. I stepped on the scale and it displayed a whopping 264 pounds!  I was completely blown away!  I asked the nurse if there was something wrong with the scale.  The look on her face indicated, the only thing wrong with the scale was that I was on it and clearly in complete denial.  I learned soon after, there was nothing wrong with my knees that losing some pounds would not cure.  So I began my journey toward vegetarianism again (yes, I said again) with a determination to love it! 
We sometimes still hold onto old beliefs that being vegetarian means only eating carrot sticks and tofu.  Absolutely not!  I thought long and hard about becoming a vegetarian.  In my journey before Islam, it was easy for me to give up meat, including pork.  After reading How to Eat to Live by the Honorable Elijah Muhammad (Books 1 & 2), I was encouraged to become a vegetarian.  My first go round at vegetarianism lasted about 5 or 6 years and I gave it up because I was not satisfied. I was bored to pieces!  I couldn't imagine life with being banished to a diet of steamed veggies and rice for LIFE!  I soon fell off the wagon and started eating fish.  I was going through a stressful moment in my life and I wanted to eat something fulfilling that I enjoyed.  Up until then, I ate only to satisfy my hunger but not for taste or pleasure.  Eating is an experience, positive or negative.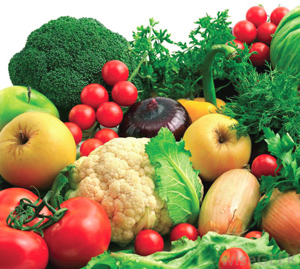 Being a vegetarian is not only a change in your diet but a change in the way you think about food.  I wanted this to be a lifelong change and not something temporary.  I had to decide what vegetables, legumes, grains and fruit I wanted to be a part of my diet.  Though I was a good cook, I had to work on creating dishes I would enjoy and could eat for a lifetime.  I didn't want just to satisfy my hunger, but I wanted my food to be good and a positive experience, every time. I started experimenting with different dishes, spices and concepts.  I finally got to a point where I was constantly cooking and creating dishes that I was falling in love with!  I documented what I prepared and posted pictures of my dishes on social media sites.  After lots of encouragement and even a bit of self-doubt, I decided to publish a vegetarian cookbook! 
With lots of assistance, the book became a reality. I wanted to share with others food options that were healthy, easy and good to eat.  The decision to eat healthier and make dietary changes should not be riddled in doubt or a fear of a tasteless eternity.  After doing a quick do-it-yourself publishing, I focused on the world of eBooks where my book, "Vegetarian Cooking Made Easy" is now currently available via Amazon and Barnes & Noble.  This was a blessing and a dream come true.  Not only had I become a published author, but most importantly, I was able to share a bit of my struggle towards vegetarian cooking and share some great recipes.  As I have told many non-vegetarians, you still need something to go with those meat and potatoes!  My wish is we could all adopt a healthier way of life and diet.  How to Eat to Live is the foundation to supreme health and fitness. I am eternally grateful to the Honorable Elijah Muhammad for the inspiration in making my vegetarian life a reality.  I lost almost 90 pounds by becoming a vegetarian and changing my sedentary lifestyle.  I am happier, healthier and wiser for my choices.
(This article was written by Saaudiah Muhammad, she is a doula (birth worker) author and student. She has had a meat free diet since 1993 and is currently working on other literary and professional projects.  She can be reached via email at: saaudiahnaturally@gmail.com She is a member of the Nation of Islam and based in Chicago, IL.)