The Final Call |
National News
The power of Hip-Hop and Justice Or Else
By Jihad Hassan Muhammad -Contributing Editor- | Last updated: Oct 28, 2015 - 9:36:16 AM
What's your opinion on this article?
WASHINGTON - Culminating his work that galvanized the Black and oppressed community worldwide in Washington, D.C. on 10-10-15, the 20th Anniversary of the Million Man March, the Honorable Min. Louis Farrakhan continued to inspire the  Hip-Hop nation who with his energy helped to galvanize youth for the movement of Justice Or Else.  
Prominent figures from the hip-hop nation were sighted throughout the sea of people present for Justice Or Else on 10-10-15. Snoop Dogg, Russell Simmons, Oscar-winning artist; Common, platinum selling artist; J. Cole, Sean 'P. Diddy' Combs, Young Jeezy, "Empire" star Bryshere "Yazz" Gray,  Chuck D, Jay Electronica,  "Love & Hip-Hop New York" star Yandy Smith, her husband, Mendeecees, Jasiri X,  "Real Houswives of Atlanta  stars Porsha Williams, Phaedra Parks and Sheree Whitfield, Kam, Ty Dolla $, as well as the godfather of Hip-Hop Africa Bambaataa were some of the most notable to attend.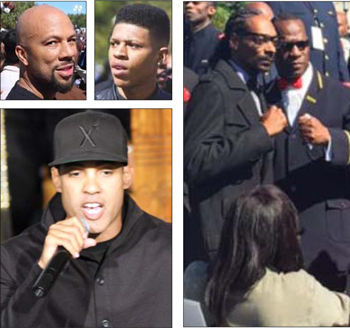 Committed for change and this movement Snoop Dogg hosted the BET Hip-Hop Awards just hours before in Atlanta, and quickly caught a flight to be present on 10-10-15. He took to Twitter expressing how epic this day was to him by tweeting a picture of slain hip-hop legend Tupac Shakur and himself with the words from their song together, "2 of Amerikaz Most Wanted" in which Snoop says "and put together a Million March with a gangsta twist." The words #JusticeOrElse were also at the bottom of the picture.
Also on Twitter hip-hop mogul Sean 'P. Diddy' Combs commented "Front row with my brother @Jeezy listening to @LouisFarrakhan!! Watch the live stream NOW at Revolt.TV!! @revolttv #JusticeOrElse."  P. Diddy not only broadcasted the event live, he later aired an exclusive interview with Min. Farrakhan on his network.
The Minister is no stranger to the hip-hop community. His words and work among its grassroots has been a part of the culture and consciousness of hip-hop from its beginning in the Bronx, New York City in the early 1970s.
Many have seen Min. Farrakhan as a mentor that meets this generation in whatever stage of development they are in, and with intense love seeks to give them guidance to become better.  With a grueling schedule touring the United States, the Minister never forgot about organizing and meeting with the youth and hip-hop community. 
Youth hear the Minister gladly. Unlike the Million Man March of 20 years ago, there was no Rev. Jesse Jackson or Rev. Al Sharpton present. This time youthful leaders such as Tori Russell of Ferguson's Hands Up United and Lost Voices from the streets of Ferguson were represented from the podium engaging those present with an undying fighting spirit to organize and attain justice for a community that has grieved massive loss of lives from law enforcement misconduct, in addition to the alarming rate of violence and murder in the streets happening everyday in the Black community.
 "One of the reasons why I am here is that so many of our people came together in unity with a man that we all trust which is Farrakhan. He's  like Martin or Malcolm organized this to help us, so my family and friends all are here today to hear from him," declared Dontay one of the founding members of Ferguson's Lost Voices. Dontay started his activism on the streets through the culture of hip-hop as a member of Dynasty Hip-Hop Mentoring Program in St. Louis, Mo. He says that organizations like Dynasty help youth get focused and prepared for their goals.
The Justice Or Else movement could be the catalyst to reignite hip-hop's activism not only on the grassroots level, but on the mainstream which would affect hip-hop's industry.  A furor over BET not airing Justice Or Else resulted with viewers of the channel demanding that they would not watch this year's BET Hip-Hop Awards in protest. This year's awards reportedly only garnered 1.807 million viewers with a simulcast on MTV adding 372,000 viewers. The BET Hip-Hop Awards in 2014 brought in 2.937 million viewers.
If continued this display of power could result in major changes to radio programming, music sales, and an overall turn around in the industry of rap music, as well as hip-hop. 
Hip-hop music's content has recently began to shift back to consciousness, or a new era awakening, with popular albums from J. Cole, and Kendrick Lamar this year both with a noticeably more conscious message. Just days after 10-10-15, R&B/ Pop sensation Usher released an new video for his anti-police brutality song 'Chains' which features hip-hip legend Nas, and new found singer/songwriter Bibi Bourelly most known for penning Rihanna's 'Better Have My Money'. The words to the song say it all "N**** We Still In Chains… We Still In Chains… We Still In Chains". Songs like this will most definitely change the landscape of radio as we know it.
Justice Or Else has brought about a new day in the hip-hop nation, that shows promise of revolution and upliftment which is the original premise that the culture it was founded on.  As the day's activities ended clusters of youth united to take pictures and build on their experience at the massive gathering. A chant began to sweep through the streets of D.C. around the Capitol grounds, becoming a unofficial anthem of sorts to the youth present that day. It can be heard on Kendrick Lamar's hit song 'Alright', and they chanted 'we gon' be alright,  'we gon' be alright, 'we gon' be alright,  do you hear me, do you feel me 'we gon' be alright'. This is the power of hip-hop and Justice Or Else.