The Final Call |
National News
Backlash hits BET for not broadcasting Justice Or Else!
By
Starla Muhammad
-Assistant Editor- | Last updated: Oct 26, 2015 - 9:33:59 AM
What's your opinion on this article?
Black Entertainment Television's (BET) decision not to broadcast Justice Or Else, the 20th Anniversary of the Million Man March convened by Nation of Islam Minister Louis Farrakhan on Oct. 10 was met with swift criticism then channeled into action. Immediate calls to boycott the Oct. 13 airing of the popular BET Awards Show in protest had social media circles buzzing. The hashtag #BoycottBET quickly made rounds online.
A person using the Twitter handle  @KingdOutKings said, "BET doesn't align it's self with the overall interest of Black People. #BoycottBET #JusticeOrElse." Other remarks on Twitter included: @_laureninspires who wrote," #Blacktwitter, You're so powerful & always fight the good fight. Right now please use your voice to drag the hell outta @BET. #BoycottBet."
And @KaNuri commented, "If you learned anything from #JusticeOrElse it was we can fight back with our $$. Our spending power dwarfs some countries! #BoycottBet."
According to Nielsen, 1.807 million adults from age 18 to 49 in the 8 p.m. to 10 p.m. slot watched the awards show which is a virtual 'who's who' in Black music, television and movies, with a simulcast on MTV that added an additional 372,000 of total viewers. But last year's broadcast of the awards show drew a total of 2.937 million viewers, a drop of over 1 million viewers.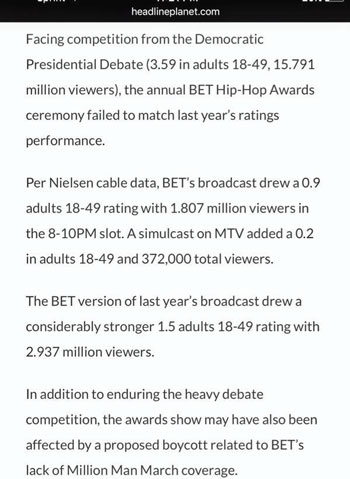 Some argued since BET is no longer Black-owned (it was sold by owner Robert Johnson, who is Black, to Viacom in 2001), broadcasts objectionable content that reinforces negative Black images, that to expect it to air positive content is futile. But those in support of #BoycottBET argued the network still relies on an overwhelmingly Black viewership. It is still the number one cable network among Black people and reaches 90 million households. According to BET's website, "BET Networks is the pre-eminent entertainment brand serving African Americans and consumers of Black culture globally." This service should have included a live broadcast of the historical Justice Or Else program, critics argued. The network did post tweets with photos and videos on its Twitter feeds from the gathering, but for many, that was not enough.  
"Isn't it interesting that BET wouldn't cover the Million Man March, but will gladly market a rapper that encourages young black men to sell cocaine?" said finance expert and author Dr. Boyce Watkins on his Facebook page.
BET previously faced public pressure when it originally scheduled the awards show on the same day as the D.C. gathering. With the assistance of media mogul Russell Simmons, a longtime friend of Min. Farrakhan, the show was subsequently rescheduled.
Despite mainstream media's tepid and in most cases, total "media blackout" of the peaceful October gathering, C-SPAN broadcast the entire program live in its entirety and reran it several times and Revolt TV, owned by Sean "P. Diddy" Combs and Comcast also broadcast live. Several Black radio outlets including Chicago-based WVON-AM, WPFW-AM in Washington, D.C., WVEE-FM and WAOK-AM in Atlanta broadcast the program live. Five Baltimore and D.C.-based TV One radio stations and other radio stations went live during the day. This is a clear demonstration that it is critical Black people own and support their own media outlets, said Final Call editor Richard B. Muhammad, who worked with media covering Justice Or Else!.  
@OfficialTh3rd on Twitter wrote, "How could @BET not show the million man March??? Obviously because they're not really controlled by "us" #boycottbet."