The Final Call |
National News
Muslims stop alleged assault in South Dallas
By Jihad Hassan Muhammad | Last updated: Feb 20, 2012 - 3:09:20 PM
What's your opinion on this article?
DALLAS (FinalCall.com) - The Southern section is historically the city's Black community, rich with culture, and businesses that are owned by Black people.
Martin Luther King Jr. Blvd. is a popular central location in South Dallas, and it is on this street that tension and disruptions seem to have risen to heights not seen by residents in years—if ever.
Many residents are upset over the mistreatment, and disrespect by Korean businessmen, who own a Diamond Shamrock gas station. They have formed a movement, Don't Stop Don't Shop, and have been protesting the store for over 45 days.
But Feb. 8 a strange turn of events punctuated feelings of outsiders disturbing peace in the community.
Just minutes from the protest, still on Martin Luther King Blvd, stands Black Jack Pizza, a Black-owned, family business that has served the area for over two decades. On this afternoon, a young Caucasian man with a shaved head walked into Black Jack to eat, and also to allegedly commit a crime.
"He was eating his food and began to look around at everyone strangely, and you could tell he was getting upset. As he looked around, he became even more upset when he saw a interracial couple eating, and he got up and started pouring soda on them, and throwing food on them," said Dorothy, who works at Black Jack Pizza.
According to Black Jack staff and eyewitnesses the man, who identified himself to the Dallas Police Department as Greg Johnson, vandalized the restaurant and pushed other patrons.
Witnesses said Mr. Johnson ran out of Black Jack's, with the owner of the business' son and other staff members chasing him.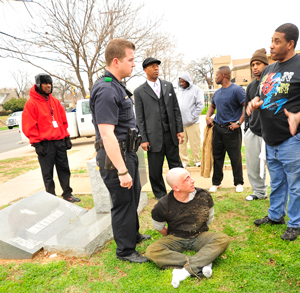 "I was riding down Martin Luther King, on the way to the post office as a matter of a fact, and I looked over and I saw a bald headed White man running down the street with four brothers chasing him. Two were in aprons and I recognized them from Black Jack Pizza. I figured they must have gotten robbed because Black Jack doesn't hurt anybody, so myself and Brother Victor, riding with me did a U-turn, and cut off him off, that is where we, another F.O.I., Brother Khalil, and some members of the community made a citizens' arrest of the man," said Jeffery Muhammad, Dallas representative of the Honorable Minister Louis Farrakhan and Nation of Islam. The Nation of Islam's Muhammad Mosque No. 48 is across the street from where the arrest was made. The Fruit of Islam, the men of the Nation of Islam, have a long history of providing peace, security, and protection to neighborhoods and other environments.
Khalil Muhammad, who held the alleged assailant to prevent his escape before the police could arrive, was happy to be of service.
"My first response was to secure my minister, Bro. Jeffery, who I noticed was involved with catching the man, so I ran over, and eventually I had the man down. I knew I had to maintain the lock so we could keep him here so that he could be arrested by the police for what he had done," said Khalil Muhammad. The citizens' arrest was received as a triumphant moment for the community.
Arnold Moore, who witnessed the arrest, and was familiar with what happened at Black Jacks, said, "It is about time that someone steps up to do something that helps us."
Dorothy of Black Jack's was thankfully elated. "Muhammad, the men from the mosque, really helped us today, we really appreciate it," she said.
"We are now protesting the Diamond Shamrock gas station, because of the Korean owner's unfair practices, and disrespect of our community. Well as we come together and strive to open up businesses in our community, like the Black Jack Pizza that has been in the community for 25 years, we must also understand, as the Honorable Minister Louis Farrakhan has taught us, that we must protect our own community. We have to come together and protect our community from any would-be violators that come to damage what we build," said Student Minister Muhammad. The owners of Black Jack Pizza said they had never encountered anything like this.
When questioned by Student Min. Muhammad on why he did what he did, the alleged peace breaker said, while recorded on video, "My family paid me to and do this." Asked why he shaved his head, since owners said he had been in the restaurant earlier and his head was not shaved, Mr. Johnson's response, "Yes, they told me to shave my head." He was arrested by the Dallas Police Department and may have ties to neo-Nazi Skinhead groups.