The Final Call |
National News
Hurricane Irma 'catastrophic' for Caribbean
By
Rhodesia Muhammad
-Contributing Writer- | Last updated: Sep 14, 2017 - 8:08:31 AM
What's your opinion on this article?
Irma, said to be the most powerful Atlantic hurricane on record left a string of hard-hit Caribbean islands, including Antigua and Barbuda, Puerto Rico, St. Martin, and the U.S. Virgin Islands devastated by the Category 5 storm beginning in early September.  Although some islands were spared, others suffered loss of life and property and are facing years of recovery.
Hurricane Irma made landfall on one half of the twin island of Antigua and Barbuda just before midnight Sept.  5. Barbuda is the smaller of the two islands and was completely devastated. Its counterpart Antigua, about 30 miles away, wasn't hit as hard and sustained very little damage even though it was expected to receive the brunt of the storm. However, Barbuda has been described as 95 percent uninhabitable. So far, one death of a 2-year-old swept away by storm surge has been reported.
Prime Minister Gaston Browne of the two-island nation reported during a press conference that every building on the island of Barbuda was damaged or destroyed when the eye of the storm passed almost directly overhead.
Sixty percent of the roughly 1,800 residents are homeless and the island is likely to cost at least $150 million to repair.
"This is one of the most significant disasters anywhere in the world," said Prime Minister Browne. "This is a monumental challenge for a small island government."
Mr. Browne admits he was caught completely off guard by the destruction in Barbuda because it's so close to the unscathed Antigua given the proximity of the two islands. He was extremely concerned about Hurricane José, also coming out the Atlantic but the storm just missed the island.
Barbuda wasn't the only island in the Caribbean impacted.  Puerto Rico, although spared from a direct hit, was not totally spared. The island's electrical infrastructure couldn't withstand the storm leaving more than one million Puerto Ricans without electricity.
Governor of Puerto Rico Ricardo Rossello said, "It will be difficult to estimate how long the power outage will last."
Over 50,000 were without drinking water and 6,000 residents were in shelters. At least three people were reported dead at Final Call press time.
Puerto Rico has been suffering an economic crisis for the last decade and now Hurricane Irma could leave the U.S. territory in a critical state.
Ricardo Ramos, chief executive of the island's utility said about two-thirds of the island's electric customers, more than a million, were without power.
The U.S. National Weather Service said Puerto Rico had not seen a hurricane of Irma's magnitude since Hurricane San Felipe in 1928. Puerto Rico's public power company has cut back on staff and maintenance amidst its economic crisis and the agency's director warned that some areas could be without power from four to six months because the infrastructure has already declined.
"Puerto Rico's economic crisis has led to a mass exodus of its citizens," said Assistant Student Minister David Muhammad of the Nation of Islam mosque in Milwaukee, who is of Puerto Rican decent. "Those that stayed were either very wealthy or very poor and couldn't afford to leave. So, that coupled with the fact that there's not a strong infrastructure for these types of events, the safety net that would have been there prior to a natural disaster is even more exacerbated after one."
"We've been through hurricanes Andrew and some of the other ones that have come in the past, but the damage has been done by the economic crisis in Puerto Rico, which comes because of the austerity measures, the selling of public utilities, the power grid, much of the social services," Mr. Muhammad added. "There are areas particularly in San Juan where it doesn't take much for areas to flood and so the type of infrastructure that exists in Puerto Rico, the type of crisis that has already been plaguing the island economically is just going to be made worse by this."
He added, "Luckily, by the grace and mercy of Allah, the island was not hit as it could have been like its smaller neighbors of Barbuda and Antigua were hit."
"However, with the economic crisis in Puerto Rico, it's a sign that we can no longer sustain a population like Puerto Rico because it's a Latin American colony and the fact that we can't go through bankruptcy and get out of debt that was never ours to begin with just shows that people have profited off the misery of Puerto Rico and disasters like this as we saw in the case of Haiti.
"America, the IMF, and the banking powers, they never saw an environmental crisis where they couldn't make money and so this may be another opportunity to make a bad situation worse, but hopefully this is a wakeup call to those of us who love the Caribbean and are from the Caribbean to see that there's unity in the Caribbean," David Muhammad concluded.
"It wasn't as bad as we thought it would be," said Anthony Lopez, a native of Puerto Rico. "We were concerned about landslides and severe flooding especially with the governor declaring it a state of emergency. We truly feared for our lives."
"I'm very pleased with how Governor Rossello handled this dire situation. He made sure the government activated a price freeze on basic necessities, like food, water, and medicines … we know there's a lot of repairing to do, but we're just ecstatic that our lives were spared," Mr. Lopez added.
Irma stayed on its path of destruction crashing into St. Martin around six hours after striking Antigua and Barbuda demolishing homes, hurling cars and uprooting trees as it whipped through the territory that has a population of about 80,000.
The death toll was up to eight bodies, in which two were reported on Dutch Saint Maarten, which shares an island with St. Martin where 95 percent of the island is destroyed, said Daniel Gibbs, president of the territorial council in a radio interview, including many homes and schools.
Saint Martin's Prime Minister William Marlin said the government anticipates a serious housing shortage and is already fretting over a lost tourist season.
"We foresee a loss of the tourist season because of the damage that was done to hotel properties, the negative publicity that one would have that it's better to go somewhere else because it's destroyed. So that will have a serious impact on our economy," he said.
French Interior Minister Gerard Collomb of Saint Barthelemy known as St. Barts reported that most schools there will need to be rebuilt.  Floodwaters and blackouts are their biggest problem. 
The island of Anguilla sustained the full blast of the hurricane. Police stations, hospitals, school facilities, three or four emergency shelters, a home for the aged, the fire station, as well as numerous homes have been destroyed and damaged. However, former Anguillan official Dorothea Hodge has told a British newspaper that officials failed to set up an emergency fund or reconstruction plan for its Caribbean territories and referred to the government's response to the storm as pathetic and disgraceful. One death was reported in the British territory of Anguilla.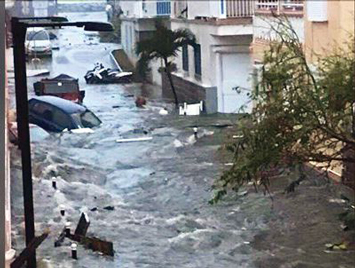 The U.S. Virgin Islands is a popular tourist destination. Those living in the U.S. Virgin Islands particularly on St. John or St. Thomas are still picking through rubble. Homes, popular bars, hotels and roads were obliterated. St. John has more than 4,000 U.S. citizens that have been cut off from communications. Those who have working batteries were left waiting in long lines to use a damaged pizza restaurant, one of the only areas left on the island where they can get a cell phone signal. Roads are reportedly inaccessible, schools were destroyed and the land has been stripped of vegetation.
President Donald Trump approved an emergency declaration for the U.S. Virgin Islands and Puerto Rico. This means FEMA and other agencies can remove debris and give other services that will largely be paid for by the U.S. government.
Four people are confirmed to have died in the U.S. Virgin Islands of St. Thomas and St. John.  The British Virgin Islands were also whipped by the hurricane's full force. Homes, businesses, and supermarkets have been destroyed.
The storm grazed the north part of the Dominican Republic, which is on an island shared with Haiti. Five thousand people were evacuated.
Irma took out a key bridge between Haiti and the Dominican Republic causing power loss in several areas.
The island of Turks and Caicos was hit Friday morning Sept. 8. After bracing for winds up to 174 m.p.h. and waves of up to 20 ft. high, the extent of destruction was huge. Irma caused extensive flooding and water reaching above the waist in some areas.
Irma plowed through Cuba early Sept. 9 packing sustained winds of 125 m.p.h. The storm brought dangerous storm surges of up to 10 feet.
Hurricane José followed a similar path to Irma hampering relief efforts in some of the worst affected areas. 
Although many are assessing damages from Irma, it is clear a combination of storms means 2017 is shaping up to be one of the costliest years ever for the insurance industry, said Paul Schultz chief executive of Aon Securities.
As of Sept. 8, there had been 23 reported deaths and the number was expected to rise. Damages across the Caribbean reached $10 billion. Irma affected an estimated 1.2 million people in the Caribbean before heading to Florida. "Both from an economic perspective and from an insured perspective, losses are going to be truly catastrophic," Mr. Schulz said.