The Final Call |
National News
Road Rage Or Race Rage? Killed On A Highway, Bianca Roberson Is Mourned And Missed
By
Michael Z. Muhammad
-Contributing Writer- | Last updated: Jul 12, 2017 - 12:43:43 AM
What's your opinion on this article?
WEST CHESTER, Penn.—
The great Nina Simone sang, "To Be Young Gifted and Black," this narrative fit eighteen-year-old Bianca Nikol Roberson like a shiny new designer glove.
Her life tragically cut short by an armed and some say entitled angry White man. Her crime? She had the audacity to merge her car in front of his. He allegedly pulled his .40-caliber Smith & Wesson pistol and fired a single shot striking her in the head. She never saw it coming.
Over 800 heartbroken family, friends and community supporters gathered at the St. Paul's Baptist Church in the Borough of West Chester located 25 miles west of Philadelphia on July 7 for her home going service. They wrestled with her untimely death in what authorities called a road rage incident. The burning question in the hearts of many in attendance: Was it road rage or race rage? Why would a man shoot and kill an 18-year-old girl in a random encounter?
A church banner proclaimed "Patience, Kindness, Goodness, Gentleness, Self Control." For certain Bianca's alleged assassin was none of these things. On June 28, Bianca was on her way home following a shopping trip with her mother and grandmother, according to her father Rodney Roberson. She was preparing to leave for college in a few weeks.
During the peak of the homebound commute, witnesses said they saw a dangerous "cat-and-mouse game" in which two motorists were jockeying for positions on a quarter-mile stretch of highway where two lanes become one.
According to newspaper accounts, a man in a faded red pickup truck was jockeying with Ms. Roberson to merge into the same lane, pulled out a gun, and shot her. Her car veered off the road around 5:30 p.m. and crashed.
"This homicide was completely senseless," said West Goshen Police Chief Joseph Gleason in published reports. "A beautiful young lady of 18 years of age, in the prime of her life, getting ready to go off to college. And for reasons that are incomprehensible to me, the family is now planning her funeral instead of a going away party for college." 
David Deeper, 28, of Trainer, Del., surrendered to police around 2 a.m. Sunday, July 5, according to news accounts, ending a three-day manhunt for the road-rage murder suspect that spanned at least two counties and attracted national attention.  Those acquainted with him say they were bewildered. Those who knew the accused killer described him as even tempered in media accounts.
Philly.com reported no previous serious offenses, according to court records, just a few traffic violations for driving unregistered vehicles without proper inspection. In 2007 he was accused of drag racing in Philadelphia but was found not guilty. In Facebook posts and comment threads, Mr. Desper's friends described him as a calm and level-headed person who rarely seemed to get angry, which made the senseless murder all the more chilling.
In a search of Mr. Desper's home, police said, they found a .40-caliber Smith & Wesson semiautomatic handgun and .40-caliber ammunition, the same as used in the shooting. Mr. Desper had purchased the gun legally three-years-ago, Chester County District Attorney Tom Hogan said and had a license to carry it. Mr. Desper's charges include first- and third-degree murder, possession of an instrument of crime, and reckless endangerment. District Attorney Hogan added there was "no indication that we're aware of that this was a race crime or a hate crime." Many beg to differ with that assertion. Walter Fields, publisher of Northstar News and community leader, told The Final Call, "To not call this a hate crime makes no sense at all. When you think about pulling up next to someone on a highway and shooting them in the head what else is that but hate? I think this is a problem in this country; we will not call out what is clearly blatantly racist attacks."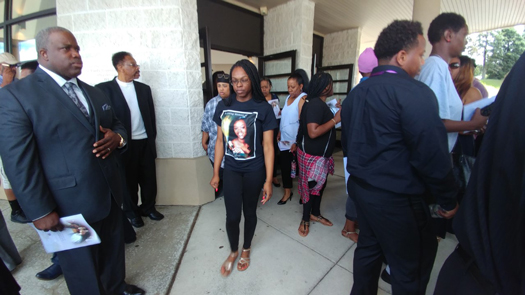 "You can't tell me that there aren't things in Desper's background that other people know, the idea to make this guy out as some normal guy who simply got enraged at the moment is absolutely absurd," Mr. Fields concluded. The Philadelphia head of the NAACP, Student Minister Rodney Muhammad, agreed with that assessment. He told The Final Call, "You don't go from being a Mr. Roger's type to outright murdering somebody in cold blood. There have to be some traces of something in his background." The NAACP leader said he would not rule out a hate crime. "I have to wonder if the girl had been White would he have drawn his firearm? His actions mirror the hardening attitudes in the country as reflected by policy coming out of Washington."
During the funeral service, among those who paid tribute were her brothers; officials from Bayard Rustin High School, where she had just graduated; the chief admissions officer at Jacksonville University, which she was to attend in the fall; and friends. What emerged was a portrait of an extraordinary young woman. Speaker after speaker extolled her brilliance and virtues.   Ms. Roberson was a member of the Black Student Union while in high school. She was an honor roll student who received the prestigious Bayard Rustin High School Knights of Character Award. She was to matriculate to Jacksonville University where she was the recipient of a four-year merit scholarship award.
In providing the eulogy, Pastor Wayne E. Croft Sr. linked the shooter with the likes of George Zimmerman and Michael Dunn. Mr. Zimmerman who shot Black teenager Trayvon Martin to death in Florida in 2012. Mr. Zimmerman was acquitted of murder in 2013. Mr. Dunn shot Jordan Davis, another Black teenage male, to death in Florida in 2012. A verbal encounter over music from the car the teenager was in escalated when Mr. Dunn fired shots into the vehicle—even as it was driving away. He was convicted and sentenced to life plus 90-years in prison.
"Whether Bianca's murder was road rage or racial it doesn't matter right now to the Black community. All we know is that we lost another brilliant young Black star. Another good sister is gone," said the pastor.