The Final Call |
National News
Black America 2016 - Struggle, opportunity and the 'necessary ill wind' of Trump
By
Bryan Crawford
-Contributing Writer- | Last updated: Dec 27, 2016 - 1:38:16 PM
What's your opinion on this article?
CHICAGO—
Each year has its own unique footprint that leaves an indelible mark on history. For Black people, 2016 could be seen as a year of change, and in many respects, an awakening in politics, economics, health and culture.
Between the continued assault on Black bodies by police and the racially, politically charged 2016 presidential election cycle, Blacks were reminded that they are collectively still in pursuit of freedom, justice and equality in America.
However, this realization did have a positive effect: it reignited the importance of Blacks rallying around one another and doing for self.
The ongoing epidemic of police killings and abuses of Black men, women and children in addition to the fratricidal internal violence in Black communities in 2016 was an unfortunate but continuing example of what the Honorable Minister Louis Farrakhan of the Nation of Islam described as "a war on two fronts." 
It is a reality that Dr. Ron Daniels said is very concerning. 
"That's an ongoing epidemic on two fronts that's very troubling," said Dr. Daniels, president of Institute of the Black World which convenes a State of the Black World Conference.
He told The Final Call he was encouraged by the work of young activists confronting issues through targeted demonstrations and protests.
As of Dec. 23 of this year, 940 people have been shot and killed by police in the United States. Of this number, 226—24 percent—of the victims were Black men. While a large majority of these shootings went ignored by the national media, quite a few became high-profile, controversial cases.
Police shootings of Philando Castile, 32, near Minneapolis; Alton Sterling, 37, in Baton Rouge, La.; Tyre King, 13 in Columbus, Ohio; Keith Lamont Scott, 43, in Charlotte, N.C.; Terrence Crutcher, 40 in Tulsa, Oklahoma and Korryn Gaines, 23, in Randallstown, Maryland were just a few of the high profile cases in 2016.  
Many of the shootings sparked outrage with street protests, targeted economic boycotts of retail establishments and in some cases uprisings that resulted in violence.
This year was another reminder that rights of citizenship and equal treatment under the law doesn't easily apply to Blacks. A good example of this are the few number of criminal charges filed, prosecutions, trials or convictions in the shooting deaths of Black Americans.
Additionally, although being publicly disputed by law enforcement agencies and police supporters, the American Journal of Public Health confirmed what many in the Black community have known and said for decades. The journal found that Black men—as well as American Indians and indigenous Alaskans—are three times more likely to die at the hands of police. Hispanic men are twice as likely to lose their lives as the result of police encounters than White men.
Black women are not exempt. What started in early August by Baltimore County Police, as another day serving arrest warrants for failure to appear in court, ended in the shooting death of Korryn Gaines, and the shooting of her five-year-old son. According to reports, Ms. Gaines was holding her legally obtained Mossberg, 12-gauge shotgun and was shot to death after a standoff with police. No charges were filed against the officers. 
There were some assaults on police in 2016, with the most notable incidents occurring in Dallas, Texas when five officers were killed and in Baton Rouge, Louisiana where three officers lost their lives. The attacks on the officers were called retaliation for the killings of Blacks by cops.
The continued shooting deaths of Blacks by police or by one another takes a mental toll on the psyche of many Blacks, which is another problem the community must deal with.
Terrie M. Williams, a mental health advocate and author of "Black Pain: It Just Looks Like We're Not Hurting," said, even for her, the number of deaths particularly of Black men took a toll. "I have not words to convey the sense of loss and the lack of meaning of the lives of our brothers. It's something that I pray about, try really, really hard to protect myself from the weight that I feel whenever I hear about another brother taken out."
Madeline McCray, an actress, activist, author and holistic lifestyle coach, also saw this year as a bad one for Black America. "I feel that 2016 was a painful year for the majority of Black people in terms of our watching the deaths of Blacks, the abuse of our youth at the hands of police over the summer and obviously the killings that are going on within our own communities and realizing that so much more has to be done and so much more has to be done from within," she told The Final Call.
Unfortunately, the justice system failed to take any kind of meaningful action to curb the assault on Black bodies by police, noted activists. Many trials involving police officers accused of shooting Black men ended in mistrial, convictions on lesser charges that call for no jail time, even acquittals—in most cases no charges were filed at all.
"As Black people, we will never achieve freedom, justice and equality through the parameters of jurisprudence in the United States of America because the system is rooted in a doctrine of White supremacy," Dr. Ava Muhammad, an attorney and student national spokesperson for Minister Louis Farrakhan and the Nation of Islam, told The Final Call.
"I have served on both sides of the bar—as a prosecutor and a defense attorney," she added, "And there is simply no escaping the reality that Black people will never experience justice because the relationship between White America and Black America has always essentially been one of slave and slave master."
 Resistance, struggle and working together
Dr. Daniels was struck this year by the relentless effort on the part of the Black Lives Matter movement, its allies and associated organizations in pushing for major police reform and accountability and how young activists responded to some of the police killings that made national headlines.
 "We have to give a lot of credit to these young leaders who had the courage and there were many older leaders who joined in," said Dr. Daniels. There was "some progress" this year, he added, including the effort to get body cams in police departments and de-escalation training.
"It's certainly not where it ought to be and certainly not where it's certainly going to have to end but I would say that that pushback has been successful," said Dr. Daniels
Black consciousness was also on the rise this year, especially among youth. Diane Latiker, founder of Kids Off the Block, a nonprofit that helps keep young people in Chicago off the streets and away from the perils of gang and drug violence, told The Final Call that she has noticed a profound change in those she works with daily.
"There was two times in particular where I noticed young people paying attention to what was going on politically," Ms. Latiker said. "One was when Obama became president and the other was when Donald Trump called out Chicago for the violence. They noticed. And even though they didn't understand the full scope of what he said, they were very angry at what they heard. So, it was like euphoria for me to hear these young people saying now that the guns and violence are not the way."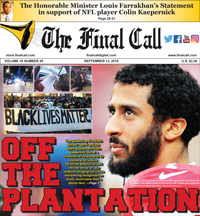 Dr. Daniels was impressed with Black athletes who took a stand this year and used their platforms to address social justice issues—such as basketball greats LeBron James, Dwyane Wade, Carmelo Anthony and NFL quarterback Colin Kapernick. Mr. Kapernick of the San Francisco 49ers drew praise and backlash with his decision to peacefully kneel during the playing of the National Anthem before games to draw attention to police brutality in Black communities. Dr. Daniels said he hopes the activism continues, especially in light of the death of boxing great Muhammad Ali earlier this year.
"Ali was the epitome of strength in the face of oppression, a staunch example. And many athletes today are following that example and that's good. We really need people who are willing to use their celebrity in the way that the Honorable Minister Louis Farrakhan pointed out that Paul Robeson was able to do," said Dr. Daniels. 
Looking forward, Black individuals and organizations must work together in specific areas including being looked to as the "first responders" in their communities to prevent not only internal violence from escalating but initiating a community control of policing, observed Dr. Daniels. "If people are going to police us, they must police us as we define and not as has been the definition used externally so I think that's the next major step. It's not going to be easy," he pointed out.
There are sure to be more struggles and conflicts ahead, as the inauguration of President-elect Donald J. Trump looms right around the corner, activists note.
'A necessary ill wind'
In a recent interview on Muhammad and Friends, Min. Farrakhan was asked by the show's host, Munir Muhammad, for thoughts on the election of Mr. Trump to the presidency of the United States. The Minister described the real estate tycoon as "a necessary ill wind to blow on the dry bones in the valley." Those winds will force Blacks to come together and act in their own interest and separation from White America is the divine solution, he added. Black rejection of this reality will only bring more suffering, warned Min. Farrakhan.
During his presidential run Mr. Trump was openly supported by White supremacists as he espoused the "law and order" politics similar to two notable Republican Party predecessors, Richard Nixon and Ronald Reagan. Consequently, Mr. Trump made Chicago a focal point of this rallying cry and even alluded to the reintroduction of the controversial stop and frisk policy in the city that could land even more Black people behind bars. An increase of hate-related crimes and sentiments reared its ugly head as Blacks, Muslims, Latinos, Immigrants were targeted after his election.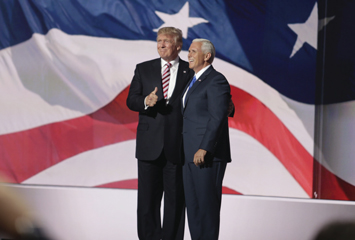 "Trumpism is really, really ugly and what that means is that some of the incremental progress that was being made on several occasions will be turned back because you have someone like Jeff Sessions, who has no sympathy for criminal justice reform, and is likely to come down hard on issues like 'Ban the Box' as Trump sort of campaigned as the law and order president," said Dr. Daniels. Senator Sessions (R-Ala.) is President-elect Trump's controversial nominee for U.S. attorney general. It will be a tougher battle now to push for additional reforms that are needed, Dr. Daniels explained.
From Dr. Ava Muhammad's vantage point, aggressively singling out Black people as a criminal element in society—particularly Black men—is all part of the Trump plan.
America's economy was built on free labor, so it can only survive for a finite amount of time paying people for their labor, she argued.
"The prison industrial complex has been used to solve America's manufacturing labor problem by incarcerating millions of Black, Latino and poor White inmates who when sentenced, are sent to a correctional facility and then put to work in every field of endeavor inside the walls of American prisons. Donald Trump has stated very plainly that he intends to increase the prison population because of the policies he's put forth," said Dr. Ava Muhammad.
Student Minister Ishmael Muhammad, national assistant to Min. Farrakhan, said 2016 saw the prophetic words of the renowned and respected Muslim leader come true.
"A few years ago he said that the White man was going to take off the mask of civility and show us his true nature. With president-elect Donald Trump winning the White House, the message is clearer than ever now to Black people that we must organize, come together, and do the things we must do to ensure a better future for ourselves," said Student Minister Ishmael Muhammad.
Ms. McCray, the life coach, said a bright spot in 2016 was witnessing more Black people coming together for a common cause and the continued strength of social justice movements and advocacy.
"Seeing our young people really engaged and determined to be a part of their own future and truly putting themselves on the front lines, if you will, and I think that we became more aware of how important it is for us to engage with one another for social justice, for economic justice," she noted. 
This year, many Blacks were inspired by both the "Bank Black" and "Buy Black" movements, due in large part to growing recognition Black people are both disenfranchised and ignored by the American political and justice systems. "Politics without economics is symbol without substance," Min. Farrakhan teaches often. 
Echoing Min. Farrakhan's call in 2015 to "redistribute the pain"  through Black economic withdrawal," Atlanta-based rapper Killer Mike put out a call this year for Blacks to deposit their money in Black-owned banks and support Black-owned businesses as an alternative to protesting injustice in the streets.
"We cannot go out in the street and start bombing, shooting and killing. I encourage none of us to do that," Killer Mike said. "I encourage none of us to engage in acts of violence that will cause more peril to our community and others that look like us. I encourage us to take our warfare to financial institutions. If you are truly angry, take a portion of your money and put it in a small Black bank or credit union and watch that money accumulate," he said.
The "Up With Jesus, Down With Santa" movement to boycott spending during the holiday season, called for by Min. Farrakhan in 2015, saw success for a second consecutive year. The National Retail Federation and research firm ShopperTrak reported that holiday sales at brick-and-mortar retail stores fell sharply, with sales being down as much as 10 percent in 2016, compared to last year.
Dr. Avis Jones-DeWeever, author, commentator and founder of the Exceptional Leadership Institute for Women, said Black people must start organizing and mobilizing immediately locally in cities regardless of who is in the White House or Congress.
"We really need to look at building our Black power structure at the local level and state level in terms of political representation. It's not enough to try and influence policymakers to do the right thing," she told The Final Call.
"I think the next stage in that fight is we need to be the ones writing the laws. We need to be the ones in office. We're getting to a point where we are running for office, where we are funding our candidates, where we are funding our own organizations and not waiting around and hoping that the Democratic Party, White progressives, or whoever is going to give us money," said Dr. Jones-DeWeever. She also said Blacks must be more strategic and organized when it comes to economic boycotts or targeted spending in 2017. 
As Blacks in America prepare for a Trump presidency, Student Minister Ishmael Muhammad sees the next 12 months being filled with fear, anxiety and uncertainty. But he feels in spite of what happens, there's still hope on the horizon for Black people.
"I think 2017 is going to be a very difficult and challenging year as we wait to see what President-elect Trump does in terms of his policies toward the Black community," he said.
"So we're in for a rough ride, but at the same time, we're going to be moving in the right direction that God would have his people go. In the midst of all the chaos, confusion and uncertainty, there is great good that is going to come out of this and in the end, we will be free, justified and made equal among all mankind."
(Starla Muhammad and Final Call staff contributed to this report.)