The Final Call |
National News
Police Shooting Brings More Protests, Pain To Windy City
By
Bryan Crawford
-The Final Call- | Last updated: Nov 21, 2016 - 10:06:46 AM
What's your opinion on this article?
CHICAGO—
 The Mount Greenwood neighborhood on the Southwest Side of Chicago is one with a long, ugly history of racism.
Some say the ugliness has never been more apparent than with the fatal shooting of 25-year-old Joshua Beal of Indianapolis, killed by an off-duty police officer during a traffic dispute, and its aftermath.
Mr. Beal, who was in town for the funeral of a relative, was shot and killed near the intersection of 111th St. and Troy Avenue on a Saturday afternoon in early November.
Video of the incident captured a White male wearing a red shirt, presumably one of two off-duty police officers involved in the shooting, pointing a gun in the direction of Joshua and his brother Michael Beal who were standing in a crowd in the middle of the street. Michael Beal was later arrested and charged with assault and attempting to disarm a police officer after his brother was shot. His bond was set at $500,000. He was released when bail was posted.
Joshua Beal, who held a firearms permit issued by the state of Indiana where he lived, brandished a firearm, presumably to defend himself and his family members from men with guns who, according to activists and family members, never identified themselves as police officers.
In the video, which does not show the actual moments when Joshua Beal was hit, as many as 12 shots can be heard being fired. Kofi Ademola, an activist with Black Lives Matter Chicago, told The Final Call details of the incident were shared with him by the Beal family.
"After leaving a funeral, an off-duty police officer cut into the Beal family caravan as it was passing through the Mount Greenwood area. A young lady, who was only 17, got out of the car and questioned the officer, asking him why he cut them off," Mr. Ademola explained.
"The officer was in an unmarked vehicle, was dressed in plain clothes, and never identified himself as a police officer. He got out and began cursing and yelling at the young lady, who said that she smelled alcohol on him. The off-duty officer proceeded to grab and physically assault the young lady. He slammed her to the ground, took his gun out and put it to her head. The rest of the family began to get out of their cars and surrounded him by Bryan Crawford @MrCraw4D and told him to let her go.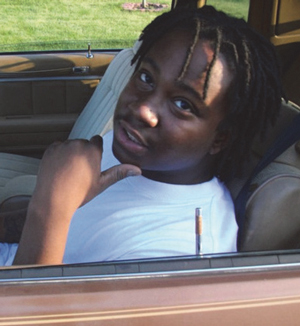 "That's when the person who was in another car as part of the Beal family caravan, took out her phone and began recording the video that was released to the public. When she finally got the video focused on the scene, you can see the officer in a red t-shirt pointing his gun in the direction of the family, and still to this point, no one knows that he's a police officer. Joshua, who was a registered gun owner in Indiana, never fired his gun, and only produced it because he was trying to defend his family from some crazed White dude with a gun that still nobody knew was a police officer."
Mr. Ademola said a police sergeant arrived on the scene and did announce himself. Joshua Beal began to explain to the officer that he did have a weapon and that he was licensed to carry a weapon in Indiana, to which the police let him know, in no uncertain terms, that they didn't care, the activist continued.
"The police sergeant fired his gun through the driver's side window of the car that the Beal brothers were riding in," said Mr. Ademola. "Joshua was standing outside of the car on the passenger side and was hit. When he fell to the ground, the other off-duty officer—the one wearing the red shirt—walked around the car, stood over Joshua, and proceeded to shoot him anywhere from 10 to 12 times, while he was laying on the ground."
The shooting is still under investigation.
Mount Greenwood has remained a community that is primarily White. According to the 2012 census, 88 percent of Mount Greenwood residents were White and there is a history of racial animosity toward Blacks. There have been instances where racist graffiti has been painted in the area, a swastika made of wood chips appeared on a playground, a Black single-mother of three children had "Go home niggers" spray painted on the garage door of her home. These are a few of the incidents that have occurred in the neighborhood.
According to the Chicago Board of Election Commissioners, the 19th Ward, which is where Mount Greenwood sits, had 26 of its 57 precincts vote for President- Elect Donald Trump, who ran a campaign marked by racism and violence, by a margin of 40 percent or more.
Aftermath of the Joshua Beal Shooting
The evening of the shooting, the Beal family huddled up in a Burger King, was eventually kicked out by the owner of the fast food restaurant, who is also a resident of Mount Greenwood, said activists.
They were forced into the street to face an angry White mob that had gathered outside. Contrary to multiple media reports, the Chicago chapter of Black Lives Matter were not actively involved in the protests. However, led by Kofi Ademola the group showed up to offer support for the family. However, they were eventually tasked with putting their bodies on the line to provide protection and allow for the Beal family to leave the area safely, he said.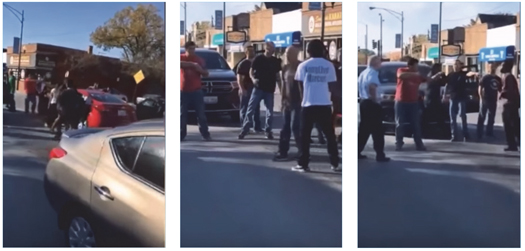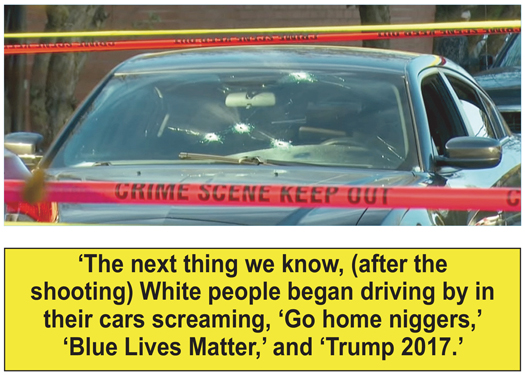 "When we got there, it was right around 8 p.m. and the Burger King had just kicked the family out because they closed the business early out of their hostility toward them," said Mr. Ademola. "The only reason they were still there was because they couldn't access their cars which were still taped Shooting Continued from page 5 off as part of the crime scene. So they were pretty much stuck in Mount Greenwood around people who didn't want them there. "The next thing we know, White people began driving by in their cars screaming, 'Go home niggers,' 'Blue Lives Matter,' and 'Trump 2017,' and we just kept hearing that from the people driving by. At one point, while we were outside, a White guy walked towards us with a baseball bat, but he ended up walking around us trying to go into the Burger King which was closed. A White police officer walked over to him, whispered something in his ear, and took the bat away from him and pushed him off. Ultimately, the police ended up disarming four other White people who had things like knives and pipes, and just sent them on their way."
Mr. Ademola said that other White people began arriving in pickup trucks waving flags that said, "Blue Lives Matter" and telling Blacks to go back to their neighborhood. The police didn't clear the Beal family to leave until three hours later, at approximately 11 p.m., he said.
Protesters who later descended on the Mount Greenwood neighborhood were met with hostile opposition from White residents of Mount Greenwood who screamed, "Blue Lives Matter!" showing their solidarity with police.
Over several days, more activists went to the Mount Greenwood neighborhood for more protests and demonstrations. They were met with more hostility and in some cases, physical violence from the White residents in the community, and had to have a police escort out of the area.
Kofi Ademola and Black Lives Matter Chicago reached out to Student Minister Jeffrey Muhammad and Justice Or Else! To begin the process of raising money to have Michael Beal released from Cook County Jail. Approximately $10,000 was collected from those efforts and a donor, who wishes to remain anonymous, contributed the other $40,000 to help get Michael Beal released from jail, said Mr. Ademola.
In the days following Joshua Beal's death, Black students at nearby Marist High School, were subjected to racially charged text messages sent from White students that went viral. Although the school stated that disciplinary action would be taken against the students responsible for the messages, members of Black Lives Matter Youth and those from Walter Payton College Prep's Black Student Union, planned a protest outside of Marist to voice their pain and displeasure.
The announcement of the protest forced Marist High School to cancel Friday classes for one day, while the demonstration itself was also cancelled due to threats made against protestors. Members of Black Lives Matter Youth and the Walter Payton College Prep Black Student Union, however, accepted an invitation from Chicago Police Superintendent Eddie Johnson to sit down with Larry Tucker, principal at Marist, and 19th Ward Alderman Matt O'Shea.
Michael Beal, who is a business owner in Indianapolis and has no previous criminal record, remains in Chicago as part of his bond stipulation which prevents him from leaving the state.
Black Lives Matter Chicago, in partnership with Justice or Else, has managed to raise more than $5,000 of their $10,000 goal to assist the Beal family in preparing funeral arrangements for Joshua. The date and time of the memorial for Joshua Beal is being kept a secret so as not to attract those who may want to disrupt the family's mourning and inflict even more trauma on them.