The Final Call |
National News
Fighting The Power In 2016!
By Janiah X Adams | Last updated: Mar 8, 2016 - 10:53:08 AM
What's your opinion on this article?
Rising consciousness feeds defiance, hope for Black America
Remember back in the 80s, when a rap song could come on the radio, and parents wouldn't worry about the lyrics being too harsh for their children?
Instead, during that time, some lyrics inspired revolutionary thought in the minds of Black people.
In 1989, rapper KRS-One started the Stop the Violence Movement in response to killings taking place in the Black community. The group consisted of popular rappers including MC Lyte, Doug E. Fresh, Public Enemy, Kool Moe Dee and  others. They produced the hit "Self-Destruction," a song that encouraged the Black community to put down drugs and weapons.
In 1991, the collective group 2 Black 2 Strong MMG came out with a self-titled song that dealt with racism and the history of slavery.
As the century turned, hip hop's message was also taking a turn. More and more, the message was turning away from Black consciousness towards degrading women, drugs and self-hatred.
From then to now, artists such as Kid Rock and Rebel Diaz have been using their voices to send political messages. However, the artists that were the most popular were more concerned about the dollar than the message they were selling. It appears a shift is happening.
With the onslaught of police brutality and rampant racism plaguing Blacks, these crises have sparked something in the entertainment industry that could change the direction of popular music, and inspire a broadening of minds.
Beyoncé, a world famous singer with influence over millions of people, recently used her voice to promote her Blackness. In the music video for her latest song "Formation," Beyoncé made references to police brutality and wrongs seen in 2005 after Hurricane Katrina left hundreds of thousands of Black and poor people devastated and some dead. In one scene in the music video, graffiti on a wall says, "Stop shooting us." This message is accompanied by a young Black boy in a black hoodie dancing in front of a line of police officers, raising their hands in surrender. In another scene in the video, Beyoncé lays on top of a New Orleans Police cruiser as it sinks under the water.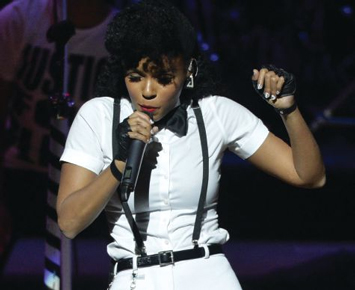 After taking in the symbolism in her music video, social media blew up with comments declaring that Beyoncé was anti law enforcement. Rudy Giuliani, former mayor of New York City, lambasted her performance. In an interview with "Fox & Friends," he said, "I thought it was really outrageous that she used it as a platform to attack police officers who are the people who protect her, and protect us and keep us alive."
Beyoncé is not the only artist using her platform to take a stance. Preceding the airing of the 2016 Oscar and Grammy awards, two of the most anticipated award shows in the United States, actress Jada Pinkett Smith called for a boycott due to the lack of diversity in these award shows.
Rapper Kendrick Lamar made a strong political statement with his performance at the Grammy's. Opening the scene with his musicians behind bars, and chains around the rapper's wrists, he spoke of the prison industrial complex and the destruction of Black people and their culture in his song "The Blacker the Berry." He then transitioned into his song "Alright," which has been adopted as a kind of theme song for the Black community. He concluded with a freestyle that referred to February 26, 2012, the day Trayvon Martin was killed.
Rapper Azealia Banks has used her platform to speak to social issues, mostly through her Twitter account. In a few tweets, she's called Black media counter-productive, and also called out White rappers who want to appropriate Black culture but are silent when young Blacks are shot or killed without just cause.
In America today, if Blacks proclaim their Blackness, or stand up for themselves, they can expect to be criticized and condemned for reverse racism. New York Representative Peter King released a five-paragraph long statement concerning Beyoncé's "Formation" video. "Beyoncé may be a gifted entertainer but no one should really care what she thinks about any serious issue confronting our nation," said the Republican lawmaker. However, when Mackelmore and Ryan Lewis performed their song "Same Love" at the 56th Grammy Awards, a song about marriage equality for the LGBT community, and married gay couples, there was no major backlash. Yet the moment fearless Black men and women expose the issues facing the Black community, and the lack of equality, their actions become the subject of major criticism.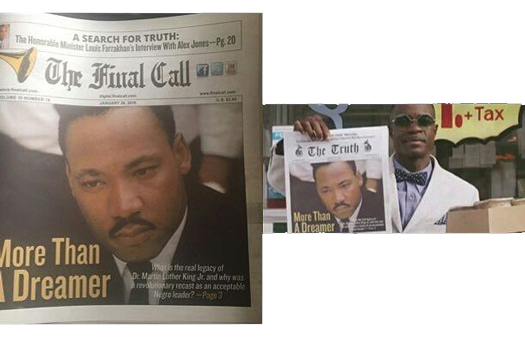 Other rappers such as P. Diddy, who stood with the Honorable Minister Louis Farrakhan during his call for Justice Or Else! and the 20th anniversary of the Million Man March last October, ran into trouble soon after.
Many say America's White supremacist system is afraid of the rise and unity of the Black community. As Black entertainment begins to raise the level of consciousness, it could incite rebellion against capitalism and racism and undermine a society rooted in White supremacy.
"Hip hop is a reflection of what's happening in our hoods, on our reservations," said YoNasDa Lonewolf Hill, a young female activist in the fight for justice. "It's a voice of that. The question is if Kendrick Lamar and Beyoncé are a threat, then our people must be a threat."
This was evident in a Saturday Night Live's skit titled, "The Day Beyoncé' Turned Black," which aired soon after her music video. It depicted the reaction of White America after hearing the song "Formation," and realizing that Beyoncé had declared her Black heritage. Whites feel the song is not catering to them.
In SNL's skit, a White woman says to a Black woman that they must leave America because Beyoncé is Black. The Black woman points out the fact that she is Black as well, but the White woman denies it. When the Black woman points out a young Black man wearing a hoodie, a hat and a gold chain, the White woman says, it's obvious that he is Black. This skit portrays the way Blacks are widely looked upon in society—as thugs and "super predators," as leading presidential hopeful Hillary Clinton of the Democratic Party put it.
Black youth are feared because of the way they are portrayed as thugs and gangbangers and elders do not believe youth can be controlled.
"The elders are rejecting the youth because the youth are not listening to them, and the youth are doing something that the elders do not quite understand," said Minister Louis Farrakhan during a meeting with the hip hop community last year. He went on to say, "You are the most courageous generation that we have ever had. You are the strongest generation that we have ever had. You are the most fearless generation that we have ever had. But your courage and your fearlessness are being used by the enemy so that you will destroy each other."
Dr. Raymond Winbush, research professor and director of the Institute for Urban Research at Morgan State University, believes artists have a chance to educate people through their art.
"The biggest form of education is through music, the movies, and television that young people listen to," Dr. Winbush said. "If they see their athletes and entertainers educating them, then they will start changing. It could teach young people to be more conscious about some of the lyrics they put out there. I hope this isn't just a trend, and they will probably get into the political realm as 'whitelash' is coming their way, and the police said they won't guard Beyoncé but Farrakhan said he will. It brings worth to our community and it makes us work harder to produce our own entertainment."
During his Saviours' Day address, Minister Farrakhan addressed the impact of a growing hip hop and Black entertainment consciousness. "Kendrick Lamar set a new standard," Minister Farrakhan said. "He freed rappers to come on up!  He's the boss.  He is the boss.  Now, when the rappers are free to say it 'like it is,' and say what they feel, and teach their people through music and rap and song and dance, the Cultural Revolution is on."
Other rappers such as Rick Ross, Kanye West, Young Thug and others have made references to the Black liberation movement in their songs, or have publicly shown that they are ready to be part of the movement.
"For a minute now, it was like pulling teeth to get certain artists to be vocal about Black lives that matter," said YoNasDa Lonewolf Hill. "It's getting to a point where it's becoming so bad that these artists cannot just be quiet. They have to figure out what's more important—their Black life or their White dollar? That's a choice that many entertainers have to make. Beyoncé made a statement in her song and said that the best revenge is your paper. I was in the streets protesting and getting sprayed by mace, but what was more effective was Minister Farrakhan's calling for an economic shut down. He wasn't the first to call for it, but the scale that he did it on with Justice Or Else!, we saw these companies shutting down and that was the best revenge."
While it's true that music affects people, it is also true that people affect music.
"Most significant social movements have a soundtrack," said Dr. Boyce Watkins, a Black author, economist and political analyst. "Sam Cooke's 'A Change is Gonna Come' is immortalized because it connected to what the people were feeling. The same could be for Kendrick Lamar and Beyoncé. They've been called out and cooned for the fact that they were twerking and jiving, and I think that ostracism is paying off. If you're not down for the people then we're not down for you."
While everyone has opinions as to the significance or lack thereof of this new generation of artists speaking out, it is part of the freeing of minds and feeding the movement. Just as media and its celebrity influence are used to glorify drugs, degrade women and assassinate Black images, they can also be used to educate the masses about the reality Blacks are facing, and what to do about it.
"Really begin working in your community," said Ms. Lonewolf Hill. "We can't just be like, I slay. Now, what are you slayin'? Your weave? You have to be able to slay your Black life and be like yes, I'm fighting for my people. Don't just sing the song. When she's saying let's get in formation, she's saying information. Don't make this a trend. My Black and Native American self is not a trend, this is who I am. I will fight to the death for my people."