The Final Call |
National News
'10,000 Fearless Men' - Min. Farrakhan calls for Black men to step forward to end violence in the Black community
By
Richard B. Muhammad
- Editor | Last updated: Sep 15, 2015 - 11:15:29 AM
What's your opinion on this article?
PHILADELPHIA (FinalCall.com) - The city of Brotherly Love is a great city for Islam and residents packed the Tindley Temple United Methodist Church responding with great spirit and enthusiasm to a call to stop violence, restore order and return a sense of community and love to Black neighborhoods suffering from drugs, crime, violence and upheaval.
Nation of Islam Minister Louis Farrakhan made the call amid a right-wing orchestrated controversy.
"I said in a speech recently, I said I would like to see 10,000 fearless men that death is sweeter than living under tyranny. I said it three times. The next day when we put it up on our Twitter, FaceBook page, they got it and said, 'Farrakhan is calling for 10,000 fearless men to kill White people!' I never said that," said Min. Farrakhan. "And my words went viral and the enemies' words attached to my words stimulated White folk, 'The niggers are coming to kill us. That damn Farrakhan, he's calling for a race war.' They radicalize us and then blame us for the radical behavior of Black people."
We didn't kill the Blacks who have lost their lives at the hands of police officers and we are looking at on TV, he observed. "If we are being radicalized, it's your evil that is radicalizing the Black man and your evil is making us to say, 'something must be done.' "
Many have been asking what does Or Else! mean, he noted. "You didn't mind me saying justice" but the Or Else! brought out fear, he said.
Yet, Min. Farrakhan observed, eight years ago in a message in Atlanta, he asked the federal government if its failure to protect Black lives was an attempt to force Blacks to declare the law of retribution and a life for a life. Human nature will not allow continued death without fighting for life that only God can give, the Minister said. "This is the only life we have and it is the greatest gift that Allah has given us."
There was no call for a race war pitting 10,000 men against heavily armed American law enforcement and citizens, said Min. Farrakhan. Ten-thousand fearless, well-trained men are needed to go into Black neighborhoods and stand between Black people aiming guns at other Black people, he said. "Some of us may get killed but that's what fearlessness will cause us to do. But we got to stop the killing, we can't talk about it, we got to do it."
What the Black community needs is true faith in God, not guns, and men who love God, said Min. Farrakhan. Men who love their people are needed to resolve beefs that lead to violence and are needed to set up conflict resolution centers in the community to make peace in the community, he added.
Don't our women and children deserve peace and security? Don't our elderly need to walk the streets freely? he asked.
Nation of Islam members don't carry weapons but go into Black neighborhoods to curb violence, the Minister said. "When you are unafraid of man and you love God in man, you can go in the hood like we do and stand in the gap between the guns," he said. "That's what 10,000 fearless men and women can do in our community."
In 1988, the Fruit of Islam of the Nation of Islam's Muhammad Mosque No. 4 went into the drug infested Mayfair Mansions apartment complex and stopped the drug trafficking, which was followed by millions of dollars in reinvestment and development, said Min. Farrakhan. A man pulled a shotgun on the patrol and was beaten and disarmed by the Muslims, the Minister said. "We didn't kill him," he pointed out.
Muslims involved with the effort formed security companies and were granted contracts in public housing projects in different parts of the country. The privately-owned companies, however, were targeted by Jewish groups who pressured the federal Department of Housing and Urban Development to drop the contracts despite credit given to the Muslims for their work by Republican Jack Kemp and even First Lady Barbara Bush.
Jews feared government money was coming to Farrakhan and it was not, he said.
"The time has come for Black men to stand up and defend our women, our children and our neighborhood. We can no longer sit down and expect the vote to change the condition. We can no longer expect the protest to change the condition. We can no longer expect prayer to change the condition. We're going to have to change it with our own two hands," said Umar Johnson, a popular speaker, educator and school psychologist.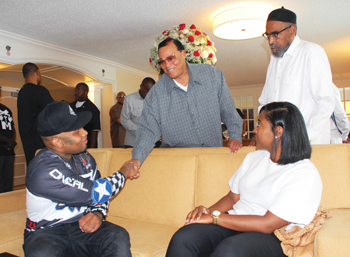 "The Honorable Marcus Garvey said if we got to know ourselves today there would be a new reality for the Black man and woman tomorrow. Ten thousand brave, unapologetic Black men standing together is the single most dangerous threat to the European social order and it's the exact solution to the problems that affect Black folk. Once they see that the Black man is willing to die for his woman, his child, his elders in his community, the behavior will change. Because we got to recognize something—psychologically speaking, we play a role in the oppression that we suffer from. We got to recognize that the only reason why they're doing what they're doing is because they don't suffer the repercussions from us; not from the justice system, not from the law, not from President Obama but the White man has to suffer repercussions from the Black man before his behavior will change," he argued.
While some pastors have shied away from having Min. Farrakhan in their pulpits, Rev. Robert L. Johnson, pastor of Tindley Temple, welcomed the Minister. "I'll take the heat. I'll take the flack, whatever it is," he said. The message of unity and conditions facing Black people are too important to be politicized and used to foment disunity, said Rev. Johnson.
The pastor said he was honored to have the Minister in his church. "I'll stand with you, you'll stand with me because together we can make a change," said Rev. Johnson.
The audience also applauded wildly when the Minister called for a holiday spending boycott to show Black displeasure with continued oppression as part of the Justice Or Else! gathering planned for Oct. 10. In just a few weeks, the 20th anniversary of the Million Man March will be marked by a major demonstration and demand for justice now. The demonstration is open to all who have felt the sting of oppression and injustice—the Native Americans, Latinos, women, veterans and even poor Whites. It will take place on the National Mall in Washington, D.C.
"I think Minister Farrakhan's message was very powerful. I think it was potent. I think it was relevant and I think it was practical. I especially appreciated the call for a boycott of all European and non-African owned business during the Christmas season; not only in preparation for Christmas but all the way through the New Year. I think that was especially potent so we can see and let the world see the economic impact of the Black dollar in the United States.  We have to move from civil rights to silver rights.  Let the money do the fighting for us," said Dr. Johnson.
The Minister's message in Philadelphia as well as interviews with the Black-owned Philadelphia Tribune and the popular Hip Hop since 1987 online outlet were part of the effort to support the Local Organizing Committee for Justice Or Else! which is supported by committed elders like Luqman Abdul Haqq and Joe Certaine, a leading strategist in the city, and led by young people like co-chairs Tahirah X Austin and Eric Muhammad.
"I had no doubt that Philadelphia would pack Tindley Temple and people from all walks of life came to hear the Minister, which is what we desired and why we worked so hard to hit the city in different areas to let everyone know that he was coming to town and that a timely message and an important message needed to be heard," said 29-year-old Tahirah X.
"The Minister has mentioned more than once the war is on two fronts and that's very apparent in Philadelphia. There's a lot of violence against each other and then there's a lot of violence put on us by our open enemies," she said. "As young people we're in this movement, we feel so attached to this and the Minister speaking the language that we can understand is what got us to move out—to adhere to his marching orders. That's what is most important right now."
"So what we're trying to do is unite everyone; unite the Muslim communities, unite the Christian communities; those who don't say they have a faith but it's apparent that we want justice.  And as Black youth you have to be willing to die for something.  Even if you won't see it in our generation at least you can say you was fighting for another generation to receive what's rightfully due to us," she said.
Rodney Muhammad, student minister of Muhammad Mosque No. 12 and Delaware Valley regional minister for the Nation of Islam, was proud of the youth and their work.
The Minister was needed in Philadelphia, in particular, his message about rogue cops in the Black community, said Min. Muhammad, who also leads the local NAACP.  Philadelphia is a leading city when it comes to payouts for police abuses and misconduct, he said.