The Final Call |
National News
Hip Hop demonized, rappers under surveillance and targeted #JusticeOrElse
By
Ashahed M. Muhammad
-Assistant Editor- | Last updated: Jul 14, 2015 - 11:01:39 AM
What's your opinion on this article?
(FinalCall.com) - As momentum builds and nationwide mobilization efforts continue for the planned October 10th gathering marking the 20th Anniversary of the Million Man March, legal troubles have followed Hip Hop artists who met with the Honorable Minister Louis Farrakhan and pledged to support the #JusticeOrElse movement.
In a serious message delivered directly to members of the Hip Hop community July 8 and released via social media, Minister Farrakhan spoke of the constant efforts by the enemy to prevent his words of guidance from reaching the youth through the influential and extensive global reach of rappers.
"I have been watched by members of the Anti-Defamation League of the B'nai B'rith, and in their stalking of me and watching those who embrace me, I've noticed that if you come and sit with me and I give you good counsel, good advice, the next thing I know my brother rapper has been arrested," said Min. Farrakhan. "Know that when you visit with me, or take a picture with me, it upsets them! I know that they are trying to put fear into you," he noted.
It is no secret that members of the Hip Hop community and those associated with them are kept under close surveillance by law enforcement officials. Police nationwide monitor YouTube videos for information related to suspected illegal activity, and lyrics by some artists have even been entered as evidence against them in court cases.
In Hip Hop forums and in social media, many are saying they would not be surprised if those recently shown meeting with Min. Farrakhan were being targeted, especially if it seems they are using their influence to make positive change.
Even going back to the late 1990s early 2000s, it has been clear there has been a strategic implementation of increased surveillance—some would even say harassment—of Hip Hop artists, and an exaggerated treatment in the media of crimes taking place within the Hip Hop community. The mainstream media has always been complicit in the demonization of Hip Hop culture, which is dominated by Black and Latino youth.
Economist and Forbes contributor Cedric Muhammad observed this dynamic at work during his time as General Manager of the multi-platinum Hip Hop group Wu-Tang Clan. He said changes in the industry have helped rappers break free of the influence of major labels, and the consistent work, patience and love of Min. Farrakhan has outlasted the efforts of his enemies.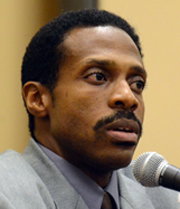 "These artists have been worked by the word, the time, and a changing circumstance," said Cedric Muhammad. "First, the gradual destruction of the music industry due to technological changes which have impacted its economic structure has freed artists from the control of powerful record labels, media outlets, managers, and agents who often acted as a barrier between Minister Farrakhan and many artists. Their newfound independence has made artists their own managers, distributors, and agents allowing them to enjoy freedom of movement to think and do what they want and associate with whomever they want. Secondly, those technological changes have also empowered the masses to become consumers, producers, and distributors of information all at once. This has made activism more efficient as networks are easier to organize. Social media has now joined Hip Hop as the most threatening form of mass communication media," Cedric Muhammad added.
This is the reason Min. Farrakhan's embrace of social media is so threatening to the denial objectives of the ADL.
"One of the memos of the counterintelligence program of the FBI dated August 25, 1967 said that no political activist or somebody with an ideology that was perceived as a threat to the establishment should have access to a mass communication media," said Cedric Muhammad. "Minister Farrakhan's embrace of social media caught them off guard and it re-connected him, unfiltered, to a generation of artists who had been steered away from him while also introducing him to a younger generation of artists who never heard of him," he added.
The ADL & Hip Hop
Why is the ADL so interested in Farrakhan's Hip Hop connections? It seems the ADL is highly interested when  rappers come into Min. Farrakhan's sphere of ideological influence. Some say powerful members of the Jewish community orchestrated
Professor Griff's
ouster from the  rap group
Public Enemy
following comments he made in a 1989 interview. Then, in 1999, the group again came under fire for their song titled "Swindler's Lust."Again, Jewish pressure was applied. ADL leader Abraham Foxman said the song's title was offensive and the lyrics suggestive of "age-old anti-Semitic themes and rhetoric."
"This is the kind of racist language that has been previously used in the Black community by Louis Farrakhan and the Nation of Islam. If rap music in any way reflects the impressions of the larger community, then the themes expressed by this song are indeed troubling. We have seen this specter arise before with Public Enemy, which despite public criticism has continued to incite hate and racial divisiveness through its caustic and bigoted lyrics," Foxman said in a statement.
Fast forward to 2015.
The ADL in a June 30 posting on their website made a point to mention certain rappers and their social media followings who have "posted messages promoting Farrakhan or the Million Man March anniversary."
A quick examination of the legal issues plaguing some of those whom the ADL chose to mention:
- Officials in Georgia said rapper Rick Ross, whose real name is William Roberts, was released July 6 from a Fayette County jail after posting $2 million in bail on charges of kidnapping, aggravated assault and aggravated battery. Arrest records say Roberts is accused of forcing a man into an area at his metro Atlanta mansion June 7 and beating him with a handgun, leaving him with an injured jaw. He was arrested on June 24, less than 48 hours after he met with Min. Farrakhan. It was the same day of the official announcement of the 20th Anniversary of the Million Man March at Metropolitan AME church in Washington, D.C. In fact, according to The Nation of Islam's social media director Jesse Muhammad, #JusticeOrElse was trending on Twitter that entire day and the only thing trending higher, was news of the rapper's arrest. He had also been arrested a few weeks prior after being stopped by police for a window tinting violation and marijuana possession.  At that time, he not only made bail, but he reportedly bailed out others he befriended during his brief stint behind bars.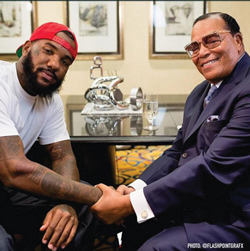 - The West Coast rapper known as The Game has been charged with hitting an off-duty Los Angeles police officer during an altercation at basketball game earlier in March. The Game, whose real name is Jayceon Terrell Taylor, met with Min. Farrakhan June 17, but even before that recent meeting and subsequent interview with The Final Call in which he pledged support for the #JusticeOrElse movement,  he released the single "Don't Shoot" in the summer of 2014 as a tribute to Michael Brown Jr., the teenager killed in Ferguson, Missouri. Coincidentally, The song featured Rick Ross, 2 Chainz and Diddy among others. The song mentions other Black men killed such as Emmett Till, Ezell Ford, Trayvon Martin, and Sean Bell. Facing charges of one felony count of making criminal threats and one count of misdemeanor assault and battery, The Game pleaded not guilty during his most recent court appearance June 29. He is free on $50,000 bail and faces up to three years in prison if convicted. His next court date is July 30.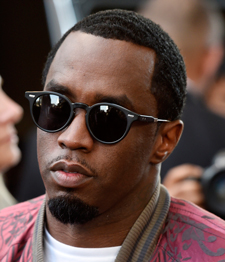 - Reports have surfaced that the rapper 2 Chainz, whose real name is Tauheed Epps, is being sued for $5 million over comments he made in a video recorded and posted containing back stage footage at a concert in Charlotte, North Carolina way back in March of 2014. The woman suing him, Christine Chisolm, claims he referred to her using a derogatory term. 2 Chainz met with Min. Farrakhan during the historic meeting with Hip Hop giants at Tree Studios just outside of Atlanta June 21. On June 28 at the BET Awards, 2 Chainz was asked about his recent meeting with the Minister. He said he was happy to be in the Minister's presence and "big things are on the way for the community," he added.
- Sean Combs, the Hip Hop mogul known as Diddy, was in the news after being arrested June 22 charged with three counts of assault with a deadly weapon, battery, and making terrorist threats. Mr. Combs allegedly assaulted one of the coaches of the UCLA college football team. His son Justin is a defensive back for the team. No injuries were reported resulting from the alleged attack, and reports have surfaced that the coach was bullying young Combs.
- Reportedly, a member of rapper
Young Thug's
road team was arrested after being accused of shooting at rapper Lil Wayne's caravan early in April of this year. No one was injured. Young Thug, whose real name is Jeffery L. Williams, has not been directly implicated in the shooting, however the feud between the two rival camps is a hot topic in social media and on Hip Hop related news sites.
The ADL also seems to be very interested in Kanye West, who came under sharp criticism in 2013 after he publicly opined, "Black peo­ple don't have the same level of con­nec­tions as Jew­ish peo­ple." After speaking with Min. Farrakhan and receiving counsel and guidance, Kanye West refused to bow to Jewish power and refused to apologize for his comments. He was present for the Minister's recent message in Los Angeles, and has also coined a new honorific title for the Minister—"Sensei," meaning a highly respected master teacher.
Although not mentioned by the ADL, in a 2014 interview
Young Jeezy
, whose real name is Jay Wayne Jenkins, said once he began speaking out about issues like what was happening in Ferguson, "things started getting a little funny. When I really just started speaking my mind about it, a lot of strange things started to happen around me." He also has spoken publicly about his love and admiration for Min. Farrakhan.
ADL's  meddling
For decades, the ADL has kept a dossier on Min. Farrakhan, and several times, their efforts to halt the influence of Min. Farrakhan and the Nation of Islam have been uncovered. They are regularly seen meddling in the affairs of the Black community. Outgoing ADL leader Abraham Foxman has always complained about Min. Farrakhan's legitimization and enthusiastic acceptance within the Black community. In fact, prior to the historic 1995 Million Man March, a 1994 ADL Policy Background Report which shed light on the ADL's strategic imperatives aimed at countering the Minister's growing popularity was titled: "Mainstreaming Anti-Semitism: The Legitimation of Louis Farrakhan."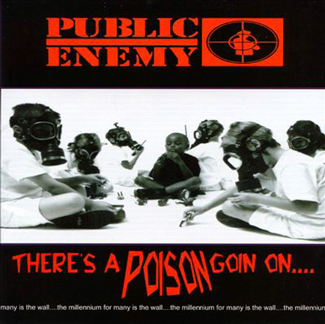 What is clear is that the ADL's efforts have failed, and the Minister is now reaching young people. Not only has the ADL's recent move shown they are keeping close tabs on political activism in the Hip Hop community, those familiar with their operational strategies believe it is also an act of desperation, warning other rappers and entertainers who are thinking about answering Min. Farrakhan's clarion call to become involved in the movement for justice.
This devious and high-level manipulation has been at work for over two decades by those working to prevent Min. Farrakhan's words of wisdom from reaching the ears, hearts and minds of the youth.
"But after twenty years, I have been speaking now in colleges and universities and they listen very carefully to every word that I say, and recently on Facebook and Instagram and Twitter, when they see my brothers and sisters embracing me, they shudder with fear that the voice of the Minister is now reaching the young people," the Minister said.
Suppressive efforts by the ADL could actually catapult the movement into a new level of intensity as more become energized working to bring oppressed people together in unity in Washington D.C., on October 10. Mr. Muhammad suggests the effects may be the opposite of what was intended by the ADL and those who control the mainstream media.
"The ADL's plan to isolate Minister Farrakhan has backfired on them. In going to the extreme—in spreading propaganda against Minister Farrakhan influencing sanctions against entrepreneurs in the Nation of Islam and otherwise intimidating Black leaders to stay away from the Minister and the Nation—the ADL made him conspicuous by contriving his absence," said Cedric Muhammad. "People wondered why he wasn't on TV anymore and why mainstream Black leaders and intellectuals won't even mention his name in speaking on critical issues. They manufactured the illusion of a temporary void in leadership and deluded themselves into believing that what they created was permanent and real. It wasn't and now that people can hear and see the Minister without hindrance, once again, there is a conflict and discrepancy in the image and lies the ADL has spread on one hand, and the character and truth the Minister represents, on the other," he added.
The ADL's reaction to being exposed will be to work on various rappers the same way they have worked on Civil Rights leaders, Black intellectuals and Black spiritual leaders, Cedric Muhammad predicted.
"They will, in private meetings and public announcements imply and directly threaten them with the loss of their popularity and wealth. Their goal will be to turn a major Hip Hop artist or group of such against the Minister," he said.
Crimes and Laws
The recently released documentary "Freeway: Crack In The System" The Rise, Fall and Redemption of
Freeway Rick Ross,
told the truth behind the American crack cocaine explosion in the '80s, its continued expansion in the '90s,  and chronicled his early days selling drugs, including his  introduction to Nicaraguan drug trafficker Oscar Danilo Blandon Reyes. This is how drugs from Nicaragua began to find their way into South Central Los Angeles, but at the time, Freeway Rick didn't know he was a pawn in a larger chess game involving President Ronald Reagan's administration, the Central Intelligence Agency, and the Nicaraguan anti-communist Contras who were fighting to overthrow the Marxist government of the Sandinistas.
It must also be remembered that it was during that time, Reagan launched his "War on Drugs" and the "Just Say No" rhetoric was simply a cover for waging war on Black and Latino youth. It was in 1986 that Congress passed laws creating a 100 to 1 disparity in sentencing for those caught with crack cocaine versus those caught trafficking powder cocaine. Though the 2010 Fair Sentencing Act reduced the sentencing disparity to 18 to 1, Black youth are still disproportionately impacted by harsh drug sentencing.
This is the atmosphere many members of the Hip Hop community have grown up in, and they flock to Min. Farrakhan because he does not judge them for their shortcomings. He knows Black and Latino youth who love Hip Hop have been made that way through social engineering and manipulation by the wickedly wise scientists of death.
"My mission is the transformation of human life, particularly Black, Brown and Red life; so when you see me sitting with those who may have broken the law, or have been vile in their speech and degrading women in their talks, and promoting thug life, don't be upset, because it's written in the scriptures that Jesus sat with the publicans and the sinners," said Min. Farrakhan. "So when you see me sitting with my people, mind your business! I speak to them as their brother and as their spiritual father … they are not your business. They are mine! So leave them alone!"
Ricky Donnel Ross, the notorious former drug dealer known as "Freeway Rick" is now an author and credits much of his life's turnaround to Min. Farrakhan.
"The Minister to me is a saviour, and I say that because he helped me turn my life around and helped me become who I am today," Freeway Rick told The Final Call. "I used to think I was a thug, a gangster, a hoodlum, but now I know I'm a movie producer, I'm an author, I mean I'm so many other things than what I thought I was at one time," he added.
If anyone thought the "Justice…or Else!" movement was going to slow down by recent events, they are wrong, said West Coast pioneering rapper KAM, but he does believe some are feeling the pressure from those who control the flow of the money.
In 1991, KAM as a registered member of the Nation of Islam and member of the Fruit of Islam at Muhammad Mosque No. 54 in Compton, signed his first deal to Ice Cube's label Street Knowledge. He's said he's glad to see what's happening now, and he's looking forward to helping these younger rappers survive the retaliation he believes will come from powerful Jewish executives within in the music industry. What is coming will show who is for justice and who is only "in it for the photo op," KAM said.
"Retaliation is coming, most definitely, and if you are so comfortable and used to the lifestyle and the shine, not just the money, the question is: How will you survive when they dry you up like that?" he asked.