The Final Call |
National News
Illinois governor pledges 'equal access,' opportunity on state construction projects
By Final Call Staffers | Last updated: Mar 27, 2015 - 1:23:36 PM
What's your opinion on this article?
CHICAGO—The governor of Illinois came to the African American Contractors Association gala with a message: The state needs to expand economically, construction needs to be booming, jobs need to be created and Blacks need to be included in a growing economy.
"We've got to change the opportunities to permit equal access for everyone. I promise you we are going to get it done right now, this year," vowed Gov. Bruce Rauner, speaking at the group's annual awards reception March 19 at the South Shore Cultural Center. The Republican governor said he endowed a chair at Morehouse University, a historically Black institution, 20 years ago to promote education and his wife has led some efforts in early childhood development that benefit Black children. There is a need for equal access to educational and economic opportunity, he said.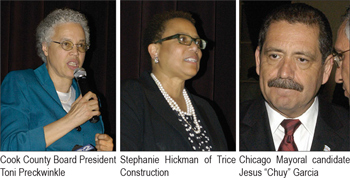 "Now as governor I want to take the opportunity to grow our economy and make sure there is equal access for the African American community. I did an executive order my first week in office requiring those who contract with the state (ensure) their apprentice program reflect the communities in which those programs are conducted and to make sure the construction projects done for the state, the workers on those construction programs, reflect the community in which those construction programs are occurring," said the billionaire businessman, who was elected last fall.
He stressed plans to be the "infrastructure governor" over the next eight years which means spending "tens of billions of dollars" on construction projects.
There is also a desire to have the private sector booming as well, Gov. Rauner continued. "One of the things we've already announced, we're going to create a minority enterprise, small business investment program funded by the state so that we can provide financing for African American entrepreneurs who are starting and building their own companies," he said.
While he offered commitments to the Black contractors, the governor also asked for their help in getting his agenda through a majority Democratic state legislature. Gov. Rauner said he wanted to be a partner with Black contractors and urged the group to give him direction on legislation that would benefit their group and constituents. Most Black state lawmakers agree with much of my agenda, he said. But, the governor said, Illinois is losing opportunities and jobs to Wisconsin, Indiana, Tennessee and other states. Most communities in Illinois are not doing well in the construction industry, he said.
In typical GOP fashion, Gov. Rauner is taking on labor unions and proposing budget cuts that are troubling. Robert Otter of the Center for Tax and Budget Accountability said Gov. Rauner proposed $6.3 billion cuts as Illinois faces a budget deficit. "He has yet to present as governor any sort of revenue enhancement or revenue increases," Mr. Otter said.
Cook County Board President Toni Preckwinkle was given an award by the association, which advocates for Black, small and disadvantaged businesses, provides technical assistance and recognizes those who assist and do business with Black contractors annually.
Ms. Preckwinkle thanked Omar Shareef, association president, and the group for working to increase Black business access and capacity. Mayoral candidate Jesus "Chuy" Garcia also attended the gala.
The 22nd Annual Membership and Awards Reception looks back at what occurred with Black businesses and who worked with the businesses. The gala is in appreciation of the partnership and outreach, which is "sometimes marginal, sometimes grand," said Mr. Shareef. His group advocates for inclusion of Blacks on federal, city, state, and municipal projects, construction, trades and professional services.
"We started with $100 and some hope," he said. But the last two governors have come to the gala showing we are reaching those in power, said Mr. Shareef.
What Gov. Rauner said should have been said by a Democrat given that Black voters are largely represented by Democrats, he said. Republicans "don't mind sharing the wealth. They don't want lazy trifling people," Mr. Shareef continued. But, he added, we have to wait and see if the governor puts actions behind his words. "That measuring stick helps us, this is what you stated, not what we stated," observed Mr. Shareef.
He sympathizes with those concerned about budget cuts, but said some groups have exploited the system and not helped people. A do-for-self mentality is required with this administration, said Mr. Shareef. His group is planning to compile and release a report card on the record of municipalities, corporations, developers, politicians and association members, he said.
Among the 2015 awardees were the Jackie Robinson Little League, which won a world championship; Chicago Cubs owner Tom Ricketts for inclusion of Blacks in the multi-million dollar renovation of Wrigley Field; James Reilly of the Metropolitan Pier and Exposition Authority; Harry Walton of Madison Construction Company; Leonard Green of Walsh Construction; Bob Clark of Clayco Construction Company; Willie Conrad of Bridgeport Steel; Terry Graber Power of Construction Company and Jimmy Akintonde of Ujamaa Construction Company.
The minority contractor of the year was Stephanie Hickman of Trice Construction and Final Call editor Richard B. Muhammad was given an Outstanding National Journalism Award. Lavone Walker of Louis Clark Middle School in Omaha, Neb., was given an outstanding community service award. Some major sponsors of the reception included the Hyatt Regency, the Hard Rock Hotel, Chicago Cubs and the Sterling Bay Company
"We should not have to have all these safeguards for our people to get opportunity," said Omar Shareef. But business practices must be monitored, he added. "Jim Crow wears a suit now," said the longtime business advocate.