The Final Call |
National News
A new era of social and political consciousness for Black athletes?
By
Ashahed M. Muhammad
-Assistant Editor- | Last updated: Dec 16, 2014 - 8:47:16 PM
What's your opinion on this article?
As police violence worsens and anger mounts in the streets, Black sports heroes and cultural icons are showing courage in support of a growing movement bringing attention to issues of racial and social justice.
(FinalCall.com) - When five players from the St. Louis Rams emerged from the tunnel at the Edward Jones Dome prior to their game against the Oakland Raiders with their hands raised, it was an unmistakable and very public show of support for slain unarmed teenager Michael Brown and the protesters.
It is unknown whether the players realized the potential impact of their actions, however, supporters and critics of their actions have been engaged in battle since it took place and it is clear the move by the players polarized the city's law enforcement community adding even more layers of drama to an already tense situation. 
Lawrence Bryant, a photographer for the St. Louis American who often photographs games for the Rams was about 100 feet away from the players when they came out. He told <i>The Final Call</i> when he saw them, he knew this was different from their customary pre-game introduction ritual.
"When Kenny Britt (81) comes out, he usually does a little prayer and kneels, then when Tavon Austin (11) the second person came out and they just stood there, then Jared Cook (89) I realized what they were doing," said Mr. Bryant.
A few people standing around him were shocked and he didn't hear any negative comments, however, he did notice a police officer standing a few feet behind the players with a derisive smirk on his face. The gesture was shown on all the sports highlight shows and sent a message that no longer will there be silence as unarmed Blacks are killed by law enforcement officers who escape justice in the courts.
Immediately, the St. Louis Police Officers Association, which represents Ferguson police officers, condemned the actions of the Rams players calling their display of support for Mike Brown "tasteless, offensive, and inflammatory." They angrily demanded disciplinary actions such as fines or suspensions by St. Louis Rams management, and the National Football League, as well as an apology from the team and players.
So far, no disciplinary action has been taken against the players. Furthermore, Rams coach Jeff Fisher and National Football League representatives have made public statements indicating no disciplinary action is forthcoming.
To the contrary, there is actually a groundswell of support for the players and more athletes are showing solidarity with protesters.
Chicago Bulls star Derrick Rose kicked things off when he wore an 'I Can't Breathe' pre-game sweatshirt. Then, Cleveland Cavaliers star LeBron James, his teammate Kyrie Irving and several others wore them along with Kevin Garnett of the Brooklyn Nets and several of his teammates. Lakers great Kobe Bryant also wore the shirt along with several of his teammates. 
Ben Carrington, Ph.D., of the University of Texas-Austin and the author of several books dealing with aspects of culture, race and sport posted to his Twitter account in response to Derrick Rose's political pre-game expression of solidarity, " Revolt of the Black Athlete 2.0: Derrick Rose is warming up in an "I Can't Breathe" t-shirt #BlackLivesMatter."
A rally on behalf of the St. Louis Rams players was held December 4 at the St. Louis Police Department. According to Abdul Akbar Muhammad, the rally was held to encourage the players to stand strong. Rams tight end Jared Cook reportedly has received threats as a result of his actions prior to the game.
"Hands up! Don't shoot!" which has become a worldwide anti-police brutality slogan was started by activist Anthony Shahid. Now nationwide and even worldwide, many are using the gesture and slogan to show their displeasure regarding law enforcement's heavy-handed brutality.
"We wanted to send the message that we support you and to hold your position and don't capitulate," said Mr. Muhammad.
Gloria McCollum, general counsel for The Ethical Society of Police, the Black police officer's association of St. Louis, issued a strong statement slamming the St. Louis Police Officers Association and standing with the players.
"We think that their actions were commendable and that they should not be ridiculed, disciplined or punished for taking a stand on this very important issue which is of great concern around the world and especially in the community where these players work."
For many years, there have been efforts to keep athletes and entertainers from commenting on these types of issues, and those who criticize the players, and other entertainers who have dared to speak out are not as effective as they once were, Mr. Muhammad noted.
On Dec. 14, Cleveland Browns wide receiver Andrew Hawkins wore a shirt calling for justice in the tragic deaths of two young Black males, 12-year-old Tamir Rice and 22-year-old John Crawford, both killed by police in Ohio.  He was criticized by the Cleveland Police Union, who said the Browns owed police an apology. Browns management said they respect the police and their player's rights to share his views. Rice, who was only in possession of a toy gun, was shot Nov. 22 in a park by a Cleveland police officer. His death was ruled a homicide.  Crawford, was shot by police Aug. 5 in a Beavercreek, Ohio, Wal-Mart as he held an air gun.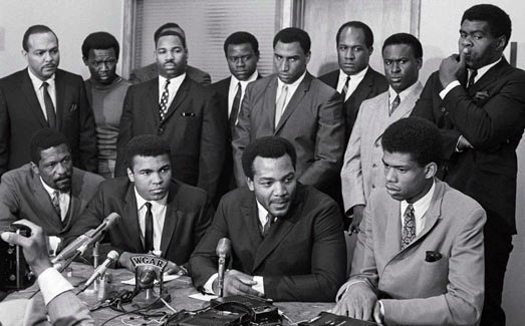 Recently Jewish groups criticized NFL's Reggie Bush of the Detroit Lions for comments that they said erroneously compared perceived racial injustices in Ferguson to the suffering of the Palestinian people. He was undeterred and recently wore a pre-game shirt with 'I Can't Breathe' written on it. The activism has even spread throughout the college ranks with the entire Georgetown Hoyas men's basketball team wearing t-shirts with the slogan Dec. 10 prior to their game with Kansas.
"They're trying to control the entertainers and sports figures keeping them from getting involved in the political dynamics of this nation and the plight of Black people across this country," said Mr. Muhammad. "That genie is out of the jar and they can't put it back," he added. 
The decision not to indict Michael Brown's killer former Ferguson police officer Darren Wilson, has been an unpopular one. Spontaneous protests have erupted nationwide disrupting Black Friday and Thanksgiving Day spending during a critical time that traditionally acts as the kickoff to the holiday shopping season. In addition to the aforementioned rally for the players in St. Louis, many high school and college students participated in a coordinated "Hands up! Don't shoot!" walkout protest on December 1, which appeared to be energized by the actions of the players.
When the entire Miami Heat basketball team was photographed with their heads down wearing hoodies in honor of slain unarmed Black teen Trayvon Martin, it became viral and many took note. When the Los Angeles Clippers, wore their warm-up jerseys inside out and then prior to the start of the game left them balled up at center court as a symbolic protest of then-owner Donald Sterling's racist comments, analysts and fans wrangled over the appropriateness of their actions.
Some believe there is no place for political views nor societal critiques in sports, while on the other end of the spectrum, there are those who believe athletes, because of their high visibility, are prime candidates and have a responsibility to comment and even take a stand on moral and ethical issues of importance.
Felonious Munk, a comedian whose jokes are laced with social commentary, told The Final Call he is proud of the athletes who have taken a strong public stand because it is needed. The young people are inspiring them all to action, he said.
"Why do we still love Muhammad Ali when they hated him during his time? Because he was willing to take a stand. Jim Brown walked away from football, Bill Russell in racist Boston always stood up and is still standing up!" said Felonious Munk.
"I don't think this is a flash in the pan because these are young guys Derrick Rose, LeBron, Reggie Bush and the wide receivers for St. Louis are showing the next generation (of athletes) 'we can do this and nobody is going to do anything to you'—you can speak out if you want to. The last two MVPs of the league? That's huge!" said Felonious Munk.
LeBron James, perhaps the most well-known athlete today posted a cartoon photo on his Instagram account of Trayvon Martin and Mike Brown arm in arm and wrote the caption: "As a society how do we do better and stop things like this happening time after time!! I'm so sorry to these families. Violence is not the answer people. Retaliation isn't the solution as well. #PrayersUpToTheFamilies #WeHaveToDoBetter." 
Several well-known sports stars used the popular microblogging tool Twitter to express their thoughts on Ferguson.
- Tennis star Serena Williams posted: "Wow. Just wow. Shameful. What will it take???"
- NBA Hall of Famer Earvin Magic Johnson expressed himself writing: "We must work together to stop the unnecessary loss of young men of color. Justice was not served in Ferguson."
- Los Angeles Lakers star Kobe Bryant posted: "The system enables young black men to be killed behind the mask of law #Ferguson #tippingpoint #change."
Posting a statement via social media may not be seen as revolutionary as perhaps, refusing to say the Pledge of Allegiance, as in the case of the NBA's Abdul Mahmoud Rauf (formerly Chris Jackson), or wearing a dashiki to the White House and giving a letter to the President critical of America's treatment of Blacks, as did the great NBA sharpshooter Craig Hodges, however, it does perhaps signify a rise in political awareness and activism sweeping the nation, and could include professional athletes on a wider scale.
A return to athlete activism?
There was a time when it was not uncommon for Black amateur and professional athletes to take a strong political or socially conscious stand against injustice.
Gold medalist Tommie Smith, and bronze medalist John Carlos raised the Black power fist during the medal ceremony after the 200 meter race in the 1968 Summer Olympics held in Mexico City.
When the basketball player now known as Kareem Abdul-Jabbar changed his name from Lew Alcindor in May of 1971, it was seen by many as controversial. This was after the great boxer now known as Muhammad Ali had his name changed from Cassius Clay and went through a lengthy public battle with the U.S. government after he declared himself to be a conscientious objector. Muhammad Ali lost a great deal of money during his political battles. NFL football great Jim Brown was shut out of endorsements and other revenue generating enterprises because of his outspokenness.
"When Jim Brown and Muhammad Ali and others got together and began to advocate on behalf of Black people, the press turned on them," said Mr. Muhammad. "They really wanted them to be quiet. They struggled to bring a level of consciousness to our people and the enemy of our rise wanted to keep the people dead," said Mr. Muhammad.
Professional athletes are often called upon to back issues, especially when there appears to be a moral and ethical imperative placed upon them by the top league officials and administrators. NFL athletes wore pink in October to raise awareness of breast cancer, months earlier others participated in the "ice bucket challenge" to raise money for Amyotrophic Lateral Sclerosis (ALS). The entire league in November wore camouflage hats and other paraphernalia marking appreciation for those serving in the military.
Although the actions of the St. Louis Rams players occurred without the sanction and approval of the NFL higher-ups, the fact that they are showing sympathy for a slain unarmed Black teen who is an apparent victim of injustice is really what is being frowned upon.
Many were angered when NBA Hall of Famer and emerging right wing darling Charles Barkley defended the police and the findings of the grand jury in the Ferguson case. He also called protesters "scumbags." Many still remember it was Mr. Barkley who famously said years ago that he did not want to be a role model. His fellow NBA analyst Kenny "The Jet" Smith sent out a tweet encouraging Black youth to be encouraged.
"Right or Wrong DONT EVER THINK YOUR LIFE ISNT VALUED! You are our champion/ an Allstar / a hall of famer! #blackyouth #allyouth," read Mr. Smith's Tweet. He then wrote an open letter to Mr. Barkley chiding him for views perceived by many to be insensitive and ill informed.
John Carlos was also among those who praised the Rams players and implied that Mr. Barkley's comments were designed to generate political support should he pursue office in the future.
"If they choose to come out and raise their hands in support of whatever their emotions are, they have the right to do that," Mr. Carlos told The Associated Press.
"This is a turning point, a new struggle in America," said Akbar Muhammad. "These brothers, they opened the door and made others feel comfortable in doing it and that is the greatest part about it," said Mr. Muhammad.
Despite the public support and growing protests, the fight for justice must be steady and consistent.
"Those people with guns are protected by those people with the robes, those people with the robes are protected by those people that we allegedly elected, and the people with the guns protect those people in return. None of them protect us!" said Felonious Munk.
Brooke Moore-White of the Los Angeles servant-based activist group Wisdom From The Field, was not surprised by the decision not to indict former Ferguson police officer Darren Wilson in the killing of unarmed Black teen Mike Brown, and the Eric Garner decision which followed is simply "the American way."
"This is America, this is their modus operandi for the last 400 years," said Ms. Moore-White. "Right now is the time to organize; we have the movement; we have the energy; we have support and the people behind us. Now is the time to really get the nation—not necessarily the United States—but our own Black nation," said Ms. Moore-White.