The Final Call |
National News
An outpouring of love—and Tweets
By
Jehron Muhammad
| Last updated: Jun 30, 2014 - 1:45:26 PM
What's your opinion on this article?
* We are one family and it's our time to lead
* Beyond labels and ending religious division
* A call to unity energizes Islamic prayer service
* Masjidullah—a place for human excellence
The weekend of June 20 will go down in Philadelphia history as the reunification of those whose Islamic roots are in the teaching of the Honorable Elijah Muhammad. Not only was this apparent in the city of brotherly love and sisterly affection at a traditional Friday prayer service—featuring popular Imam Siraj Wahhaj at Masjidullah and at a sold out banquet at the Hilton Hotel featuring Minister Louis Farrakhan—it was also apparent online.
Young members of the Nation of Islam tweeting out the banquet were discovered and joined online by members of the late Imam Warith Deen Muhammad's community Masjidullah, who were also tweeting out the banquet, which was shown live via internet webcast.
Live online chats about the unification of the "Islamic Ummah," or community, between various Muslim groups occurred, and over 30,000 messages were re-tweeted and re-tweeted highlighting different aspects of the June 21 banquet.
Reaction to events streamed live and tweets came in from as far away as China, Saudi Arabia, and from all over the African continent. By Sunday, June 22, the banquet, which is available online, had received over 18,000 views.
Jackie Muhammad, of the Nation of Islam Research Team, watched history unfold via live streaming over the internet from Florida. In his many years in Islam he had never witnessed such an outpouring of "love and reconciliation" as he witnessed at the Masjidullah fundraising banquet.     
The weekend, according to Masjidullah fundraising committee chair Ali Salahiddin, was an "overwhelming success." With pledges, not only did the event raise over $100,000, it also featured the reunification of the two Muslim communities and was "history in the making," he said.
The weekend of events was designed to do several things, explained Mr. Salahiddin. On June 19, there was a grand opening of the purchased and renovated masjid, which included a ribbon cutting ceremony that included local politicians, religious leaders and the chairman of Philadelphia's United Bank Evelyn Smalls, followed by a VIP reception. Friday included a parade from Masjidullah's former location on Ogontz Avenue to its new home on Limekiln Pike. A New Orleans style live band led the nearly 200-person procession. The Universal African Dance Ensemble complemented the band as participants moved through the West Oak Lane section of Philadelphia. Neighborhood residents came out of their doors and customers cut shopping short to cheer the procession on. At the end of the parade, refreshments were served as participants readied themselves for the Jumu'ah prayer service.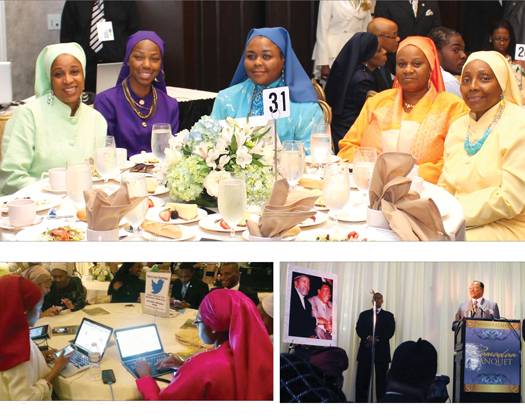 With Min. Farrakhan in the audience, and nearly 1,200 seated in front of him, Imam Wahhaj gave a rousing sermon June 21 that lent much substance to the Honorable Elijah Muhammad's unequaled contribution to the growth of Islam in North America. The audience, which appeared to represent just about the entire Islamic Ummah, with many ethicities and races, was told what is happening in America with Muslims striving to get along together in peace should be an example for the Muslim world, with brothers at war with one another.
That night Masjidullah sponsored a concert featuring former Teddy Pendergrass piano player Alfie Pollitt and the Philadelphia Songbook Volume One. Various Philadelphia-based R & B, jazz and hip hop artists performed.
On Saturday morning June 21, an interfaith leaders breakfast at the Hilton Hotel featured Min Farrakhan, who was brought to tears upon seeing a huge portrait of himself and the late Imam Warith Deen Mohammed. The Minister concluded brief remarks telling religious leaders to stand up on faith. "What does it matter if you lose your life for the sake of truth and the betterment of human beings? You're going to die anyway. Die for something," said Min. Farrakhan.
Saturday night was Masjidullah's "signature event," its pre-Ramadan banquet. Min Farrakhan was the keynote speaker. During the fundraising portion of the program, Min. Farrakhan pledged $10,000 towards Masjidullah's building fund.
He talked about having the proper frame of mind and heart during the month-long fast of Ramadan. "This meeting tonight is important because it comes in front of Ramadan. If you can't feel the pain of the Muslim, Christian, Jew, agnostic dying under unjust circumstances, you are either numb or dead. We support Masjidullah for the work that it is doing for Philadelphia," the Minister said.
This year's banquet and fundraiser included many notables: In attendance was Philadelphia's first Muslim police commissioner Sylvester Johnson; William Hart Muhammad of the Delfonics; Luqman Abdul-Haqq, also known as Kenny Gamble, of Philadelphia International Records; fight legend and onetime light heavyweight champion Bernard Hopkins; fight promoter Murad Muhammad; Will Smith confidante Charlie Mack, and the mother of Trayvon Martin, Sybrina Fulton.
 "I thought it was absolutely amazing," said Sieedah Abdellah, a real estate agent and member of Masjidullah. "We need to be together. We need to merge, and we need to reconcile our differences," she said.
In addition, she said, the Nation's Fruit of Islam made her feel special. The respect she was accorded, the men opening doors and paying close attention to everyone's needs made her feel safe and secure. She felt like a "queen."
Qasim Rashad, who owns an IT firm and is emir of the United Muslim Masjid based in South Philadelphia, said the banquet was a perfect opportunity for Min.­­­­ Farrakhan to speak to the different Islamic communities in the city.
Most Muslims in attendance were "paying close attention to the language he used," said Mr. Rashad. The language was bridge building and the Muslims in attendance embraced the message directed to the Believers in Islam, he said.
On Sunday, June 22, members of the Nation of Islam broke bread with members of Masjidullah at a free, and open to the public, pre-Ramadan dinner.
(Jehron Muhammad, who writes for The Final Call from Philadelphia, can be reached at Jehronn@msn.com. Follow him on Twitter @JehronMuhammad.)