The Final Call |
National News
True education starts with knowledge of self and God says Final Call editor
By
FinalCall.com News
| Last updated: Apr 16, 2014 - 5:31:40 PM
What's your opinion on this article?
WILMINGTON, Del. - The message from
Final Call
editor Richard B. Muhammad was simple at the "Education Is the Key" conference sponsored by Our Time, Inc., and Education Voices: True education starts with a knowledge of God and self, education allows you to solve your problems and the elders and parents are responsible for the education of children and youth.
The Saturday conference in the ballroom of the downtown Doubletree Hotel attracted a cross section of Black Wilmington—Muslims, Christians, members of the Moorish Science Temple, Black nationalists and African traditionalists—for a discussion of learning, life and what the majority Black city should consider if progress is desired. The relatively small city in a state traditionally dominated by the wealthy DuPont family and heirs has seen increased violence and a decreased ability to effectively educate Black school children.
If one is educated, problems are an opportunity to apply knowledge to improve your life and solve your problems, said Richard B. Muhammad, who oversees the Nation of Islam newspaper. Mr. Muhammad and event organizer Lorraine Muhammad were presented with a proclamation from City Council President Theo Gregory and City Councilmember Nnamdi O. Chukwuocha.
Mr. Gregory said like many other cities across the U.S. public education in Wilmington is "a mess."  "We, as a community,  have an obligation to openly discuss and debate education issues," said Mr. Gregory, adding that in his city desegregation in the mid-1970s still effects Black children who are forced to go to schools outside of the community. There is no school district in Wilmington so students attend schools in four contiguous counties around the city, explained Mr. Gregory. 
"We lost the developmental nurturing environment from the urban district that we had and now our kids are forced to go into the county and be in less than welcoming environments," said Mr. Gregory.   He hopes this inaugural conference will propel those involved to "agitate" and advocate for the educational development of Wilmington's children.
City Council President Gregory supported the program financially and called education a vital issue. "My hope is that the city of Wilmington recognizes that we need to lobby and influence to assure that we have a strong voice and a voice in the education of our children," added Mr. Gregory.
There are citizens in Wilmington making that happen. 
After visiting LJ's Playpen, a "five-star" daycare center owned by Larry Mathis and his wife Brenda, Mr. Muhammad shared his joy to conference participants at meeting an "educated" Black man. "Mr. Larry," as the daycare center and contractor is known, is "educated" and there was no need to ask if he had a degree, said Mr. Muhammad.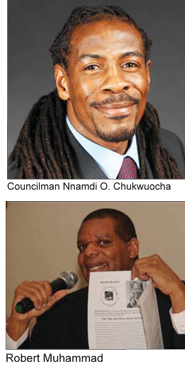 He is employing 22 people, built a facility that provides learning and services to the community, and has sent others to school, said Mr. Muhammad. "It should be Dr. Larry," Mr. Muhammad continued, arguing the work of the Wilmington community leader and his wife show a mastery of leadership development, curriculum development, community organizing and human resources. The daycare center is a true center for the community that offers free haircuts for children courtesy of local barbers and a free music program courtesy of local musicians. The owner teaches free martial arts classes and allows other groups to meet at the facility. A movie theatre, a weight room, a gymnasium that can be converted into an auditorium, a professional full service kitchen, a nursery, several play rooms and meeting rooms are also located in the facility. The owner and his wife provide free services and open the doors to neighborhood youngsters. But the couple is also involved in a case against the police department with the wife charging police brutality outside of the center that started with a traffic stop. Residents said police brutality is one of the city's problems and Mr. Muhammad said the fight is not the couple's alone—but the fight of everyone who has benefitted from their work and generosity.
True education allows you to define your interests and act in your own best interests, he added.
But, Mr. Muhammad continued, if we are only able to come out of school and ask others for a job and to solve our problems, it is clear we are not truly educated. The knowledge of self, respect for self and love of self are the foundation that is needed, he said. "It was the teachings of the Nation of Islam that made my journalism degree valuable", Mr. Muhammad said.  "Self-knowledge allowed me to see fully the purpose for knowledge which is service and to use my gift for our suffering people."
"We need to know God is not some foreign source outside of who we are but the divine dwells in us and when we actualize that power, we can do whatever we desire to do," he continued. We just need purpose and unity, he said.
After Mr. Muhammad's remarks a panel discussed a variety of issues, ranging from health and vaccines to the virtue of modesty, the need to respect Black women, the need for independent education of Black children and the need for Blacks to purchase land to feed themselves.
The panel  and conference participants included Robert E. Muhammad, an educator and urban farmer from Willingboro, N.J., who warned of alarming droughts and a coming food crisis; author Kevin Muhammad who raised the issue of vaccine safety; entrepreneur and educator Amiyrlatiyf  Hamin;   elder and pastor Maimouna J. M'Backe of M'backe House; educator and entrepreneur Olakunle Okudina;   Mahir Bey of the Moorish Science community; Imam Umar Hassanal Hajj of the American Muslim Mission, who opened the event in prayer; Nation of Islam regional prison reform Minister  Gregory X Moore; author and fashion designer Christina Muhammad;  and emcee Lamond  Muhammad.
Local hip hop artist Richard Raw brought the audience to its feet with his single "True Leaders," which brought a powerful message about the need for Black empowerment and paid homage to historical figures in the freedom struggle. Vocalist Ebony Ali treated the crowd to an acapalla song that drew an ovation. African drummers performed and DJ Rock added music to the mix.
Outside of the meeting room vendors offered a variety of wares and products and $100 was raised to donate to Muhammad's Economic Blueprint.
Lorraine Muhammad of Our Time Now, a local activist and member of Muhammad Mosque No. 35, invited longtime journalist Richard Muhammad to the city as part of efforts to enlighten residents and to promote unity. One of the projects that will come from the conference said Ms. Muhammad is a "speaker's series" where activists and leaders can bring messages of unity and education to the public in Wilmington. Linking the Black community together to pool resources is also key, she added. "We're putting people together in business, that's what we're looking for. We can talk all day long, but can we do something financially together," said Ms. Muhammad.
The Fruit of Islam of Muhammad Mosque No. 35 provided security and service during the event and Muslims from Philadelphia, about 45 minutes away, came down to show support. Mr. Muhammad thanked his childhood friend Ronald Peele and his wife Michelle for coming up from the Baltimore-area for the event.
"I thank all the brothers, the brothers in Wilmington and Baltimore, who took care of me. It was great to enjoy the brotherhood and to try to help raise our people and direct them to the 'true educator,' the Honorable Minister Louis Farrakhan," said editor Mr. Muhammad. 
When he thanked the city council president, The Final Call editor accepted the proclamation on behalf of Min. Farrakhan, the Nation of Islam, The Final Call staff and the Fruit of Islam who take the truth to the public. "As my leader has said, we accepted this award as encouragement because we cannot take credit for a job that is not done and so long as our people are suffering the job is incomplete," he added.