The Final Call |
National News
Solutions Under Siege? Is prison the only answer?
By Richard B. Muhammad and Ashahed M. Muhammad -Final Call Staffers- | Last updated: Mar 19, 2014 - 12:54:33 PM
What's your opinion on this article?
Activists upset as program aimed at reaching youth, combating violence comes under attack. Media reporting called racially inflammatory.
CHICAGO (FinalCall.com) - It is no secret that Chicagoans have experienced high levels of violent crime over the past few years.
While 2013 saw what the Chicago Police Department called "historic" crime lows, registering the fewest murders in nearly 50 years, many activists who have worked to help quell violence feel besieged.
An initiative that gives youngsters alternatives to street life is under assault with a state lawmaker calling for killing a program supporters say has helped save lives. The Neighborhood Recovery Initiative focused on counseling and alternative education, prisoner re-entry, job creation and community development in sections of the city and the southern and western suburbs wracked by violence.
An audit of the state-funded $54.55 million initiative cited problems with administration and oversight by the Illinois Violence Prevention Authority that were reported by the Chicago Sun-Times newspaper. Shortly after the bad publicity, State Rep. David Reis demanded "all state funds allocated to questionable Chicago anti-violence programs be frozen." The Republican ripped into the program created by Democratic governor Pat Quinn, who is up for reelection in the fall.
"They would just as soon do one of two things, have our children buried or locked up," said Father Michael Pfleger of St. Sabina Church in the Englewood neighborhood, whose church has been a stalwart in trying to stem violence and promote peace through engaging young people. His March 17 criticism of "right-wing" opponents of violence prevention funding was unapologetic. He and other community leaders insist their efforts to help youth have contributed to the city's lower rates of crime and violence.
Attacking the initiative was the first step, but decision-makers living in gated suburban communities want to take all funding from inner city neighborhoods and redirect the funds to their pet projects, said Father Pfleger.
"The initial audit exposed 'pervasive deficiencies' we knew permeated Quinn's politically-motivated and tarnished Neighborhood Recovery Initiative. We must go further and investigate who profited from and where taxpayer dollars have been spent in recent years," said Republican Reis. The lawmaker authored House Bill 6011, which would halt "any remaining Fiscal Year 2014 funding to the Illinois Criminal Justice Information Authority for grants associated with Chicago's community-based violence prevention programs, after school programs and the Chicago Area Project." The audit also charged some of the funding went to the husband of a political official in Chicago.
Father Pfleger vehemently objected to characterizations of the initiative as a waste of money. There was no talk of fixing the program and there is no concern for poor Black and Brown children who were its main beneficiaries, he said.
"Their real hand was not about fixing the program, their real hand from the beginning was about killing the program," said the activist pastor. "They've killed every other program they can in our communities, so we got to stop it and step back to say we're not going to allow you to continue to just boldly and arrogantly say stop all this money and all these programs that can possibly help our young people and keep them in positive programs."
St. Sabina used initiative funding to help target some of the 60,000 youth deemed at-risk, pushed out, dropped out of school or disconnected from other institutions, which was in line with the aim of the Neighborhood Recovery Initiative, he explained. Youth were recruited, mentored, taught life skills, conflict resolution, job prep skills, offered GED programs and exposed to positive messages about community building and leadership. Then youth were sent into their neighborhoods twice a week to share this message with their peers, said Father Pfleger. The program was also initially funded in 2010 at the height of violence, with communities in a state of emergency and the governor acted quickly to try to deal with the crisis, said the longtime priest.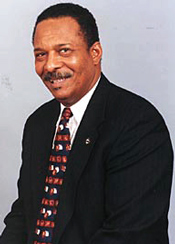 Henry English, of the Black United Fund of Illinois, called the front page Sun-Times report a use of racist imagery in focusing on 19-year-old Jermalle Brown, an at-risk teenager hired under the initiative at $8.50. In July 2012 he and Douglas Buford, 16, another participant in the program in the South Shore neighborhood, allegedly engaged in a home invasion. The 19-year-old is charged with murder for fatally shooting his alleged accomplice in a botched robbery.
While that is clearly a tragedy, activists held a press conference at St. Sabina and said one incident should not overshadow work to solve deeply rooted problems. An example of the plight of young males: The Chicago Urban League found 92 percent of Black male teenagers in the city are unemployed. Just one-third of Black males graduate from high school and their blood runs regularly in city streets.
"Don't take the entire infrastructure out of our community then blame us for what is going on," Mr.  English said to The Final Call. "When you have staggering unemployment, when you have a staggering dropout rate because you are not educating the kids properly, you are setting the stage for a myriad of problems, and then you tell those people who are confronted with those problems that they are the problem? That's wrong, and that's racist."
The Sun-Times should be reporting the causes of crime and politicians should be addressing a lack of jobs, lack of hope, lack of resources and poor education resulting in a lack of marketable skills, he added. His group was responsible for bringing funding to neighborhood groups from the state initiative.
While it was reported that the program was funded at $54 million, Mr. English said over half the initial budget has already been cut.
"Fifty-four million dollars is a drop in the bucket compared to what the need is out there," said Mr. English. "Our young people need jobs as opposed to incarceration. You hear politicians talk about running on a platform of anti-violence, well why don't they run on a platform of economic development?"
The Neighborhood Recovery Initiative operated in 26 communities across the city, according to activists. There were youth employees, mentors and other service providers.
"Yes, we deal with kids that are at risk and we try to reach out to them and work with them, show them that we care about them and put them on a different path, so to take that one incident and then jeopardize the entire program? That's ludicrous!" said Mr. English. "We need more resources not less resources. We commend Governor Quinn for what he put out there, but it still is not enough."
Derek Brown, 37, is a former member of the Vice Lords street organization. He now works to prevent violence but sees police and elected officials playing political games. He has run a boxing program for youth. "They're playing politics with the lives of our young Black men. It is a sad situation that they are playing games with our children's lives, and the real sad part is that were allowing it."
Mr. Brown feels active violence prevention groups like Ceasefire and Mothers Against Violence Everywhere should be given credit for their work. But, he said, it appears as if the police want to take all the credit—which is "flat out lying."
"I do this for free and you are not going to give me any credit when credit is due? I put my whole body on the line for this here," said Mr. Brown.
What is needed is more jobs, more financial resources and support for grassroots organizations involved directly with people, he said.
"I've been part of the destruction, it's only right me being part of this and coming back to be part of the rebuilding," said Mr. Brown. "I helped tear it down but that was somebody who didn't know any better. I know better, so I have to do better," he added. The father of seven also wants to make life better for his children.
The activists complain prosecution and tougher laws are always in vogue. Mayor Emanuel has advocated for a three-year mandatory minimum sentence for illegal gun possession.
During his three years as Chicago police Superintendent Garry McCarthy has consistently worked to increase the number of officers on the street. He announced the seizure of over 850 illegal guns in the first two months of 2014, and a reduction in the number of murders and gun related incidents compared to same time in 2013. Shooting incidents were down 38 percent and overall crime down 28 percent compared to the previous year.
Malcolm Rockhold has lived in the notorious Chicago neighborhood known as "Terror Town" for the last two years. About a year ago gunshots and fights were weekly occurrences as street organizations fought turf battles for narcotic sales and other illicit activity, he said. An increased police presence, boarding up vacant buildings, and raiding troublesome properties has increased Mr. Rockhold's feeling of safety.
But, he believes more is needed to solve the problem: "We do need solutions for making our communities valuable places for your youth to live and grow regardless of economic situations," said Mr. Rockhold. "We can't use that as an excuse any more, it's now about what we are going to do about it."
Terror Town is also located in South Shore, which was targeted for the prevention funding and was a neighborhood where Nation of Islam Minister Louis Farrakhan and the Fruit of Islam visited to help promote piece and lessen tension in 2012. The Nation did not receive and did not ask for any financial compensation. These efforts and St. Sabina's community peace walks and outreach have helped bring down the violence, said Father Pfleger.
Officials say the problem cannot be policed away, but at every turn, they give money to policing and incarceration and cut funding for prevention, he said.
Illinois Senators Mark Kirk and Dick Durbin, for example, had proposed mass arrests of 18,000 members of the street organization known as the Gangster Disciples and sought $30 million from the Senate Appropriations Committee to do the job. Opposition from Rep. Bobby Rush and others beat back the plan.
Locking up youth
As Illinois' only non-partisan juvenile and adult prison watchdog, the John Howard Association believes too many youth are incarcerated by the Illinois Department of Juvenile Justice and too many who are paroled either return or eventually end up in the adult prison system, which is already suffering from overcrowding.
"I don't think there is any mystery as to why Chicago suffers from high rates of violence, we've got an underfunded school system, decades of poor urban policy, when you go into the neighborhoods that have the most crime, you see the most poverty and that's not a simple coincidence," said John Maki, executive director of the John Howard Association.
"What we know very well and 40 years of mass incarceration have taught us that more prisons is not the answer to these horrible problems," said Mr. Maki. Investing in communities, giving people hope and opportunity are the answers, not locking people up in cages, he said.
Some credit Gov. Quinn's administration and the Illinois Legislative Black Caucus with working toward solutions as opposed to promoting heavy handed law enforcement and incarceration. In particular, Mr. Maki highlighted state Representatives Ken Duncan, Art Turner, Monique Davis and Senator Kwame Raoul for their work in fighting against Mayor Emanuel's proposed mandatory sentences for gun possession.
While $1.3 billion is spent on the Illinois Department of Corrections, only a small percentage of funds are used for rehabilitative, educational, and vocational programs, according to the John Howard Association. As of November 2013, 49,000 prisoners were held in a state prison system designed for just 32,000 and incarceration is the most expensive form of punishment.
John Howard Association statistics show Illinois taxpayers spend almost $130 million a year, over $177,000 per year to incarcerate a single youth at the agency's most expensive facility. Redeploy Illinois, a state-funded diversion program which offers alternative sentencing and holds young offenders accountable within their communities, is about four-times more effective at reducing recidivism and costs $2,000 to $10,000 per intervention, according to Mr. Maki. A Bureau of Justice Statistics report also ranked Illinois among the four worst states for rates of reported sexual victimization in juvenile detention facilities.
In a March 17 e-newsletter, the South Shore-based Planning Commission's executive director Val Free complained about the legislation aimed at freezing anti-violence funding. She rejected the notion that programs were rife with fraud, failures and a political favor from a governor courting votes.
"This media muckraking is not only aimed at harming the Governor in the upcoming political race but will be extremely harmful to the community's urgent interests in reducing crisis level employment that is strongly connected to the high level of violence and crime. The article is grossly distorted and includes erroneous and misleading information and does not mention the benefits to the many teens trained by the program," she argued. Her office is house in the same building as the Black United Fund. Ms. Free asked for signatures for an online petition in favor of the programming that will go to the Illinois House, the Illinois State Senate and Gov. Quinn.
Mr. English wants the Black community to stand strong and fight against the demonization of Black youth. "We must stand up for our kids," he said. "They're not just gangbangers and thugs, they are our children."