The Final Call |
National News
Weather and warning from God's men
By
Starla Muhammad
-Assistant Editor- | Last updated: Mar 19, 2014 - 9:51:46 AM
What's your opinion on this article?
And great earthquakes shall be in divers places, and famines, and pestilences; and fearful sights and great signs shall there be from heaven.~Bible - Luke 21:11 (KJV)

And if you reject, nations before you did indeed reject (the Truth). And the duty of the Messenger is only to deliver (the message) plainly. ~Holy Qur'an – Surah 29 V 18 (M. Muhammad Ali translation)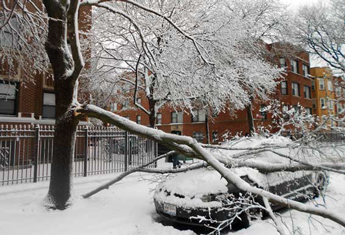 The official start of spring in the U.S. is March 20, yet the "winter from hell" shows few signs of slowing down as parts of the Midwest, Mid-Atlantic and Northeast, already bombarded with an accumulation of snow and sleet, were expected to get hit again. At Final Call presstime, severe thunderstorms were also expected in Texas, Florida and Louisiana while more snow and cold temperatures were slated for parts of Iowa, Indiana, Pennsylvania, Washington D.C. and West Virginia. Insured losses from this winter were already at $1.5 billion to date according to the Global Catastrophe Recap report released in February by Aon Benfield, a leading insurance and risk management company. 
Cities have depleted snow removal budgets, millions experienced power outages and dozens of weather-related deaths were reported. Even as temperatures warm, flooding from melted snow, dangers from falling ice and hazardous roads due to huge potholes are expected.  
The Honorable Elijah Muhammad, patriarch of the Nation of Islam prophesied of the destruction of America for her evil deeds. He warned that Allah (God) would use the weather, "his divine plague of storms" as weapons in its downfall. 
His National Representative, Minister Louis Farrakhan in a recent major address in front of a standing room only crowd at Mosque Maryam in Chicago, reiterated with stern and sobering words to the world that the chastisements would increase. Both men caution America is being punished for its historical ill-treatment of Blacks in America. But Min. Farrakhan also warned Black America, of the price it will also pay for their ill-treatment of one another. "All of us deserve a whipping," he declared in his March 2 address, "How Strong Is Our Foundation; Can We Survive, Pt. 2".
"You're going to clean up, or the whipping is coming. What's going to happen? The intensity of the whipping is going to increase. The weather is going to get worse, and the calamities are going to get worse," the Minister stated emphatically.  
This winter has seen 23 named storms and the breaking of several weather records. Portions of Ohio, Indiana and Michigan experienced their "snowiest" winter on record while California experienced its warmest, according to Global Disaster Watch, a website that monitors natural disaster reports.
Thunderstorms were forecast March 15 through March 17 in parts of Texas, Oklahoma, Louisiana, Arkansas and Florida bringing with it possibilities of damaging wind gusts, large hail and tornadoes reported the Weather Channel.
Los Angeles residents awakened the morning of March 17 to a 4.4 magnitude earthquake. A 6.9 magnitude earthquake also struck off the coast of northern California, March 9 followed by at least 13 aftershocks. There were no significant injuries or damages but it was the largest earthquake on the West Coast since 2010 it was reported.
The Honorable Elijah Muhammad in his book, The Fall of America, dedicates several chapters pointing out in both Bible and Holy Qu'ran, where Allah (God) destroyed the wicked through the forces of nature.
"Is America any better than the people we read about in the history that God destroyed? No, she is not as good. These people were not as wicked as the American people," Mr. Muhammad writes.
Min. Farrakhan, like Noah, Lot and the prophets has warned the people of America and the world of why calamities will continue plaguing America and other nations of the earth. During several broadcasts of his 2013-2014 Online lecture series, "The Time and What Must Be Done," he continued to tell listeners, "watch the weather".   
"As I have warned you, from the Honorable Elijah Muhammad: God is seizing you now with "distress" and "affliction"—Black and White both, because both are rebelling against God!" he said, describing the onslaught of storms, floods, snow, sleet and hail that bombarded America before, during and after his year-long broadcast.
"That's 'distress,' that's 'affliction' America! And more is coming," he continued. 
"Keep watching the weather, the forces of nature, for it is time, now, that the Black man and woman in America must be delivered. It is time, now, that we should be set free. It is time, now, that you should help us to go for ourselves. It is time. And if you did it, some of this stress, distress and affliction that you are suffering will come off of you; and then you can work on what you have to do in the world," said the Minister.