The Final Call |
National News
Muslim martial arts master enshrined in hall of honor
By Calvin Muhammad | Last updated: Feb 12, 2014 - 11:00:28 PM
What's your opinion on this article?
ATLANTIC CITY, N.J. - When Action Martial Arts Magazine held its annual Martial Arts Hall of Honors ceremony, it included an Action Martial Arts Magazine Hall of Honors ceremony. The event was hosted by Wing Chun Master Alan Goldberg and featured some of the world's best martial artists.
This year The National Trainer of the Nation of Islam, Grandmaster Anthony Muhammad, was among the honorees to be inducted into the Hall of Honors for his Outstanding Achievements as a Grandmaster in the Martial Arts. The award was to acknowledge Grandmaster Anthony Muhammad's dedication, sacrifice, excellence and his outstanding love for his teacher, the legendary Dr. Moses Powell. With words of appreciation from some of the martial arts community's most renowned celebrities like Cynthia Rothrock, Don "The Dragon" Wilson, Benny "The Jet" Urquidez, Martin Kove from the Karate Kid and Fred 'The Hammer" Williamson, Grandmaster Muhammad along with all of the selected honorees received the utmost respect and admiration from the entire Martial Arts world.
"When you are recognized at this event, there is no question about your skill or caliber as a martial artist," said creator of the Action Screen Academy and founder of the Screen Action Stunt Association, Michael DePasquale Jr. As if this event was not memorable enough, several students of the legendary Dr. Moses Powell were also inducted into Action Martial Arts Hall of Honors. Professor Christopher Muhammad from New York, accompanied by his wife Student Capt. Johnna Muhammad, also received recognition for his sacrifice and achievements in the martial arts. Professor Christopher Muhammad is responsible for the martial arts training in the eastern region of the Nation of Islam for the National Training Department.
The magazine and Hall of Fame have an international following that reaches into Russia, England, Australia, Egypt, Hungry, Poland, Israel, Japan and Africa. Each year martial artists from all over the world come to show honor and respect to a select group of practitioners chosen from the ranks of the world's top martial artist to be inducted into the Action Magazine's International Hall of Honors.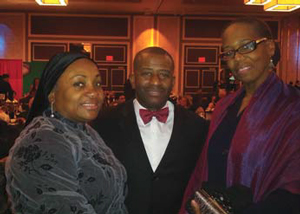 When asked about what it meant to receive such a prestigious acknowledgement from the International martial arts community, Grandmaster Anthony Muhammad replied, "Any accolades that I receive for my training are a representation of my teacher (Dr. Moses Powell aka Musa Muhammad) and is a demonstration that he is still present within me."  Grandmaster Muhammad, or "The GM," as he is called by students, described his journey in martial arts as one of "rewards and trials." In the beginning of his journey, Grandmaster Muhammad attempted to absorb as much as he could from his teachers. His teacher Soke "Lil John" Davis was always there, he said. "When the Doc was not around, he stepped in as a surrogate father to ensure that my growth continued in his absence."
"The rewards for staying in this journey far outweigh the trials as I attempt to prove what I was taught by my teachers is real," he added.
The spirit of the family of those touched by Dr. Moses Powell was alive and well as a delegation of 30 plus students and supporters of Grandmaster Muhammad from New York, Philadelphia, Chicago, Kansas City parts of New Jersey and California erupted with applause as he and others from the VSK Jiu Jitsu martial arts family were called to the stage to be honored.
Many who know Grandmaster Muhammad understand this achievement has been years in the making. He continually hosts one of the largest and most indepth forums on survival and self defense in the country annually in Chicago.
As the National Trainer of the Nation of Islam, he takes to heart the immortal philosophy of his teacher, Dr. Moses Powell of "each one teach one" and shares knowledge gained with four decades in the martial arts whenever the opportunity arises.
Grandmaster Muhammad, beyond his yearly training seminar, travels to cities across the country in an effort to fulfil the wishes of the Honorable Minister Louis Farrakhan to ensure that every member of the Nation be properly trained to defend themselves. He has brought highly skilled training to local cities.
Grandmaster Muhammad is actively preparing for his annual National Training Seminar June  6-8 at the Windham Hotel, 1400 N. Milwaukee Avenue, Glenview, Ill. 60025. For more information, contact Grandmaster Muhammad at 773-769-7017.
(Calvin Muhammad is executive director of the USOS Kansas City School of Martial Science.)