The Final Call |
National News
Surveillance, hip hop culture and economics in 2013
By
Ashahed M. Muhammad
-Assistant Editor- | Last updated: Jan 2, 2014 - 11:03:57 AM
What's your opinion on this article?
Challenges lie ahead, economic uncertainty looms while the government snoops on everyone
(FinalCall.com) - The year saw
Assata Shakur
placed on top of the FBI's "Most Wanted Terrorist" list and an April bombing in Boston along with several mass shootings battered the psyche of the American people.
       NEWS ANALYSIS      
Edward Snowden shook up the world following his revelations of a leviathan worldwide spying apparatus operating with the full knowledge of the highest levels of the U.S. Government. "Stop and Frisk" laws have been challenged on the East Coast, and Islamophobia is still at high levels in this so-called Christian nation.
"In these cold closing weeks of 2013, we mourn the devastation wrought by 10 years of U.S. military occupation in Iraq, we fear the expanding surveillance and suppression of dissenting voices, and we are outraged by the force of militarized repression against rising social movements worldwide," the New York-based War Resisters League wrote in an email to supporters.
And they are not alone in their displeasure with government.
The year also saw the approval ratings for President Obama dip to the lowest levels ever. The most recently available Gallup Poll data showed an approval rating of 40 percent. Perhaps even more disconcerting is in a separate poll, Americans were asked: "In your opinion, which of the following will be the biggest threat to the country in the future?" A whopping 72 percent answered "Big government." Congressional approval ratings have dropped to 9 percent, which is the lowest level in the 39 years since they began asking the question.
In political high points for Black America, prominent attorney, Black Nationalist and reparations advocate Chokwe Lumumba was elected mayor of Jackson, Mississippi in June. In an historic battleground during the civil rights struggle, his victory was seen as significant.
The entire world watched the trial of George Zimmerman in the killing of unarmed teen Trayvon Martin. When Mr. Zimmerman was found not guilty, a wave of grief and anger swept over Black America. It is a truly morbid, troubling and growing list of those who have had their lives cut short under suspicious circumstances, either at the hands of police or self-appointed vigilantes.
Kendrick Johnson, Johnathan Ferrell,  Renisha McBride all died under suspicious circumstances. Revolutionary rapper Jasiri X delivered a powerful tribute to Blacks shot down and not given justice in "Strange Fruit: Class of 2013."
As it relates to Hip Hop and culture, it was an eventful year. Hip Hop turned 40, and while it is undeniably true that Hip Hop's impact is global, there are wildly varying opinions of what Hip Hop actually "is." Some believe Hip-Hop is simply an art form used for entertainment that can also serve as a means to achieve extreme wealth. Others believe it is simply an influential marketing tool. Still others believe it should be used to amplify the voices of the oppressed by addressing relevant social, cultural, and political issues.
Though his lyrics, Jasiri X consistently speaks strong in his calls for justice, but an increasing number of rappers joined him in using their voices in more meaningful ways.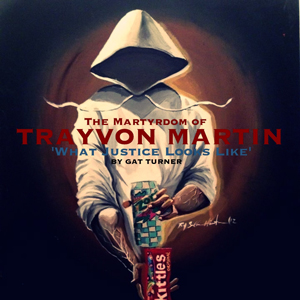 There were some high points, such as how dozens of artists raised their voices in the wake of the tragic death of Trayvon Martin and Zimmerman's subsequent acquittal, and the outpouring of tributes to former South African president and icon Nelson Mandela who passed December 5. Conversely, the low points were really low, such as Lil Wayne delivering highly insensitive and disrespectful remarks regarding women, and the slain Civil Rights martyr Emmett Till. He was roundly condemned and some say slipped in popularity and sales because of it. Rapper Rick Ross experienced his share of drama this year. The popular rapper was criticized for lyrics considered by many to condone and even advocate date rape, and constant threats from street organizations have been sent his way. He recently met with Min. Farrakhan and posted a photo on his Instagram page.
In sad news, a suspected drug overdose claimed the life of Chris Kelly, one-half of the popular 90s duo Kris Kross.
Iconic power couple Jay Z and Beyonce continued their dominance, but raised some eyebrows this summer when they took a trip to Cuba. Beyonce's most recent release and global sales records represents at the same time, her extreme popularity and a shift in the way new music is released and made available to the public. And of course, Kanye West remained in the headlines nearly the entire year as a result of saying something, doing something or wearing something controversial.
Bakari Kitwana, author of the forthcoming book "Hip-Hop Activism in the Obama Era," director of Rap Sessions and Senior Media Fellow at the Jamestown Project, said another important moment in Hip Hop this year included Jay Z's controversial comments directed at respected elder Harry Belafonte.
High points and dramatic slides exist, but are we participating in our own degradation?
"As Hip Hop becomes more of a mainstream phenomenon, there's this constant struggle," said Mr. Kitwana.
An example of this struggle is Kanye West complaining about not having access or being stifled by the powers that be, even as he is "comfortably situated in the top 1 percent category in terms of wealth," Mr. Kitwana noted. He also finds Mr. West's use of the Confederate Flag as a clothing statement "problematic."
"Hip Hop is moving in a direction where we're seeing its power flexed, but we're also seeing the limitations of a culture and an industry that at the end of the day, we don't control," added Mr. Kitwana.
He is aware of the discussions about whether artists and entertainers are role models and believes artists have a responsibility to speak "to the interests of everyday people." 
"The question is, are they able to navigate where they are and speak to the best of our community and are they willing to do that?" asked Mr. Kitwana. "I think they have a responsibility as human beings."
As long as White supremacist culture and a media controlled by an elite group, this will be a constant struggle, he adds.
CIVIL RIGHTS
There was a large gathering in August celebrating the 50 year anniversary of the March on Washington in which Dr. Martin Luther King Jr. delivered his famous "I Have a Dream" speech. Many remarked how far the nation has come regarding race relations now with a Black president in the White House. However, neither the racist attacks nor death threats on Pres. Obama have slowed down. Right wing conservatives have continued their strategy to erect voting rights barriers.
Fifty years ago, outright denial and brutal intimidation were tools used in Black voter suppression. Today unnecessarily complicated voting laws often disproportionately target Black and Brown communities, the elderly and those with low incomes. Often, these areas are already underserved, understaffed, and have outdated equipment. The legal maneuvers and technicalities are formed by the conservatives as part of their covert strategy.
ECONOMICS
Analysts say despite economic, political and social gains through the Civil Rights struggle, the fact that Black people have not emphasized land ownership has played a large role preventing the Black nation fulfilling its potential as an economic and political force in America. 
Economist and Forbes contributor Cedric Muhammad believes the Most Honorable Elijah Muhammad assessed this condition best in 1960 when in his book "Message to the Blackman in America" he wrote:
"Since our being brought in chains to the shores of America, our brain power, labor, skills, talent and wealth have been taken, given and spent toward building and adding to the civilization of another people." 
It is for that very reason that Cedric Muhammad views support for the Economic Blueprint re-launched in October 2013 by Minister Farrakhan as a strategic imperative for the survival of Black people in America.
"No matter how it is disguised or manifested, the aim and purpose of discrimination against Black Americans has always been to continue to promote internal disunity while external communities benefit from our physical, human and financial capital," said Cedric Muhammad. 
This must end otherwise, despite progress in other areas such as politics or civil rights, the wealth and health disparities will remain.
"Through the Economic Blueprint we could create enough jobs, popularize asset ownership and establish enough community-oriented banking institutions to fuel sufficient agricultural, entrepreneurial and professional activity and do what the Honorable Elijah Muhammad said we should do—prevent our brain power, labor, skills, talent and wealth from building and adding to the civilization of others before it first circulates within and sustains our own communities," he added.