The Final Call |
National News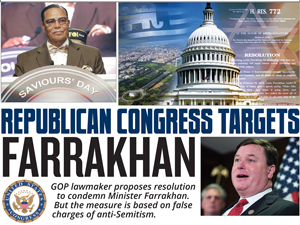 by
Charlene Muhammad
-National Correspondent-
Resolution seeking to condemn Farrakhan, blasted by activists, analysts: Congressional targeting of Minister denounced as driven by racial fears, double standards After failing efforts to get some Congressional Black Caucus... »
FEATURED STORIES
The Jewish stranglehold on Black political leaders was manifested when...
Jewish and Zionist groups who have harassed, slandered, and stalked...
CHICAGO—Saviours' Day, the annual Nation of Islam celebration and crowning...
.Minister Louis Farrakhan 'unmasks the deceivers,' confronts the haters, warns...
"We're witnessing a fundamental changing of our demographics around the...
Multi-talented artist finds herself under attack as writer drops the...
CHICAGO — Chicago's issues with gun violence isn't as hotly...
FBI targets what it calls "Black Identity Extremist" groups according...
The Final Call looks at why our daughters are taking...
After a tumultuous year of devastating natural disasters, Mother Nature...
Harsh realities await Blacks in 2018, and to overcome hurdles...
Blacks suffered a year of attacks and distractions but persevered...