The Final Call |
National News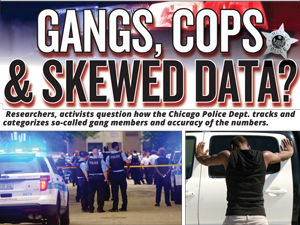 by
Bryan Crawford
-Contributing Writer-
Researchers, activists question how the Chicago Police Dept. tracks and categorizes so-called gang members and accuracy of the numbers. Gun violence is the top crime problem associated with Chicago, particularly... »
FEATURED STORIES
Powerful deadly storms and extreme weather events are punishing America....
The world condemns revelations of slave markets and suffering in...
WASHINGTON—In the ballroom of the historic Watergate Hotel, Nation of...
Thanksgiving weekend has traditionally been the kickoff to the holiday...
WASHINGTON—The latest crisis for the Democratic Party, sparked by former...
Women's March organizers to strategize, organize and push progressive agenda...
ATLANTA - Religious scholars, historians, and seekers have differed in...
FBI targets what it calls "Black Identity Extremist" groups according...
The Honorable Minister Louis Farrakhan delivers truth behind manufactured controversy...
There are harsh realities facing our communities nationwide. What is...
Terror has struck again on American soil in the form...
An outrageous statement by President Trump forces NFL owners to...