The Final Call |
Weekly Column by the Honorable Minister Louis Farrakhan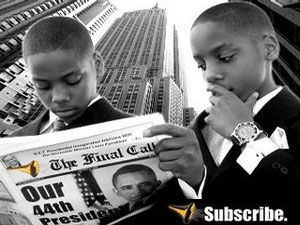 by
The Honorable Minister Louis Farrakhan
Most of us do not realize that the favor of Allah is the thing that we should be seeking. And that's why The Fast of Ramadan is so absolutely necessary,... »
FEATURED STORIES
Most of you have benefited in some way from a...
This is a strange subject: The Crucifixion of Michael Jackson....
Our sympathy has always been with the Haitian people and...
Most of us do not realize that the favor of...
We are not Muslims by a book! We are not...
The Honorable Elijah Muhammad is indeed a true friend of...
The flesh of Muhammad Ali must return to the earth...
All of us are standing on the shoulders of somebody...
We need a new code between us. The code should...
Thousands upon thousands of jobs for the working man, the...
The origin of this present article stems from a brief...
It is imperative that all of us who are in...