The Final Call |
Weekly Column by the Honorable Minister Louis Farrakhan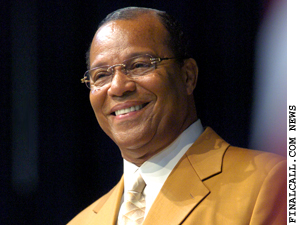 by
The Honorable Minister Louis Farrakhan
We've arrived at a time when what people have sown, all of us, we have to reap. America has sown some terrible things and this is a time of reaping.... »
FEATURED STORIES
Most of you have benefited in some way from a...
This is a strange subject: The Crucifixion of Michael Jackson....
Our sympathy has always been with the Haitian people and...
We've arrived at a time when what people have sown,...
We have to make the change within ourselves, then we...
Brothers, sisters, do you think you're a real American citizen?...
When I sat with President Obama (he was Senator Obama...
I am here to announce today the end of his...
Have you noticed how every Black leader who wants to...
Brothers and sisters, you are so great, that's why the...
Now the killings have increased in all the major cities...
This "religiosity" is not the standard by which true men...