The Final Call |
Weekly Column by the Honorable Minister Louis Farrakhan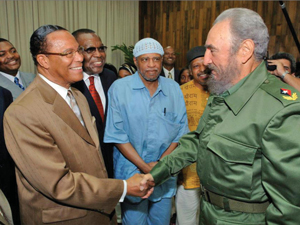 by
The Honorable Minister Louis Farrakhan
In my last conversation with Comandante Fidel Castro we were to have 20-minutes it lasted for a little over three-hours. And in the last 20-minutes I spoke to him about... »
FEATURED STORIES
Most of you have benefited in some way from a...
This is a strange subject: The Crucifixion of Michael Jackson....
Our sympathy has always been with the Haitian people and...
In my last conversation with Comandante Fidel Castro we were...
As it was during the time of President Roosevelt, it...
How long have we been here? We have served the...
For some of us, the word "integration" conjures up a...
This is a very difficult subject for me to attempt...
You were taught by a liar and The Master of...
We must recognize that we are living under colonial status....
Beloved pastors, my dear Christian family, I am so honored...
Today, I asked to speak to the Youth Leadership that...