The Final Call |
Weekly Column by the Honorable Minister Louis Farrakhan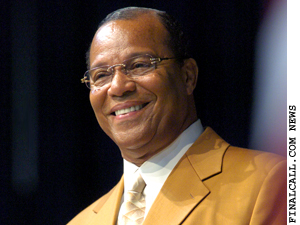 by
The Honorable Minister Louis Farrakhan
Satan has done a job; he deceived the whole world. Aren't we in the world? Should we be of it though we're in it? Jesus was in the world but... »
FEATURED STORIES
Most of you have benefited in some way from a...
This is a strange subject: The Crucifixion of Michael Jackson....
Our sympathy has always been with the Haitian people and...
Satan has done a job; he deceived the whole world....
As a Muslim, our way is different, but I'm always...
What do you owe? You owe us everything. But of...
The talent that is in our people is equal to...
The greatest demonstration of Allah's (God's) love is that He...
But History is teaching us, because we have been crying...
Brothers and sisters, you are a good people, but you've...
We're not out here taking money. Our work is the...
Right now the world of Islam stands on the brink...