The Final Call |
Weekly Column by the Honorable Minister Louis Farrakhan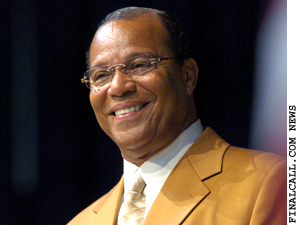 by
The Honorable Minister Louis Farrakhan
Mr. Trump has changed the narrative. Black people don't hate the flag, as such; they don't hate America as such, but they just wanted to draw attention to what we... »
FEATURED STORIES
Most of you have benefited in some way from a...
This is a strange subject: The Crucifixion of Michael Jackson....
Our sympathy has always been with the Haitian people and...
Mr. Trump has changed the narrative. Black people don't hate...
Brothers and sisters, when you talk to "power": You can't...
There has to be a perfect man to unite with...
When the Emancipation Proclamation was signed and Blacks were supposedly...
Female abuse and child abuse are not only violent in...
I have chosen as a subject today, "The Divine Destruction...
Moses brought 10 commandments; Jesus only brought two. Jesus said...
I know that you should seek refuge in Allah, but...
Satan has done a job; he deceived the whole world....