The Final Call |
Weekly Column by the Honorable Minister Louis Farrakhan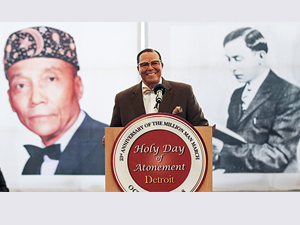 by the Honorable Minister Louis Farrakhan
I'm honored and we are honored by your presence. We are honored to be in this place and we call it hallowed ground: hallowed ground because Detroit was chosen by... »
FEATURED STORIES
Most of you have benefited in some way from a...
This is a strange subject: The Crucifixion of Michael Jackson....
Our sympathy has always been with the Haitian people and...
I'm honored and we are honored by your presence. We...
I am a student of the Honorable Elijah Muhammad. The...
In the Name of Allah, the Beneficent, the Merciful, I...
To my beloved brother, Rev. Cornelius C. Clark, who introduced...
We are in love with our former slave-masters and their...
The leadership of President George Bush is disintegrating in front...
The question to Black leadership is, can you depend on...
In America, we have millions today who are homeless. We...
This land now boasts the highest incarceration rate in the...