The Final Call |
Weekly Column by the Honorable Minister Louis Farrakhan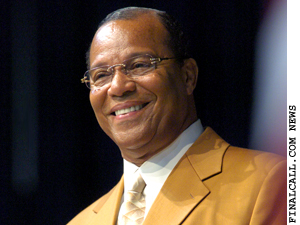 by
The Honorable Minister Louis Farrakhan
Brothers and sisters, when you talk to "power": You can't go to "power" just with "a cry" for justice! You have to have power backing your cry; otherwise, you'll get... »
FEATURED STORIES
Most of you have benefited in some way from a...
This is a strange subject: The Crucifixion of Michael Jackson....
Our sympathy has always been with the Haitian people and...
Brothers and sisters, when you talk to "power": You can't...
The Black woman is completely frustrated and hurt by the...
As I have traveled throughout the country, everywhere I go...
An untold sum of taxpayer dollars was used by the...
Focus your attention on the rise of women all over...
The world wants change; the world needs change, but the...
It has been a secret-"above top secret"-in the United States,...
"How Strong is The Foundation; Can We Survive?": If your...
I thank Allah for the day of "February 26th," which...