The Final Call |
Weekly Column by the Honorable Minister Louis Farrakhan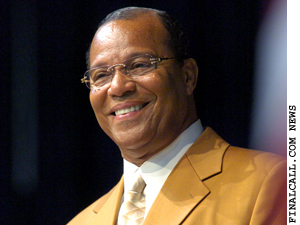 by
the Honorable Minister Louis Farrakhan
I read of this unfortunate incident in our newspaper, The Final Call, and it is one of many that are taking place in cities throughout America that you don't hear... »
FEATURED STORIES
Most of you have benefited in some way from a...
This is a strange subject: The Crucifixion of Michael Jackson....
Our sympathy has always been with the Haitian people and...
I read of this unfortunate incident in our newspaper, The...
It's the greed for short-term profit that has generated an...
As long as leaders lie to the American people, they...
My dear brothers and sisters, if you notice from the...
I don't have any illusion about telling you to vote....
These heroes have done their work, and we are the...
"Let my people go": What lessons can be extracted from...
What is "Sedition"? It is "actions or words intended to...
Brothers and Sisters, you are a beautiful people. We just...