The Final Call |
Weekly Column by the Honorable Minister Louis Farrakhan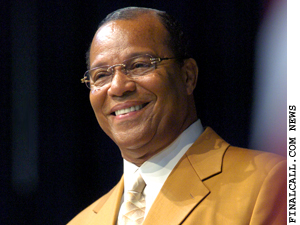 by
The Honorable Minister Louis Farrakhan
Brothers and Sisters, you are a beautiful people. We just have to work as hard as we can to make the devil's plan unsuccessful. The scripture teaches, "If God had... »
FEATURED STORIES
Most of you have benefited in some way from a...
This is a strange subject: The Crucifixion of Michael Jackson....
Our sympathy has always been with the Haitian people and...
Brothers and Sisters, you are a beautiful people. We just...
Brothers and Sisters, this peaceful coexistence with the murder of...
I would like to speak tonight on the subject of...
Have you noticed that "the target" all over America is...
To this day, it is sickening and saddening that some...
In work places today, people are coming to work killing...
Leadership is afraid of our young people: You don't go...
We need leaders who are strong, who are militant. Certainly...
O, Beloved Muslims: We have a Work to do until...