The Final Call |
Perspectives
Best wishes for 2012, and the future of Pan Africanism
By Dr. Dudley Thompson | Last updated: Feb 6, 2012 - 12:43:09 PM
What's your opinion on this article?
Editor's note: On January 24, it was announced the late Ambassador, the Hon. Dudley Thompson, would be accorded an official funeral by the Government of Jamaica. It was announced by Prime Minister, the Most Honorable Portia Simpson Miller, during a parliamentary tribute to Ambassador Thompson in the House of Representatives.
Ambassador Thompson died Jan. 20, one day after his 95th birthday. At the time of his transition, Ambassador Thompson was president of the World African Diaspora Union and was still writing and still working. In recent months, The Final Call had the honor of printing his column and we are blessed to have some of his last words.
This is a message to all who have been reading my columns and your friends I hope. I have not been able to in the past three weeks send you my column because I've been ill and under medical treatment, but thank God I'm recovering, and wish to make up to you. I send you all the season's greetings, and I hope that the new year coming will find all of us—your friends and I moving forward on the road to success. This is my wish.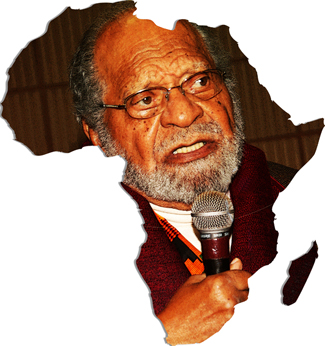 And what is the success we wish for? To keep our health, perhaps to increase our wealth and certainly to maintain our happiness. To do this, we do not expect it to fall into our laps—we have to earn it! We have a lot of things to do to earn this in many ways…whoever we are, wherever we are. But I can sum it up by saying whether you be a doctor, a teacher, a lawyer, a homemaker, a street cleaner—your work, your success will come from  helping others to improve themselves. You do this first, by improving your own self. You owe that duty to yourself—to become the best doctor. You can be the best teacher, lawyer, homemaker or the best street cleaner there is. When you have become your best, you now have another duty to make your countrymen their best like you, and that will be your duty.
If your parents are proud of you for what you have done, that is a success you aim for. If your country can be proud of what you did as one of their own, that is success. Right now, I am thinking of a young man called Usain Bolt. He is the fastest athlete in the world, born in little Jamaica. He's a success because he has proven that he has become the best that he can be, by training, practice, and discipline, and his country Jamaica is proud of him. That is success!
So my message to you all is this—make a resolution that the new year 2012 will find you like Usain Bolt showing the world that however poor you may be, or Black or White, or whatever—you can become the best at what you're chosen to do.
God has a plan for every man, and he has one for you. Try to find it, and excel in it…and even God will be pleased with you like your family, and like your country.
Best wishes in 2012.
The Nature of the struggle: Pan-Africanism vs. Bigotry
Pan Africanism follows the truth of history. We accept the facts of Cheik Anton Diop and L. S. B. Leaky that we brought civilization to this world. The bigots refused to accept this truth of history and maintain their old ideas of race superiority. Until the bigots reach the time where it becomes obvious to them that the truth of history as demonstrated by Black empowerment destroys their old ideology, the bigotry will continue. That will now become the time of the Black renaissance. History is in our favor. We await this time.               
The Pan African Association of Sylvester Williams, DuBois and others in 1900 was the new Strategy that would lay down the road map to continue the struggle when the battle lines were drawn by the Treaty of Berlin in 1884. It is necessary that we fix this historical landmark.
It is also vital that we should know what this Struggle was about.
The struggle was about the primordial instinct of man for his Freedom.
Freedom is not a piece of paper or the removal of shackles, FREEDOM is the right to choose together with the ability to subdue those who seek to take away that Right.
The struggle is not for liberation, nor a struggle for land or sovereignty. IT IS A STRUGGLE TO RECOVER Africa's PROPER PLACE IN HUMAN HISTORY, AND TO RESTORE TO African PEOPLE WHAT WAS TAKEN AWAY FROM THEM.
African slavery was not like other systems where there were masters and servants, It was a system dedicated to the dehumanization of an entire race. It attempted to polarize the world into humans and things.
It is thus necessary to implement the strategy of Pan Africanism (learn our history) as it is vital to understand the nature of the struggle." PAN AFRICANISM OR PERISH" dictates that only then can we qualify as a Pan Africanist. Any deviation from this definition will lead to doom. Any organization or individual including the African Union or the Diaspora who does not qualify as a Pan Africanist must be left behind.
Pan Africanists share a vision. It drives them on.
I am a Pan Africanist.
Dudley Thompson