The Final Call |
Perspectives
Losing jobs, losing voices: What we must do about it
By
FinalCall.com News
| Last updated: Aug 9, 2013 - 2:50:50 PM
What's your opinion on this article?
The National Association of Black Journalists convention is a whirlwind of activity, workshops, plenaries, training, press conferences, tributes, parties, receptions, movie screenings, discussions and a major job fair.
A couple thousand Black media and public relations professionals attended the most recent gathering in Orlando, Fla.
A highlight of the convention July 31 to Aug. 4 was employer tables inside a huge exhibit hall where newbies and longtime news people patiently waited and hoped for a chance to get a big break or at least a regular paycheck. Changes within the news industry have come fast and furious and Blacks have not been immune from a new reality ushered in by the internet and a growing, never ending appetite for information, though much of it is meaningless.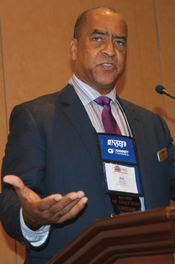 No one can be sure where this new world is going but it is certainly nothing like the old days of working for a single company for 20 to 30 years, getting a pension and riding off into the retirement sunset. These are the days when a major daily, the Chicago Sun Times, lays off its entire photography staff in a single day. A Pulitzer Prize winning Black photographer was among the job losers. These are the days when another major daily paper, the Cleveland Plain Dealer, lays off one-third of its staff in a word that spread even as Black journalists were meeting.
But at the same time, the need for real information, real perspective and a real public and corporate watchdog is needed. More and more news outlets are controlled by fewer and fewer media giants that remain bastions of White power, White privilege and White perspective. Can their worldview shift and reflect a changing country and world growing Blacker and Browner by the day? It's not likely. So CNN coverage shifts to discussions designed to appease and appeal to White viewers who increasingly turn to Fox News, a right wing media machine, to find out what is happening in the world.
Where does that leave both the Black journalist and the Black community? The days when companies would tout "diversity" and pay lip service to opportunity are gone. Their rhetoric never lived up to the hype. Media companies largely kept and keep power—decision making power—in the hands of White males. That means a type of singular focus and storytelling that is homogenous and repetitive. Turn on any television, scroll through the news channels and you will find the same story told essentially the same way, often with the same people.
Why does it matter? It's one world view and it's a skewed perspective. Such group-think doesn't demand a conspiracy to mislead and misdirect people, a common mindset will do. So presidents can go to war based on lies with the support of a lapdog press that spouts the arguments of the powerful and neglects to check facts or demand proof.
Billions of dollars are squandered, thousands of lives are lost and the mainstream media does little to nothing to hold the powerful accountable and analyze what is happening before people start dying.
Coverage of Black neighborhoods mirrors coverage of Africa, Haiti, and much of the Black and Brown world: Violence, poverty, dysfunction and destruction. The underlying causes of suffering are never discussed and unless the solution can be explained in 20 seconds forget it. In hyper-news cycles, the beast craves more content, but not the best information.
But this country faces serious questions about education, economics, foreign affairs, government, civil liberties, spending and who influences who to do what. With Black children still facing endemic poverty 50 years after the 1963 March on Washington and calls for social and economic justice, an end to police shootings and vigilante justice, voter suppression and rights denials, AIDS, school dropout and self-inflicted wounds inside Black America, we need good information and we need it now.
The mainstream isn't going to give us what we need and our lack of presence in a troubled industry is very troubling. Love and Hip Hop may titillate your imagination and distract you but it won't give you tools needed to navigate harsh reality.
What we need is simple and should be easy: We need unity and we need it now. Not uniformity, but unity. Agreement on some basics, like the fact that we need to tell our own story and Black folks need media jobs. Bob Butler, the new president of the National Association of Black Journalists, has said 3,000 Black newsmen lost jobs in the last couple of years.
The group's website, nabj.org, reported recently that diversity was "flatlining in print newsrooms wrestling with the challenges of a slowly recovering economy and a country that will look increasingly different than the journalists who cover it unless more deliberate attempts to achieve significant progress are made. The American Society of News Editors announced Tuesday that total newsroom employment declined by 6.4 percent in 2012, and the presence of Black journalists fell from 4.68 percent to 4.65 percent last year—a loss of 63 journalists from the previous year and a net reduction of 993 since 2001," nabj.org said in mid-June.
Blacks will spend nearly $1 trillion this year and only about six cents from every dollar will go to Black businesses. As the Honorable Minister Louis Farrakhan noted in a recent Time and What Must Be Done webcast, saving literally pennies a day by millions of people, Black people, in America can begin to give us what we need. If the 16 million employed Blacks in the U.S. gave a mere 35 cents a week for a year, in one year we could collectively amass $291 million to acquire land, businesses and tools for our future, he pointed out. Black journalists should get behind this discussion and movement about what we must do to service and save ourselves. We would say quite simply, the job you save may be your own.