The Final Call |
Perspectives
Broaden your horizons
By YoNasDa LoneWolf McCall-Muhammad | Last updated: Aug 1, 2006 - 9:44:00 AM
What's your opinion on this article?
History was made July 17-19—the Honorable Minister Louis Farrakhan visited the Navajo Nation.
This has been a vision of mine since I was a young girl, for the Black community to meet the Native community. During our summer vacations, we would visit South Dakota to see our family. I would go to sweat lodge ceremonies, ride horses, make Native jewelry and meet with grandmothers and grandfathers that lived until the age of 105, as well as a summer where we would have to receive our water from local wells. When I would go back to Phoenix to share my summer with my friends, they wouldn't understand what I just experienced. So, I have always longed for the day where I can take people from the city to a Native community. It's a certain freedom that those who live in the inner city do not have, as well as knowing they are amongst their extended family.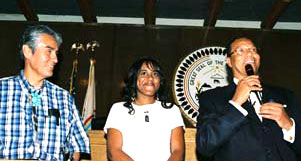 In January 2006, I reached out to the Navajo Nation for an interview on a local news story they were having. As the person at the tribal office and I were speaking, he thought it would be great for the tribal president to meet the Honorable Minister Louis Farrakhan. He told me that the tribal president is reaching out to all Black and Brown communities, because he knows that with unity they can succeed. I knew it would be a great idea, especially since the Navajos are the largest tribe in the United States. Their land base is the size of West Virginia.
Right before Saviours' Day in Chicago, Ill., the tribal president, his wife and two members from his staff met Min. Farrakhan at the minister's home in Phoenix, Ariz. Over dinner, they exchanged similarities of cultures, as well as the struggle of both nations. It was a four-hour conversation. Immediately, the tribal president invited Min. Farrakhan to Navajo Nation. After many attempts for us to go to Navajo land, we finally did it on our recent trip. In the itinerary was for us to tour the land and view the canyons.
But the Great Creator moves in mysterious ways. We ended up coming during the week of the Navajo Tribal Council meeting, where 88 delegates come to Window Rock, Ariz. to go over issues amongst Navajo people throughout various towns. When word got out that we arrived, the press came.
The Assistant Attorney General of the United States traveled to Navajo Nation. Not to meet Min. Farrakhan, but to see what was going on. Like many tribes that states they are federally recognized, the Navajo Nation is recognized because it receives federal money. In Navajo Nation, 95 percent of the businesses are non-Navajo-owned. Just two years ago, they received water and electricity in some areas. They know that a change needs to happen, but how?
The Honorable Minister Louis Farrakhan was invited to speak before the Tribal Council meeting and I was told that for the first time in history did they give anyone a standing ovation. He spoke so beautifully about how we as the Black community have the same issues as the Native Americans. When we left the Navajo Nation, we gave the Navajo people hope. There is hope! With hope, there can be change.
This is the beginning.
Mitake Oyasin—All my relations, we are all related