The Final Call |
Minister Louis Farrakhan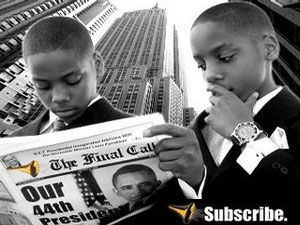 by Minister Louis Farrakhan
I have never made myself of any great reputation among my brethren. I walk among you humbly because that's who I am. But I say to those who want their... »
FEATURED STORIES
I was weighing very carefully the time, the government of...
The Honorable Minister Louis Farrakhan responds to questions and statements...
Most of you have benefited in some way from a...
This is a strange subject: The Crucifixion of Michael Jackson....
Our sympathy has always been with the Haitian people and...
I have never made myself of any great reputation among...
Now, my dear brothers and sisters, when we receive an...
What does democracy mean? The Founding Fathers of this country...
It was prophesied that Allah (God) would come and choose...
In the Name of Allah, the Beneficent, the Merciful, who...
Those of you who do not know Master Fard Muhammad...
Now, they put the blame on you, sisters. That's terrible...