The Final Call |
Minister Louis Farrakhan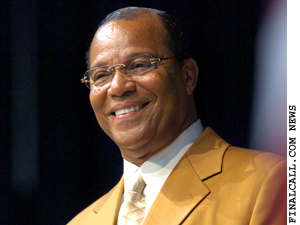 by
The Honorable Minister Louis Farrakhan
I know many of you are voters, and you can't wait to get to the polls, and I know what you're telling people: "We fought, we bled, and we died... »
FEATURED STORIES
The Honorable Minister Louis Farrakhan responds to questions and statements...
Most of you have benefited in some way from a...
This is a strange subject: The Crucifixion of Michael Jackson....
Our sympathy has always been with the Haitian people and...
I know many of you are voters, and you can't...
I am here to honor a great servant of Allah...
Brothers and sisters, the American people, you are seeing, now,...
I stand with you. We in the Nation of Islam...
I don't have any illusion about telling you to vote....
Brothers and Sisters, this peaceful coexistence with the murder of...
As I have traveled throughout the country, everywhere I go...
We are in the condition we're in because we have...