The Final Call |
Minister Louis Farrakhan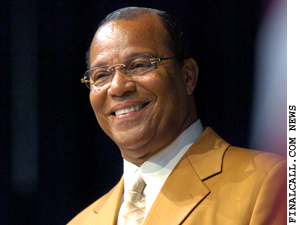 by
The Honorable Minister Louis Farrakhan
You must be able to recognize the enemy no matter what color it comes in because the enemy is anyone who is focusing on the idea of the enemy. If... »
FEATURED STORIES
The Honorable Minister Louis Farrakhan responds to questions and statements...
Most of you have benefited in some way from a...
This is a strange subject: The Crucifixion of Michael Jackson....
Our sympathy has always been with the Haitian people and...
You must be able to recognize the enemy no matter...
Women: You've got to be set free! What God has...
The Bible teaches that pride goeth before destruction and a...
You have to start with land … The Honorable Elijah...
The Honorable Elijah Muhammad states in The Muslim Program: "We...
If we properly understand it, the birthday of Jesus should...
Today, I asked to speak to the Youth Leadership that...
The nations of the Earth are in distress—with perplexity, which...