The Final Call |
Minister Louis Farrakhan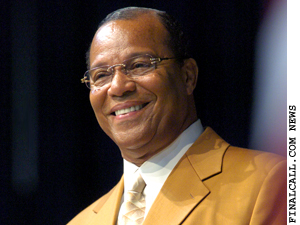 by
The Honorable Minister Louis Farrakhan
I am here to announce today the end of his world, and the beginning of a brand-new reality: That all human beings will enjoy peace, freedom, justice and equality under... »
FEATURED STORIES
The Honorable Minister Louis Farrakhan responds to questions and statements...
Most of you have benefited in some way from a...
This is a strange subject: The Crucifixion of Michael Jackson....
Our sympathy has always been with the Haitian people and...
I am here to announce today the end of his...
Have you noticed how every Black leader who wants to...
Brothers and sisters, you are so great, that's why the...
Now the killings have increased in all the major cities...
This "religiosity" is not the standard by which true men...
The greatest characteristic that a leader must have is a...
On January 20, 2017 there will be a change of...
Now on our level, as intellectuals and scholars: What are...