The Final Call |
Minister Louis Farrakhan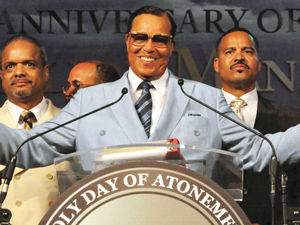 by
The Honorable Minister Louis Farrakhan
The enemy didn't want in the British West Indies that the islanders from one island would go to another island, and meet their brother and sister; they made it difficult... »
FEATURED STORIES
The Honorable Minister Louis Farrakhan responds to questions and statements...
Most of you have benefited in some way from a...
This is a strange subject: The Crucifixion of Michael Jackson....
Our sympathy has always been with the Haitian people and...
The enemy didn't want in the British West Indies that...
"Let my people go": What lessons can be extracted from...
What is "Sedition"? It is "actions or words intended to...
Brothers and Sisters, you are a beautiful people. We just...
Brothers and Sisters, this peaceful coexistence with the murder of...
by Minister Louis Farrakhan I believe that we can take...
I would like to speak tonight on the subject of...
Have you noticed that "the target" all over America is...