The Final Call |
Minister Louis Farrakhan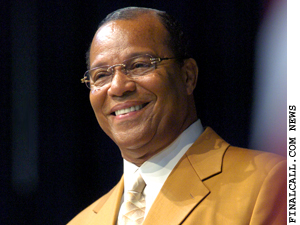 by
The Honorable Minister Louis Farrakhan
America is losing friendship throughout the world. The Government of America is losing control of the country's institutions and losing power of her own mind. America is losing control of... »
FEATURED STORIES
The Honorable Minister Louis Farrakhan responds to questions and statements...
Most of you have benefited in some way from a...
This is a strange subject: The Crucifixion of Michael Jackson....
Our sympathy has always been with the Haitian people and...
America is losing friendship throughout the world. The Government of...
The Time for "marching" is over! We've done that, and...
God says in the scriptures He is not the author...
There's other powers that manipulate presidents, kings and rulers! So...
Women: You've got to be set free! What God has...
The Enemy has told us that if we get a...
Are we just in school to get an education so...
There will never be a Righteous Kingdom until and unless...