The Final Call |
Minister Louis Farrakhan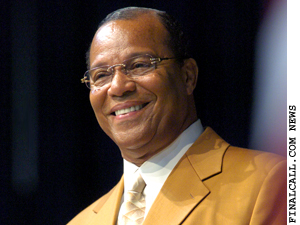 by the Honorable Minister Louis Farrakhan
I am a student of the Honorable Elijah Muhammad. The Qur'an says "every nation has received a messenger"—and my beloved Muslim family believes that the final messenger is Prophet Muhammad,... »
FEATURED STORIES
The Honorable Minister Louis Farrakhan responds to questions and statements...
Most of you have benefited in some way from a...
This is a strange subject: The Crucifixion of Michael Jackson....
Our sympathy has always been with the Haitian people and...
I am a student of the Honorable Elijah Muhammad. The...
In the Name of Allah, the Beneficent, the Merciful, I...
To my beloved brother, Rev. Cornelius C. Clark, who introduced...
The Most Honorable Elijah Muhammad said: "If Black people really...
We are in love with our former slave-masters and their...
The leadership of President George Bush is disintegrating in front...
I want to see successful marriage in the Nation of...
The question to Black leadership is, can you depend on...