The Final Call |
Minister Louis Farrakhan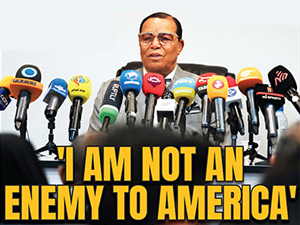 by
The Honorable Minister Louis Farrakhan
TEHRAN, Iran - I am not and have never been an enemy to America, nor the people of America. However, I love America enough to speak unpleasant truths.... »
FEATURED STORIES
The Honorable Minister Louis Farrakhan responds to questions and statements...
Most of you have benefited in some way from a...
This is a strange subject: The Crucifixion of Michael Jackson....
Our sympathy has always been with the Haitian people and...
I must say I have not enjoyed reading the press...
TEHRAN, Iran - I am not and have never been...
I'm honored to, by the Grace of Allah, share with...
It is difficult to follow in the footsteps of a...
I think it was a mistake that America is paying...
Look at the argument that Jesus is having with the...
It seems as though that some of you are so...
I'm honored and we are honored by your presence. We...