The Final Call |
Minister Louis Farrakhan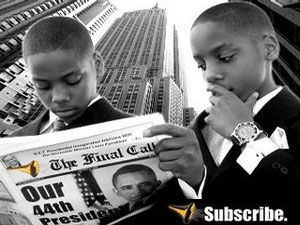 by The Honorable Minister Louis Farrakhan
My subject today was inspired by a sister who visited our home, and at the end of the evening she asked me, "Brother Farrakhan, I've watched you grow and I'm... »
FEATURED STORIES
I was weighing very carefully the time, the government of...
The Honorable Minister Louis Farrakhan responds to questions and statements...
Most of you have benefited in some way from a...
This is a strange subject: The Crucifixion of Michael Jackson....
Our sympathy has always been with the Haitian people and...
My subject today was inspired by a sister who visited...
Jesus was not a friend of this world. ... The...
The first day of the New Year should be a...
It is wonderful to be a servant of God and...
Your article calling for the public censure of the Honorable...
Most of the gifts that you give on Christmas really...
I listened very carefully. What is so sad is that...