The Final Call |
Minister Louis Farrakhan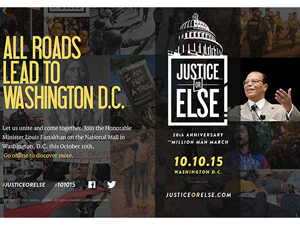 by
The Honorable Minister Louis Farrakhan
Satan is a Master of Tricks, and the biggest trick of all, The Book says, is "he deceived the whole world." Are you in the world? Do you think you... »
FEATURED STORIES
The Honorable Minister Louis Farrakhan responds to questions and statements...
Most of you have benefited in some way from a...
This is a strange subject: The Crucifixion of Michael Jackson....
Our sympathy has always been with the Haitian people and...
Satan is a Master of Tricks, and the biggest trick...
Yes, "All Lives Matter." But the only reason you are...
Being in America, you know what the Native people have...
My enemies have been stalking me and my work in...
Surely, if we can master hunger, and thirst, and the...
"Race" is a big factor in this present world as...
The time has arrived that the tyranny must end—and those...
We are at that point in our development where we...