The Final Call |
Minister Louis Farrakhan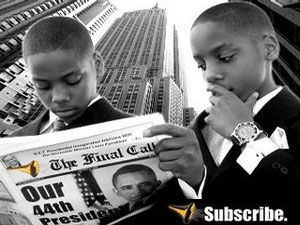 by Honorable Minister Louis Farrakhan
I bear witness to Him who originated the heavens and the earth. Who is the originator of all life and His greatest desire is to rid the earth of unbelief... »
FEATURED STORIES
I was weighing very carefully the time, the government of...
The Honorable Minister Louis Farrakhan responds to questions and statements...
Most of you have benefited in some way from a...
This is a strange subject: The Crucifixion of Michael Jackson....
Our sympathy has always been with the Haitian people and...
I bear witness to Him who originated the heavens and...
The aim of the enemy within is always to do...
I bear witness that there is no God, but He...
I thank Allah for the Honorable Elijah Muhammad whom I...
When Brother Nipsey put on the Red and the Blue,...
Above all today, I am honored to be in the...
The Holy Qur'an tells us that Allah (god) is One....