The Final Call |
Minister Louis Farrakhan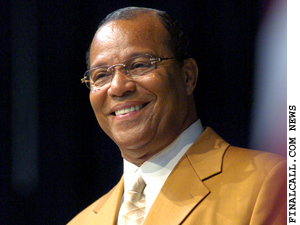 by
The Honorable Minister Louis Farrakhan
Brothers and Sisters, this peaceful coexistence with the murder of our people has to stop. It is alright for us to march against injustice but the time may soon come... »
FEATURED STORIES
The Honorable Minister Louis Farrakhan responds to questions and statements...
Most of you have benefited in some way from a...
This is a strange subject: The Crucifixion of Michael Jackson....
Our sympathy has always been with the Haitian people and...
Brothers and Sisters, this peaceful coexistence with the murder of...
As I have traveled throughout the country, everywhere I go...
We are in the condition we're in because we have...
No creature that God created earns its justification for being...
We're in a great election season, and the Black vote...
In America, not only are Black people dissatisfied, but White...
We see so many wars going on throughout the planet,...
Can we get out of this system something good for...