The Final Call |
Minister Louis Farrakhan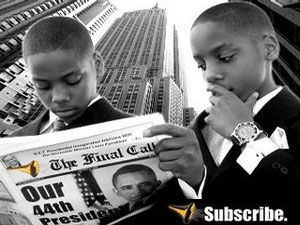 by THE HONORABLE MINISTER LOUIS FARRAKHAN
I read of this unfortunate incident in our newspaper, The Final Call, and it is one of many that are taking place in cities throughout America that you don't hear... »
FEATURED STORIES
I was weighing very carefully the time, the government of...
The Honorable Minister Louis Farrakhan responds to questions and statements...
Most of you have benefited in some way from a...
This is a strange subject: The Crucifixion of Michael Jackson....
Our sympathy has always been with the Haitian people and...
I read of this unfortunate incident in our newspaper, The...
Mr. President, you're going to have to deal with the...
All the rulers in the Bible are kings and rulers,...
What is meant by the virgin birth? Every woman is...
Many people do not wish to say that the human...
I came to this forum on "Revitalizing The Reparations Movement"...
And while some of you really didn't know how you...