The Final Call |
Minister Louis Farrakhan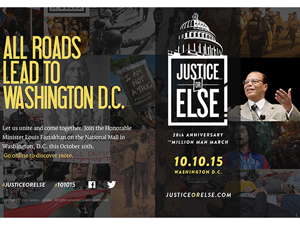 by
The Honorable Minister Louis Farrakhan
The time requires that a demand be made on the U.S. government and we must deliver a fearless cry of "Justice Or Else!" We have tried praying in, singing in,... »
FEATURED STORIES
The Honorable Minister Louis Farrakhan responds to questions and statements...
Most of you have benefited in some way from a...
This is a strange subject: The Crucifixion of Michael Jackson....
Our sympathy has always been with the Haitian people and...
Yes, "All Lives Matter." But the only reason you are...
The time requires that a demand be made on the...
Who brings the guns into our community? It's not you....
A scared-to-death preacher can't boast in Christ; a preacher that...
The enemy knows who you are—that's why he's working night...
Everybody is looking for somebody to straighten out a mess...
I respect the flag of this nation, and I respect...
If we are truly his followers, how could we go...