The Final Call |
Minister Louis Farrakhan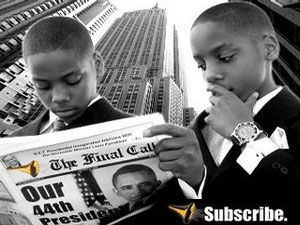 by THE HONORABLE MINISTER LOUIS FARRAKHAN
Allah (God) is so caring that He delays His own Judgement until the people of His choice understand His Judgement. In the Book of Genesis, God visits Abraham and tells... »
FEATURED STORIES
I was weighing very carefully the time, the government of...
The Honorable Minister Louis Farrakhan responds to questions and statements...
Most of you have benefited in some way from a...
This is a strange subject: The Crucifixion of Michael Jackson....
Our sympathy has always been with the Haitian people and...
Allah (God) is so caring that He delays His own...
We are living at a time that was described by...
A lot of people speak to multitudes, but the message...
We are so far from the way we once were...
I bear witness that there is no God but Allah,...
The Old Testament of the Bible is considered a testament...
As we read this article, many wars are raging in...