The Final Call |
National News
Pooling our resources - Blue Seas Restaurants open in Phoenix and Shreveport!
By Kenetta Muhammad | Last updated: Jul 3, 2018 - 2:10:59 PM
What's your opinion on this article?
To start helping to heal our community, we have to start by eating the proper foods. The Most Honorable Elijah Muhammad said in How to Eat to Live Book 1, "Food keeps us here, it is essential that we eat food which gives and maintains life. That same food destroys life. Therefore, to keep this food from destroying our lives, we must protect our lives as well as we possibly can from the destruction of food. If we eat the proper food, and eat at the proper time, the food will keep us living a long, long time."
As Sharrieff Muhammad, of the 10,000 Fearless of the South and student minister at the Nation of Islam's Southern Region headquarters in Atlanta started working throughout the country, he established Blue Seas Express & Catering in Atlanta, which is known for their great work in serving the community through their daily $1 steam table.
The goal is to make fresh food available at an affordable price for all people. "The Honorable Minister Louis Farrakhan said his father (the Most Honorable Elijah Muhammad) just wanted a bowl of soup and bread available to our people for $1," said Student Min. Sharrieff Muhammad. In addition, Blue Seas 2 Restaurant in Tuskegee, Ala. is still going strong, and this summer, they will celebrate five years of being open for business, managed by partners Craig and Janet Muhammad.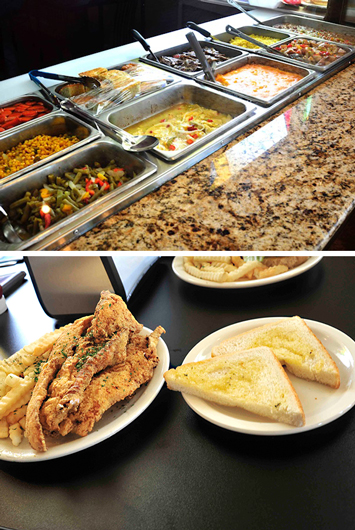 The name Blue Seas originated from Salaam Restaurant in Chicago as there was an express café inside Salaam called Blue Seas, the perfect name to take all over the country. Blue Seas Restaurant now includes a wide variety of made to order food such as whiting fish, Philly sandwiches, salads, tacos, chicken, quesadillas and much more. A steam table of freshly made delicious foods like candied carrots, cabbage, zucchini, spinach, broccoli, browned and yellow rice, macaroni and cheese, green beans, baked chicken, baked beans, cream of wheat bread, navy bean soup, navy bean pie and much more is also offered.
One of the things necessary for Black communities to be successful, is practicing unity in this instance, pooling our resources and dollars. The Hon. Elijah Muhammad states in Message to the Blackman:
1. Recognize the necessity for unity and group operation (activities).
2. Pool your resources, physically as well as financially.
This is exactly what brothers and sisters throughout the Nation are trying to do with Blue Seas Restaurant. Blue Seas Express & Catering recently opened in Phoenix, Ariz. located at 2426 East Jefferson St. and in Shreveport, La. at 9001 Jewella Ave.
Student Minister Sharrieff stated, "We are striving to make the Honorable Minister Louis Farrakhan's word bond through economic development by pooling our resources and doing something for self." Min. Farrakhan has been warning the entire Black community that it is time for separation. One of the goals of Blue Seas, is to be the fastest growing independent Black-owned restaurant franchise in the world.
In Phoenix, the 10,000 Fearless is led by Kenneth Muhammad along with many helpers. They have been duplicating everything done in Atlanta and have reaped the benefits. On May 19, Blue Seas Express & Catering opened in Phoenix and because the community was familiar with the work that the 10,000 Fearless was doing there, they did not hesitate to support the restaurant.
The ownership team of Blue Seas in Phoenix is also lead by Kenneth Muhammad and his family. "For quite some time it has been on my heart to have a restaurant for the Believers here in Phoenix and for the public in general. All praise is due to Allah for the success of our grand opening and continued success every day since," he said.
"One of the best things about it all is going under the Blue Seas name which is ours. This is our restaurant and not "my" restaurant because I realize that it is only because of Allah's Grace and Love that our restaurant stands today as 'now open for business.' I truly encourage us to unite with your brothers and sisters in opening up Blue Seas all over the country," said Kenneth Muhammad. "Call Brother Minister Sharrieff in Atlanta!"
Student Minister Charles Muhammad of Muhammad Mosque No. 32 has been working hard in Phoenix, for many years and is in full support of the opening of  Blue Seas Restaurant. "The opening of the Blue Seas in Phoenix was a big boost for the morale of the Believers especially in the month of Ramadan. We are so happy about it, we are going to support it and do everything we can to push it and to encourage other Believers to go into business," said Student Min. Charles Muhammad.
In Shreveport they have been working very hard in conjunction with the local organizing committee of the 20th Anniversary of  the Million Man March and the 10,000 Fearless. They too saw fit to duplicate the economic development in their city. Brother Dmetricus X, also local Student FOI Captain, took the lead on the investment team to bring Blue Seas Express & Catering to Shreveport.
"It's Nation Time! This is what Student Minister Sharrieff told me when I called him for information concerning a restaurant, I was considering opening. Brother Sharrieff said, do not think as an individual brother, think for the whole. I saw the vision and went to work. Now, my wife, Qwantikia X, and I are proud owners of Blue Seas Express & Catering No. 5 in Shreveport, La.," said Dmetricus X. 
"We thank Allah for the Honorable Minister Louis Farrakhan for being a perfect example and guide. Our grand opening was a success!" May 25 marked the grand opening of Blue Seas Express & Catering and they have had a tremendous amount of support from the local community as well.
The Nation of  Islam's study group in the city of Shreveport is led by Student Coordinator Marvin Muhammad. "Blue Seas Express & Catering of Shreveport is truly a blessing from Allah. As I've always prayed to Allah for the opportunity to serve our people not only spiritually but also physically through good food," he said. "I'm so thankful to Allah for Brother Dmetricus X for bringing our vision to reality.  As a successful business man, he led the effort to establish Blue Seas Shreveport. We also thank Student Minister Sharrieff and his staff for providing us with hands on guidance and instructions."
Very soon, Blue Seas will be opening in Birmingham, Ala., Huntsville, Ala. and Miami, Fla. For information on opening a Blue Seas Restaurant in your city email expressblueseas@gmail.com.