The Final Call |
National News
Pittsburgh celebrates the life of Dwayne L. Muhammad
By | Last updated: May 18, 2018 - 11:31:12 AM
What's your opinion on this article?
PITTSBURGH—
We used to think of it as skirmishes in the 'hood, but the fight is now at our doorstep, said Student Minister Victor Muhammad of the Nation of Islam mosque here.
He was referencing the death of Brother Dwayne L. Muhammad who was gunned down while selling The Final Call newspaper outside the mosque on May 4.
Attended by a broad cross-section of the Muslim community, relatives and well-wishers, his janazah, or funeral service was held May 9 at the Community Empowerment Association Center. Members of the Fruit of Islam, the men of the Nation of Islam, came from as far west as Chicago and from the east, FOI from Philadelphia attended.
Remembered for his kind heart, forgiving spirit and generosity, Brother Dwayne was in the processing class, which means he was undergoing the formal regimen to enter the Nation of Islam. "What happened to him did not occur in a vacuum," said Student Minister Victor Muhammad. "It is an issue all throughout the country. Our people are trying to get right, and we don't understand what they are coming out of. This is another unfortunate incident of Black-on-Black crime. When the media found out there was a mosque involved they wanted to know if it was a hate crime. No. It was, however, a self-hate crime."
"Brother Dwayne will be remembered as a young, energetic soldier trying to get his life on track. Since Saviours' Day he was going hard. While enrolled in a construction class, brother planned to enter college. He took care of his mother, family and making a change. He always brought a guest to the mosque, always," Minister Victor Muhammad said through tears.
Rashad Byrdsong, who directs the CEA center which hosted the services, said it is time to close ranks around these young men. "There are so many things that they need. We can do the mentorship with them, but we must address the fundamental quality of life issues. If we don't, they are going to seek elsewhere to get them," he said.
"The brother's father, the late Dwayne, Sr., was an active member of the Nation. He was involved in making a lot of the peace treaties with gangs in the community and instituted the Hip Hop Awards," Mr. Byrdsong noted. "We have to be able to close ranks. We have to be able to do a better job at embracing these young men. They need housing training, living wage, a support system. If anything positive is to come out of this tragedy I hope we can see a greater, broader need, particularly, in the faith-based community to come together and talk about some social, economic and cultural intervention," he said.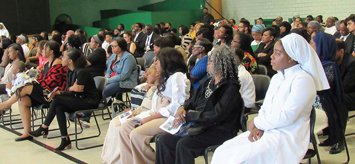 Giving the eulogy, Minister Victor Muhammad said, "We are living in darkness because darkness is what's taught. Minister Farrakhan in 'The Time and What Must be Done' series quoted a speech given by the Reverend Martin L. King stating when people are forced to live in the dark; the sin is not on the one in the dark, the sin is on the provider of the darkness. These neighborhoods that we are living in, the things we are going through in our communities, this is nothing that we wish or desire. When Brother Dwayne was asking you to come to the mosque, he was only asking you to go back to your natural self, righteousness. So, brother was soldiering the program because it was not good enough to have the light for himself and not share it with those who are still in the dark."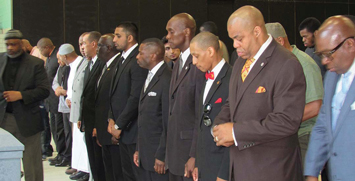 Wasi Mohammed, the executive director of the Islamic Center in Pittsburgh, helped with funeral preparations. When he learned of this awful incident, he immediately reached out. "We worked together with Mosque No. 22 to help wash the brother's body and plan the burial. We also came out to pray for him."
After performing the Salat Al-Janazah service, Imam Walter Shahid pointed out to The Final Call the close relationship between Masjid An-Nur Islamic Center and Mosque No. 22. "We are Imam Warith-U-Deen's community. There is a lot of interaction between us. Because of our interconnection, it was my honor to perform the service," said Imam Shahid.
The Nation of Islam was represented nationally by student Assistant Supreme Captain Anthony Muhammad.
Dwayne's paternal grandmother, Jamillah Muhammad, said my grandson passed making a change in his life and accepted Islam. His change touched many people, she said. "I would like to thank the Nation of Islam for all the support and all the resources given," she added.