The Final Call |
National News
Threatened, ignored and under siege: How Black students suffer on White campuses
By
Nisa Islam Muhammad
-Staff Writer- | Last updated: Feb 7, 2018 - 2:36:58 PM
What's your opinion on this article?
WASHINGTON—
Black people have fought for their children, grandchildren and their lineage to get a good education in the country's top institutions of higher education. Despite hard work, advocacy and sacrifice, Black students are still targets for increasing racial attacks happening all over the country.
Black History Month kicked off at George Washington University with a picture on Snapchat of two White Alpha Phi sorority sisters holding a peeled banana with the caption "Izzy: 'I'm 1/16 black.' "
The photo quickly circulated social media to the horrors of many.
The university responded immediately with this statement:
"There was an entirely inappropriate posting on social media last night. Whatever the circumstance, or true intention of those involved, the image was disturbing, hurtful and not reflective of who I know we are as a community."
"As a university, we have emphasized our commitment to inclusion and have made clear that 'You are Welcome Here.' We do this through our actions and our words. Images like the one posted on social media can make people question whether they are welcome at the university, and that is unacceptable to me," wrote George Washington University Provost Forrest Maltzman.
But are Blacks really welcome on predominantly White campuses?
Last month Spencer Brown, who's a North Carolina Appalachian State University White tennis player was suspended indefinitely after telling his on court rival, John Wilson from North Carolina A&T State University, a historically Black college, "at least I know my dad." The school issued a statement calling the conduct "derogatory and offensive."
Brianna Brochu, while a student at the University of Hartford, in Connecticut, last semester, is charged with rubbing used tampons on her Black roommate's backpack and putting her roommate's toothbrush "where the sun doesn't shine." As if that wasn't bad enough, she called her roommate "Jamaican Barbie," and spit in her roommate's cosmetics. 
Tamara Dobson was elected the first Black female as the student government president at American University in Washington, D.C. Her first day in office, bananas were found hanging from string tied like nooses outside the campus building. Some had "Harambe" and "AKA" written on them, apparently for the Alpha Kappa Alpha Sorority she belongs to. This became a national incident last March.
Last month, Ms. Dobson resigned from office. "It has been a pleasure to serve in this position, however, effective immediately, I will be resigning from the presidency in order to focus on my health and education," she said.
Bowie State University Army Lt. Richard Collins III was fatally stabbed while standing at a bus stop across the street from the University of Maryland-College Park with friends by a White student who told him to leave. 
Earlier that semester a noose was found at the Phi Kappa Tau frat house, flyers were posted around campus with White nationalist pictures, saying Whites were superior.
"There is a lure of White schools that they are better than HBCUs and they definitely offer more money for scholarships and financial aid. I got accepted into three HBCUs, and two state schools. Of course the state schools offered me more money. My parents could not afford to pay so I went with the money," Jason Harris, University of Maryland-College Park sophomore, told The Final Call.
"But what I have to endure is not worth the price. I have friends at HBCUs who never get called names or have to endure shade from White people. So many times I have to remember not to punch somebody in the face. I hang out at Morgan (State University) and Bowie (State University) with friends who feel empowered at their school. I don't get that here."
Across America, Black enrollment in colleges and universities has risen according to Pew Research Center data. Between 2000 and 2015, the percentage of college students who were Black rose from 11.7 to 14.1 percent. The percentage of Black 18 to 24 year olds enrolled increased from 30.5 percent to 34.9 percent in that same period 
However, only about 4 in 10 (41 percent) Black students who start college as first-time, full-time freshmen earn bachelor's degrees from those institutions within six years—a rate 22 percentage points below that of their White peers.
According to the Education Trust's report, "A Look at Black Student Success: Identifying Top- and Bottom-Performing Institutions HBCUs," the average graduation rate for Black students at HBCUs is 37.8 percent, compared to 32.0 percent in non-HBCU schools serving similar students.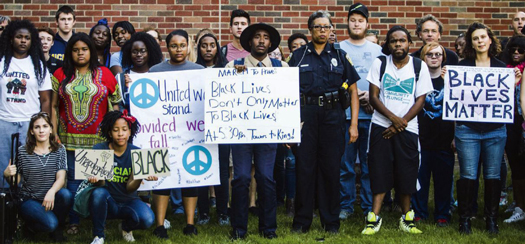 "Black students are in a place where they are often estranged from that which is affirming. So they start or join organizations like the Black Student Union … the identity of these students begins to form in different ways. Their leadership skills are developed based on racial issues," Dr. Kevin Washington, former president of the National Association of Black Psychologists told The Final Call. "There is emotional and social isolation. Their ideas are not embraced and respected in the same way and manner as if they were talking to non-Whites. They often feel like they have to be the model or carry the banner for all Black people. When something is said about Black people the class looks to the Black person for the answers. Some students don't want to do that. They don't want to be the rep for all Black people."
In response to racial attacks and slurs students have organized rallies and protests, University of Maryland student Alexis Ojeda-Brown was so disturbed by the noose incident she decided to stage a one-woman protest. She posted on Twitter:
The Great Stone @Alexis_Ojedi
"I was on the mall with a bullhorn talking about a noose being found on campus & a group of white students yelled 'Who cares!' #FearTheTurtle"
#FearTheTurtle on Twitter became a place where Black students could share their horror stories about the racial conflicts, targeting, indignities and threats faced at the University of Maryland's flagship campus in College Park, Md.
Students at Worcester State University, in Worcester, Massachusetts, are organizing a forum on diversity issues to protest a racial slur found on a poster last month. The original wording was be "something bigger than yourself." Someone changed the word "bigger'' was changed to a "repugnant racial slur," and it was found inside residence hall.
Black students often find relief by visiting HBCUs for social events.
"I rarely attend any of the social functions at my school (University of Maryland). With Howard, Morgan, and Bowie in such close proximity, I had choices for my social life that I would never have if I just stayed on campus," Morgan Harrison told The Final Call. 
"I want the best of both worlds. I want what the PWI (predominantly White institution) has to offer and I want the social, emotional, empowerment of being at an HBCU. Every time I'm on one of those campuses I'm amazed. It's such a good feeling about being Black that I don't get when I'm on my campus."
Dr. Washington has seen this in his research. "Many times Black students attend the homecomings at HBCUs where they can feel more at home than at their PWI.  They don't constantly have to prove themselves. Some believe they are there because of a quota, not because of intellect or merit. They constantly have to prove themselves."
In the classroom, students are faced with professors often oblivious to the life experiences of Black students. Organizations often don't see the need for a Black focus and other students diminish or invalidate Black experiences.
"There is often a presumption of incompetence. This is not a problem just for Black students. It is also felt by Black faculty too. This often leads to a bonding between the Black faculty and the Black students who share the challenges of being in that space," said Dr. Washington.
According to the Journal of Blacks in Higher Education, John Chavis, a Presbyterian minister and teacher, was the first Black person on record to attend an American college or university in 1799. There is no record of his receiving a degree from what is now Washington and Lee University in Lexington, Virginia. In 1804, Middlebury College awarded an honorary master's degree to Lemuel Haynes, a Black man who fought in the Revolutionary War. In 1823, Alexander Lucius Twilight becomes the first known Black person to graduate from a college in the United States. He received a bachelor's degree from Middlebury College in Vermont, the Journal of Blacks in Higher Education reported.