The Final Call |
National News
Rebuilding The 'Hood - 10,000 Fearless opens 'Your Supermarket'
By
Eric Ture Muhammad
-Contributing Writer- | Last updated: Oct 10, 2017 - 11:11:01 PM
What's your opinion on this article?
ATLANTA—
Working under the continued commitment of "Making the Honorable Minister Louis Farrakhan's word bond," by working in our communities and making them a safe and decent place to live—the 10,000 Fearless headquarters of the South, led by Student Southern Regional Minister Abdul Sharrieff Muhammad celebrated the grand opening of Your Supermarket on September 29.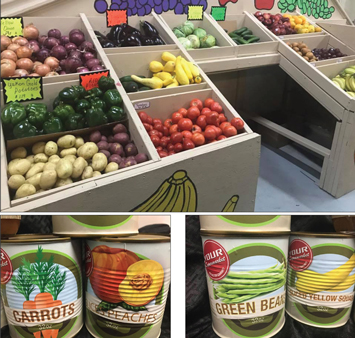 Located at 766 Joseph E. Boone Blvd. in the infamous Vine City area of Atlanta known as "The Bluff," it serves as a first of many efforts by the 10,000 Fearless and Believers of Muhammad Mosque No. 15, to eliminate the prevailing food deserts in Black communities. "This is Your Supermarket. It's been a long time coming, but we wanted to make the word of the Honorable Minister Louis Farrakhan bond," Min. Sharrieff expressed to The Final Call. "10-10-15, he said go back to your community and make it a safe and decent place to live and that's what we began to do over here in The Bluff. Not only did we open a restaurant, 10,000 Fearless headquarters and cleaners, but now we have opened up Your Supermarket in what's considered a food desert over here."
There are no other fresh food providers in the immediate area Min. Sharrieff continued. "To bring fresh food from the farm over here and give the entrepreneurs a chance to bring their Black products here and put on our shelves. They can't go to Kroger's and Walmart and automatically get their stuff on the shelves," he said.
"We give thanks for the oasis that the 10,000 Fearless has been since their entrance on the Boone Boulevard corridor," began District 3 Councilman Ivory Lee Young, Jr. in his comments at the ribbon cutting ceremony.
"The historic Boone Boulevard corridor has less drugs because of the 10,000 Fearless. Homes that were previously underdeveloped and underutilized are now fully utilized to serve the residents of all of northwest Atlanta—not just one neighborhood … so it's just a natural transition that we have an extension of the oasis that provides such nourishment in this food desert. I just humbly give thanks for Min. Abdul Sharrieff Muhammad, the 10,000 Fearless and the entire Nation for the support of Mosque No. 15," in this community, he said.
Long time helper to Min. Farrakhan, Brother Juan Muhammad of Muhammad Mosque No. 15 told The Final Call that the establishment of Your Supermarket means so much to the community and even more to the Believers in the Nation of Islam. "It's an energizer. We are producing and building economy," he said.
Other remarks on this day included those from mayoral candidate and City Council President Ceasar Mitchell; State Rep "Able" Mabel Thomas; Rev. Gerald Dudley; Bishop Fan; Imam Furquan A. Muhammad of Masjid Mu'minun and Min. Farrakhan's Student International Representative Abdul Akbar Muhammad.
Dozens of patrons adorned with adhesive Your Supermarket badges entered through the aisles and marveled over the store features after Sharrieffah Muhammad, wife of Min. Sharrieff, cut the ribbon.
This building not only houses food for the body, but it also hosts food for the soul and spirit. Your Supermarket has a bookstore, nail and body massage area and a juice bar. As patrons gathered many could not wait to speak with The Final Call. "I remember my very first job. I was 14 years old and it was in this very same building," reflected Paul, now 74 and has lived his entire life in The Bluff. "Blacks couldn't own nothing over here then. I'm gonna help where I can. This means a lot," he said. "The first thing is the name is very important. When you say Your Supermarket, it gives the community a sense that they own it and that they are a part of it," cheerfully acknowledged Pamela J. Booker, owner of the Lithonia, Ga.-based all-natural hair and skin care company Koils by Nature. 
Ms. Booker told The Final Call she only learned of the grand opening the morning of the event from other vendors hosting products in the store. "When you feel like it is yours, you tend to take care of it a little bit better, she continued.
"Having fresh vegetables and fruits and different options for food right in walking distance; where they don't have to get on Interstate 285 or drive to a store of processed foods and nothing fresh—and everything in those stores are already dedicated to tearing down our community is already in there," said Ms. Booker.
"But here," she gleamed, "you have fresh food, fresh vegetables and a lot of the products are Black-owned products so they are in turn, helping other Black-owned businesses too, I had to come." Ms. Booker also owns Black Biz Scope, an online streaming service dedicated to promoting Black businesses.
"I am all about Black businesses, Black community and being intentional and strategic about how we spend our money. So, when they told us about a food market opening in the food dessert, I said this is beautiful," she concluded.
The Your Supermarket grand opening was also dedicated to the legacy of Nation of Islam pioneer Minister Abdul Rahman Muhammad, affectionately known as "the Rock." Min. Rahman Muhammad, 86, as Southern Regional Representative of the Most Honorable Elijah Muhammad labored to advance not only the spiritual upliftment of Black people, but  he encouraged economic empowerment in the Black communities of the South and throughout the Nation of Islam. 
"What I had envisioned when I was a minister here in the 70s, I wanted to make sure that we opened clinics and hospitals. … I wanted everything that a community should have," said Min. Rahman Muhammad. "And Allah has blessed us with a man here in Atlanta that has some of those same visions. Sharrieff sees things like I saw them. We are not going to get anywhere without economics. So, we have to have a strong foundation to make money," explained Min. Rahman Muhammad. 
"You can't support a nation if you don't have money. And we are trying to include all of Atlanta to buy Black regardless to who it is. Regardless of the religion and titles and things," he added. Minister Farrakhan works with everybody, Min. Rahman Muhammad continued. "And Min. Sharrieff does the same. All the clergy and Muslim communities have come together and they buy from one another and it's a beautiful thing. So, I thank Allah for the leadership we have here in Atlanta with Minister Sharrieff, because he is fulfilling some of the ambitions that I had when I was the minister."
In the bookstore, impromptu book signings, radio and television interviews became frequent as people came near and far once they heard that Your Supermarket was here.
"I came out to support. They told me a Black market was opening up and I was in town, and I felt that I had to come out and support," said activist-author "Freeway" Ricky Ross. "You know I am on a book tour as well, and they had a bookstore in there!" he exclaimed.
"They are selling my books and they've sold five or six already. So, it's a wonderful thing to see us as Black folks making progress. Because I believe our problems center around us not having businesses. It's not that we are drug dealers or vicious criminals. But we, are looking for opportunity," said Mr. Ross.
"Seeing this market open up definitely gives me more hope, and more energy. I am fired up right now…I appreciate the Minister and the Nation of Islam, for what he taught me while I was behind bars. He wasn't there himself, but his videos that he did gave me great hope and inspiration to know that I am important and that I can be whatever I want to be," he said.
"I think this is a great beginning and I think that we should not wait for the perfect moment, but make the moment perfect," said Abdur Rahim, of True Products, LLC, a heavy-duty laundry detergent.
True Products is the creator of True Detergent and it has developed a great following around the nation and it is their desire to become one of the Black community's leading household products. "By getting started (Your Supermarket) the sky is the limit. I am looking forward to the growth and all our people have to do is come out and support," said Mr. Rahim.