The Final Call |
National News
Blocking the Bait Truck
By
by Bryan Crawford
-Contributing Writer- | Last updated: Sep 7, 2018 - 12:29:26 PM
What's your opinion on this article?
CHICAGO—
The line stretched around three city blocks in West Englewood neighborhood on the South Side. Thousands of people—men, women and children—waited hours in the oppressive heat and humidity for a chance to walk away with a brand new pair of free sneakers being given away by local rap artist Vic Mensa.
The "Anti-Bait Truck" shoe giveaway came in response to a sting operation set up by the Chicago Police Department in the very same neighborhood, using a seemingly unoccupied semi-truck trailer filled with expensive sneakers that was left open, to try and lure people into seeing what was inside and taking something out, so that they could be arrested and charged with theft.
The operation was a joint effort between the Chicago police and Norfolk Southern, with the official narrative being to combat freight theft from the train yards in the Englewood neighborhood. Ironically, it isn't always retail merchandise that gets stolen out of locked containers, but also guns and ammunition that contribute to the violence seen in many of Chicago's impoverished communities. In fact, the CSX Intermodal train yard sits right in the heart of Englewood where the sting was set up. However, once video shot by community activists of the bait truck arrests went viral, the public outcry was swift, immediate, and quickly gained national attention.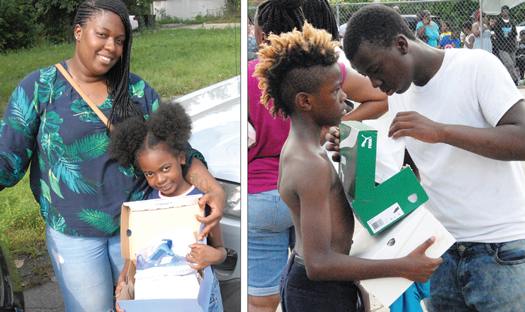 "I felt offended, disrespected, and I felt like it was a disgrace to our entire city," Vic Mensa told The Final Call about his immediate feelings once he heard about the sting. The rapper, who is signed to Jay Z's Roc Nation imprint, received thousands of donations from all of the major sneaker companies such as Nike, Adidas, Under Armour and New Balance, just to name a few.  All of this became possible with the help of athletes and entertainers from all over the world who fully supported Mr. Mensa and his cause through his SaveMoneySaveLife Foundation. With four truckloads of shoes, filled to the brim from front to back, with all sizes for men, women, children and even babies, no one who needed shoes was turned away. Mr. Mensa even hand distributed many pairs of shoes and bottled water himself to people waiting in line in the sweltering heat.
"I think we're at a point in time where we can't be looking to the city or the police to do right by us because they've proven they have nothing but bad intentions as it pertains to Black people," Mr. Mensa added. "That's why I wanted to put together this event because people like myself who are from Chicago and love Chicago, can do right by the people who live in the city, while the police continue to do wrong."
In fact, in the midst of the shoe giveaway, which could be interpreted as a direct shot at the Chicago Police Department, there were other not-so subtle anti-police messages in the back lot of the West Englewood Community Center.  A huge poster calling for the conviction of Chicago police officer Jason Van Dyke, who fatally shot and killed 16-year-old Laquan McDonald in 2014, was on display for all to see. Van Dyke's trial is set to begin on Sept. 5. While the Chicago police were on the scene patrolling the area and blocking off streets, the event was peaceful and not antagonistic towards the officers present, even though they represented why the giveaway was even being held in the first place.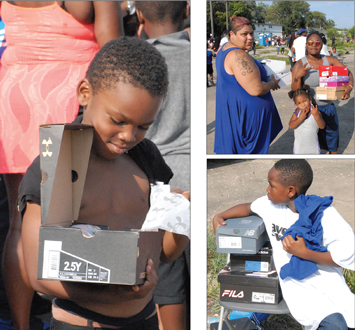 "If you want to actually change the community, you give out jobs. You create opportunities for people. But you don't use stings to arrest our people, give them criminal records, and then force them into repeating the actions that they were criminalized for in the first place because now, they have no other options," community activist Ja'Mal Green, who recently announced that he is running for mayor of Chicago, told The Final Call. "I was disappointed in Norfolk Southern as well as the Chicago Police Department for teaming up to do this. But we've sat down with both of them to see what they're going to do to fix it because they also have to be held accountable."
Three people were arrested in the bait truck operation, but the Cook County State's Attorney's Office, led by Kim Foxx, dropped the charges, most likely due to public pressure and the unwanted attention that the operation brought to the city, but most notably the police department, who over the past several months, has come under heavy scrutiny for the shooting death of a local barber and a man who was fleeing from police and was shot and killed by an officer within the police tactical unit.
While many reports about the operation mentioned Nike sneakers as being the primary content of the merchandise left inside the bait truck, those weren't the only ones, according to Ameenah Matthews, another local community activist who also serves as a Violence Interrupter who helps try and de-escalate situations in the streets before they become violent.
"It wasn't just Nike gym shoes in those trucks. They also had red bottoms in there," Ms. Matthews told The Final Call. Red bottoms refers to the high-end shoes created by French fashion designer Christian Louboutin. Depending on the style, Louboutin sneakers can retail for as much as $1,300.
"If someone walked out of that truck with 10 boxes of red bottoms, that's a fed case," Ms. Matthews explained. "So, here they are trying to get our young brothers to commit high end theft, and I believe this is the slow left hook they've been hitting us with for years. We as a people have to wake up and we can't allow this same trick to be pulled on our Black men to herd them like cattle into the penitentiary, so they can die in there."
Despite the heat and humidity, everyone who received a pair of shoes was very grateful for Vic Mensa and the other organizers who helped put the event together. Terry Jones, a 25-year-old Englewood resident, was disappointed in what the police and railroad company did but saw the positives that came out of it.
"School starts next week, and some of the kids out here are already in school, and a lot of them, their parents probably couldn't afford to buy them new shoes to start the school year. So I think this is a good event to send them back with a pair of new shoes, so they can feel good about themselves," Mr. Jones told The Final Call.
Robin H., a parent of three young children who stood in line for hours, also appreciated what was being done for the people in Englewood.
"I have a son who just turned 15; he's in high school. He could've easily been one of the people who walked past the truck that day and the police could've grabbed him, thinking he was trying to steal something. That makes you not trust the police even more," she said. "So, I love the fact that someone decided to do something like this for people in the area. I love how everybody is getting along out here today. It's hot, it's a lot of people out here, but I haven't seen one fight or argument or anything. I think we need to have more positive stuff like this in our community because there's so much negativity going on."