DURBAN, SOUTH AFRICA (FinalCall.com) - Of all the hundreds of thousands of words that the Honorable Minister Louis Farrakhan has in fact uttered thus far on an historic 10-nation Peace Mission to the Middle East and Africa, it is 15 words, which the Muslim leader did not say, that have gotten the most publicity.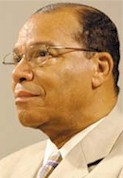 The Hon. Louis Farrakhan
Various news agencies, including Reuters, Agence France Presse (AFP), the British Broadcasting Corp. (BBC), Cable News Network (CNN), Associated Press (AP) and United Press International (UPI) reported on the Nation of Islam leader's meetings with Iraqi government officials during a two day visit July 6 and 7.
UPI alone, misquoted from an official Iraqi News Agency (INA) report that Min. Farrakhan said: "the Muslim American people are praying to (sic) the almighty God to grant victory to Iraq." That statement is a fabrication by UPI.
"In this climate of patriotism they want to make Louis Farrakhan look like the enemy."
What INA in fact reported of a meeting Min. Farrakhan held with Dr. Abdul Mun'im Salih, Minister of Endowments and Religious Affairs, was that the Nation of Islam leader "confirmed that Iraqi people heroism is (sic) a distinctive and that Muslim people in U.S. are praying to Almighty God to support Iraq under the leadership of President Saddam Hussein."
When first asked on July 10, by Chicago's WMAQ-TV host Nesita Kwan about the story, printed in The Chicago Sun-Times, Min. Farrakhan was emphatic. "No, that absolutely is not true. The victory for Iraq as well as for the United States of America would be peace so that no United States soldier would be put in harm's way, or one bomb dropped on the Iraqi people.
"That would be a victory for both sides and that's the victory that I and those with me are praying for. Not a war and a victory, but peace as the victory for both sides."
The false report—first unsigned by UPI from Baghdad on July 6, and then by UPI reporter Thanaa Imam from Damascus, Syria—was published by The Washington Times and by the Chicago newspaper, signed by staff reporter Dave Newbart on July 9.
Then, in an advisory for radio talk show hosts labeled "Hot Buttons" published at 3:15 a.m. July 10 and authored by Alex Cukan at UPI's "Life and Mind Desk," the news agency raised the question: "Is Farrakhan more a member of the Nation of Islam than he is an American?"
"This is the mischief of United Press International," the Muslim leader told syndicated radio program host Tom Joyner on July 11. "I went for peace and not for war. This is what Louis Farrakhan went there for.
"So the mischief-makers are trying to say that Louis Farrakhan now has joined an enemy Saddam Hussein, and is a traitor. And in this climate of patriotism they want to make Louis Farrakhan look like the enemy," he continued.
"Well, the enemy is not Louis Farrakhan. The enemy is errant, wicked policies of the United States government that our people and the American people are not familiar with; know nothing about.
"I'm standing up for those who have no voice but want to speak. For those who are afraid to speak, I represent them," Min. Farrakhan told the popular radio host. "For those in the Congress who don't want to speak because they don't want to look like they are traitors or what not, I speak for them. And in aspects of truth, I think I speak for Colin Powell in certain things that he would like to say that he can't say because he's in an administration that's pushing for war.
"Let us have the debate in the American society and let the American people decide and our representatives in Congress represent the will of the American people and not the will of any powerful lobby."
Photo credit, Kenneth Muhammad
---