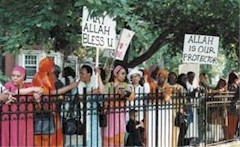 CHICAGO (FinalCall.com)—Cheers and tears followed the motorcade of the Honorable Minister Louis Farrakhan and the delegation he leads on a Peace Mission to the Middle East and Africa as they departed his Chicago home June 20 for O'Hare Airport.
"We love you, Farrakhan" and "May God Bless You" were the words that flowed from the mouths of followers and supporters who gathered outside his gate to give him a warm send-off. Many of them held signs giving similar greetings and well wishes.
"The Lord be with him," said Rev. Willie Taplin Barrow, Rainbow/PUSH Board of Directors co-chair, as she was ushered into Min. Farrakhan's home for a few words with him before he departed.
After weeks of watching the carnage escalate between Palestinians and Israelis and listening to the propaganda war of President Bush as he seeks a coalition to attack Saddam Hussein in Iraq, Min. Farrakhan held a major press conference and rallies in Washington and New York to explain his purpose and goals for taking the trip.
In Chicago on the eve before his departure, he met with community, religious and political leaders and Black journalists to brief them on the intent of the mission.
"It appears that no one that has a view different from the (Bush) administration's view should be heard. But, nevertheless, with the help of God, I'm hoping that what our view is will be the prevailing view because it is absolutely wrong for the United States government to go into another man's house and unseat him. It is absolutely wrong for the president of the United States to use the authority of his office to advocate murder and promote war, which he knows will take countless innocent lives."
He said the delegation wants to "try to stop a war" by organizing an anti-war campaign inside the U.S. Min. Farrakhan said he will travel into the Muslim world to encourage the Muslim leaders to be united against Mr. Bush's desire to "prosecute this war" against Iraq, because they (Muslim leaders) may be next on the list.
During the meeting with leadership, Min. Farrakhan held separate interviews with four television stations and the Chicago Defender, the city's Black daily paper. He candidly answered their questions and told the media that they are the watchdogs over government and must not be afraid to report the truth and challenge errant government decisions.
Community leaders told Min. Farrakhan that spontaneous prayer and fasting movements already have begun in churches for the safety of the delegation. Also, a defense committee is organizing to respond to untruthful media reports and mis-characterizations of Min. Farrakhan.
"I would hope that those of us who have gathered here tonight would continue to meet and strategize and talk about how we're going to respond to the media because they are going to come after [Min. Farrakhan]. We have not always organized and galvanized the force [he] needs behind [him]," said activist Doris Lewis.
Also suggested was a letter writing campaign to congresspersons "who have been strangely silent" about Pres. Bush's plan against Saddam Hussein.
"My father went to Korea and came back an amputee," said Florence Cox, a former Chicago Public Schools superintendent. "One of my brothers went to Vietnam … and he died never really coming back to himself. People who have never had men in the military to come back like that do not understand the tremendous impact it has. We are faced with losing our future, and the women of the world—Black, White, Brown—do not understand that."
"God will be with you and we will also be in support of you and the truth will come out. I'd like to commend the Minister for the fact that he, by the will of God, has heard a message of unity and support and has set before himself a mission. I pray that all of us support that mission," said Rev. Archie Hargrave, the prominent pastor of South Shore Community Church.
Harlem hears Farrakhan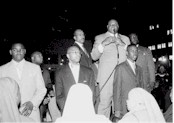 Although they could not get into the already packed auditorium at Windows on Harlem in the State Office Building June 18, more than 400 people outside did not leave until Min. Farrakhan was finished with his message to the leadership of New York to whom he had come to explain the purpose of the peace mission.
He told the audience that he also plans to travel to Zimbabwe to support President Robert Mugabe and a stop in Durban, South Africa, to "witness the birth of the African Union," an organization that will replace the Organization of African Unity (OAU).
"This is not a suicide mission," Min. Farrakhan said, adding, "They say I shouldn't go because it is dangerous. You can take my life," he said, citing the sacrifice of the lives of the prophets and men and women of God, "but I will never die.
"I would like to serve as a bridge. As a Muslim, I believe that I understand the Palestinian/Islamic point of view more than most Americans," he continued.
Min. Farrakhan also did not lose sight of his presence in New York City and the tragedy of Sept. 11, 2001. "Who benefited from [the attacks]?" he asked. "How did you know so little before that day, and so much after?"
He suggested that perhaps the 7th anniversary of the Holy Day of Atonement (Oct. 16, 2002 anniversary of the Million Man March) should be held at "Ground Zero."
As he discussed the issue of reparations, Min. Farrakhan acknowledged the presence of Viola Plummer of the December 12th Movement, saying he supports their planned "Millions for Reparations March" scheduled for August 12 in Washington, D.C.
"Min. Farrakhan, tonight, demonstrated that he is ready to take his place on the world stage of leadership as a Black man," Ms. Plummer told The Final Call. "Tonight showed a renewed determination that Black people are his base and that his mission is a mission to secure peace. This is what is missing in Africa and definitely in the Middle East."
"Minister Farrakhan has elevated the message to the 21st century," added Brooklyn Councilman Charles Barron. "This is a bold initiative that elevates our causes to the international arena. This is a timely trip. We need an international ambassador."
Min. Farrakhan talked about the work of Black activists such as the Rev. Al Sharpton, whom he had visited earlier but who was not in the audience, and Bob Law, a national radio personality who was in the audience. Some observers commented that local Black elected officials were conspicuously absent.
"What is interesting is that he [Min. Farrakhan] brought such a strong message to Harlem in the State Office Building, where many Black officials have offices," noted Harlem Democratic District Leader William Allen, who attended with Democratic leader Theresa Freeman.
D.C. rally follows press conference
Union Temple Baptist Church quickly filled to capacity June 17 following Min. Farrakhan's international press conference announcing his peace mission.
"We are saying tonight on record, that you can't say that you are with God and not stand with the Honorable Minister Louis Farrakhan," declared Mid-Atlantic and East Coast Regional Minister Abdul Khadir Muhammad, as the audience exploded in a standing ovation. "Now is the time that we should not hide, or be afraid, scared and run. We must stand. And when he is away from us—along with the prayers and the fasting—let's tell America, 'hands off' the Honorable Minister Louis Farrakhan!"
A day filled with news conferences and interviews detailing the purpose and dangers associated with the month-long excursion culminated when Rev. Willie Wilson and members of Union Temple showered the Minister with songs of praise, vows of fasting, prayers for his safety and success abroad, as well as for a safe return to the United States.
"Open up your mouths and give praise for victory of this mission," demanded Rev. Wilson. "We are here tonight to recite, remember, rehearse, renew something that took place here. We believe on God for a miracle because He did it before and He will do it again," he said, referring to a similar sendoff gathering held at Union Temple in 1995, the eve before the historic Million Man March.
The pastor and friend of Min. Farrakhan for more than 25 years announced that his congregation will remain in prayer and will fast for the duration of the delegation's peace mission to prove the power of God, reflecting His universality.
"By the time we get up on the plane there will be millions of people all over the world, that for the first time in the history of our folk, will be fasting and praying," delegation member Rev. Al Sampson, pastor of Fernwood United Methodist Church in Chicago, said.
Rev. Sampson read from the Beatitudes of the Bible and asked the congregation to embrace the passages found in the fifth chapter of Matthew for the trip's duration. Particularly, he cited what he called Min. Farrakhan's favorite verse, "Blessed are the peacemakers, for they shall be called the sons and daughters of God," he read.
Min. Farrakhan laid out some of the details of the trip to the audience, but he also warned them not to be tricked by negative press reports aimed at creating doubt about his trip.
"History tells us that good men in this world have suffered from their contemporaries and the rulers of their time period because they (righteous men) represented a truth that the rulers did not desire the people to be persuaded by, lest the people be persuaded against the policies and the programs of the leadership that was against the will of God," said Min. Farrakhan in his message.
In spite of the penalties suffered by such persons—penalties such as imprisonment, soiled reputations, or even death—Min. Farrakhan said that at some point and time someone would research those persons' lives and vindicate them and give honor for their stand for generations after those persons are dead and gone.
"I thought what he said was right on time. He reiterated for us the division among religions and what must be done to correct this," said D.C. resident Michael Wilson after the Minister's presentation. "For my first time seeing the Minister, it was very, very good for me. I thought it was good that he had the press conference and then came to the people to tell us what was going on.
"He had his prayer warriors with him—Rev. Wilson and Rev. Sampson—but, Min. Farrakhan had prayer warriors in the audience, too. We're backing him up," Mr. Wilson said.
"Thank God for the Minister. If anybody can do something to help this situation, he can. I'll be in constant prayer for him while he's gone. We need his healing on this war," said Yvette Robinson, a resident of Capital Heights, Md.
Min. Farrakhan closed his message citing the chapters of refuge, the last two chapters found in the Holy Qur'an.
"It's a dark time but seek refuge in the Lord of the Dawn, because there is a new day coming for you and the righteous. Be careful of your hearts. Be careful of the whispering of a devil outside of yourself that causes a devil to whisper inside from yourself and seek refuge in God because this is the end of this world of evil.
"America is the showdown place and no nation will be able to handle this. This has been set up by God so that He can show you and the world that He is God. He made America powerful so that nobody can deal with America … and the dealing is going to get harder as President Bush and his administration lashes out to kill, maim, malign and destroy. God, on the other hand, will bring His wrath down more and more on this house (America)," he said.
Earlier that day, Nation of Islam Chief of Protocol Claudette Muhammad attended a press conference held by Israeli Minister of Transport Ephraim Sneh at National Press Club June 17, moments before Min. Farrakhan's news conference. After telling journalists "anyone is welcome" to come to Israel, Mr. Sneh told Ms. Muhammad, that if it were up to him, "I would not allow him in our country. Past comments, though I can't recall what they were, I remember they were perceived as hostile" and against the Jewish state."
Mr. Sneh said if the Minister could provide recent declarations showing a change in position, he would more than likely be welcome. Min. Farrakhan, on the other hand, has held the position that if anyone can show him where he was wrong, he would make a path to the mountaintop to apologize and ask forgiveness.
Min. Farrakhan reiterated that position even during his press conference.
Ms. Muhammad also delivered a personal letter from Min. Farrakhan to the hands of UN Secretary General Kofi Annan during his visit June 22 to Chicago. In the letter, Min. Farrakhan apprises the secretary-general of his goals while overseas.