BAGHDAD, Iraq (FinalCall.com)---United States citizens must be informed about the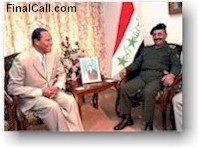 conditions under which 5,000 Iraqis die every month as a result of U.S. sanctions, and they should be able to hear from leaders of that country themselves in order to decide whether or not American bombs and soldiers should inflict more suffering on the Iraqi people, the Honorable Minister Louis Farrakhan told reporters July 7 after meeting with several high ranking government officials here.
"We are asking President Bush and the Congress, appealing to the fairness of the American people, that before one American soldier should be put in harm's way, or one bomb dropped on Iraq, that there should and there must be Congressional hearings," Min. Farrakhan said. Iraqi officials should be permitted to participate in those hearings, he continued.
The threatened U.S. military action to remove the government of Iraq's President Saddam Hussein must be debated, Min. Farrakhan insisted, and those who desire war with Iraq must "put before the American people the reasons that justify such action and allow the scholars and scientists who disagree with the administration's position to testify" so that the American people can hear both sides of the question.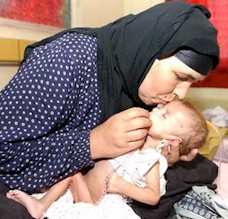 Any war decision against Iraq must be based on "the will of the majority of the American people, and not the will of any lobby, no matter how strong that lobby may be," said Min. Farrakhan. Iraq is the sixth Middle East country visited by Min. Farrakhan and his delegation on a historic Peace Mission to the Middle East and Africa.
Government officials showed the delegation members the "consequences of the embargo imposed on Iraq, which has caused the deaths of 1.6 million people so far, because of the extreme lack of medicine and supplies," the official Iraqi News Agency reported.
The U.S. government's "aim is against the people of Iraq, not the regime, otherwise why are (they) not giving permission for contracts to be approved for the sewer system?" complained Dr. Abd Al-Razak Al-Hashmie, director of the People's Friendship, Peace, and Solidarity Committee. "What are the dangers of surgical sutures? What are the dangers of children's toys? What is the (prohibited) use of kitchen appliances? So when you ask them, there's of course no answer," he said of U.S. and British officials who oversee the sanctions and who have the final say even for food and medical items purchased under the controversial "oil for food" program approved by the United Nations nearly five years ago.
"We are suffering from the cumulative effects" of sanctions and the Gulf War in 1991, added Health Minister Dr. Omeed Mubarak. There is a radiological affect, as well as a chemical affect, he said. "And this radiological affect causes a change in the genes (for) millions of years, on the soil and other affected areas."
Iraqi citizens, especially children are suffering from cases similar to what has been found among U.S. veterans—the so-called "Gulf War Syndrome." The culprit, Dr. Mubarak said, is the use of depleted uranium in U.S. weapons.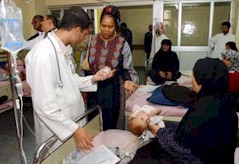 Members of the Farrakhan delegation were shocked. "What you have just told us is crimes we are committing against you, killing your children, poisoning your water, spreading diseases," the Rev. James Bevel, a disciple of civil rights leader Dr. Martin Luther King Jr., told Dr. Mubarak.
"This is like a prime example of what we're going to see in the future against many nations if we don't dissolve the American (war) mentality. That has to be done because you get an Iraq today, on tomorrow you get a Syria, and on tomorrow you get a Sudan, and then on tomorrow Afghanistan. That's just like Mississippi. We had to dissolve that mentality," he continued, recalling his leadership in both the struggles to desegregate the South and get voting rights for Blacks, as well as to mount massive resistance against the Vietnam War.
Because of the on-going sanctions, and despite some improvements in the medical system since the end of the Gulf War 11 years ago, the hospitals in Iraq are often not able to render assistance to patients. Routine illnesses, some of which would be treated at home and not a hospital in the United States, become acute, life-threatening medical emergencies in Iraq, according to Dr. Mubarak.
Related link:
Former U.S. Attorney General Ramsey Clark's letter UN Security Council and UN General Assembly
Photos (Credit, Kenneth Muhammad):
1-Minister Louis Farrakhan and Iraqi Vice-President, Taha Yaseen Ramadon.
2-Mother and child in Iraqi hospital.
3-Fatimah Farrakhan Muhammad, a professional nurse and daughter of Min. Farrakhan, talks with physicians about problems faced at Iraqi hospitals.
---