OAU Online

Heads of State
join Libya
in celebrating
30 years of
revolution

Nation of Islam
delegation witness
historic events

Gadhafi calls
for reparations
for African
slave trade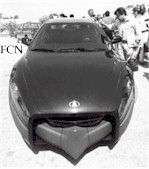 TRIPOLIóLibya launched a rocket onto the automotive scene Sept. 6 with the unveiling of a "state of the art" prototype of its new automobile, "Sayarat Saroukh El-Jamahiriya" or the "Libyan Rocket."

Unveiled during a week of celebrations marking the 30th anniversary of the September 1 Revolution that brought Libyan leader Muammar Gadhafi to power, the unveiling was the first time a Libyan company has introduced a new car. It will be 100 percent Libyan produced, a spokesman said. Libya plans to open a manufacturing plant in October where the car will be assembled.

"The car was two years in the making," said Dokali Megharieff, chairman of the Libyan-Arab Domestic Investment Co. (LADICO), to more than 100 journalists in town for the celebration and a special session of the Organization of African Unity (OAU). He added that "the drive behind producing such an unprecedented high-safety car was mainly due to the great human and material losses suffered by Libyan families during an unjust, oppressive regime of sanctions in the past years."

The mid-sized, five passenger car boasts a variety of hi-tech and safety devices. Libya plans to produce 50,000 cars per year during the first several years. The car has special front and rear-end designs that help to reduce fatalities during collisions through the creation of a "crumble zone;" anti-roll devices; a "smart" collapsible bumper and tires that resist blowouts. Also, the car uses Xenon technology, which reduces headlight glare to oncoming traffic. The rocket-shaped prototype is Libyan green with tinted windows.

The Libyan Rocket was introduced by LADICO, a private Libyan company that employs over 1,000 people in its Automobile Division. Mr. Megharieff said Libyan leader Muammar Gadhafi "spent weeks and days shaping and reshaping his ideas" for the car on the drawing board before LADICO scientists took the concepts and shaped them into reality.

Mr. Megharieff said that while the car was produced as a result of U.S.-led sanctions, the international embargoes on his country were "the worst and inhumane thing in the world. But when you have pressure on you, you must have solutions," he said.

Photo: The Libyan Rocket

Copyright © 1999 FCN Publishing
" Pooling our resources and doing for self "