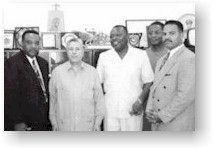 TRIPOLI—It was a familiar road, but one not traveled in many years.

The road from Tripoli's main airport to the center of town had been useless to international visitors during the last seven years as a result of recently suspended UN sanctions preventing international flights to this capitol city.

The ban on such flights meant that many people had to travel over hundreds of miles of desert road from the Tunisian border or from Cairo to reach Tripoli. During the years of sanctions, thousands of Libyans and visitors lost their lives in traffic accidents on the roads, officials said.

But in the early hours of Aug. 30, a Nation of Islam delegation in town to participate in the 30th anniversary of the September 1st Revolution and to observe the 4th Extraordinary Summit of the Organization of African Unity (OAU) traveled the familiar road once more.

"I knew I was experiencing something that represented tremendous relief for the Libyan people," said Nation of Islam Chief of Staff Leonard F. Muhammad, regarding the arrival of international flights. He said that people who had health care needs where transportation was essential suffered because they couldn't get a flight out of the country to receive treatment.

"Our not being able to use the road was a small sacrifice compared to what the Libyan people were suffering," he said.

Bro. Leonard was the head of a delegation that included Assistant Supreme Captain Mustapha Farrakhan, International Representative Akbar Muhammad, Minister of Health Abdul Alim Muhammad and Final Call Editor James G. Muhammad. He said the occasion of the 30th anniversary of the Al Fateh Revolution and the OAU meetings (Sept. 1-10) may prove to be a pivotal point in African history. The OAU had come to Libya to declare their unity and their determination to form a United States of Africa.

"The tremendous turnout (of heads of state) is an indication of the waning of Western influence over African leaders. A few years ago, the conference never would have been held. And now you see a record number of 43 leaders would come to Tripoli at the invitation of Muammar Gadhafi, which I think was significant," he said.

Now, Bro. Leonard said, African leaders must take responsibility for bringing peace to their countries and that there is a role for Blacks in the Diaspora to play.

"I'm hoping we in the Nation of Islam can take advantage of this new climate and bring people into Africa to help with her effort to stabilize her communities, do something about health care, local and economic development issues, infrastructure development … these are big opportunities for Black people who would like to go there and find opportunities instead of walking around America with an empty briefcase," he said.

Akbar Muhammad said the historic summit was a way for African leaders to exonerate Col. Gadhafi from isolation imposed on him. Quoting a verse in the Holy Qur'an, Bro. Akbar said, the enemy plans and Allah (God) plans and Allah is the best of planners.

"The (enemy's) plan was to crush the revolution and Muammar Gadhafi as a Libyan and world leader. How the plan backfired," he said, "is he ended up turning his focus to Africa" because the Arab world didn't support him under sanctions.

The African countries, at a meeting of the OAU in 1998, voted to defy the ban on international flights to Libya.

The Africans felt they were suffering as a result of the sanctions on Libya because Libya had supported governments financially and sent medical aid and set up schools in other African countries. Bro. Akbar said Libya lost $30 billion as a result of the sanctions.

Both, Bro. Leonard and Bro. Akbar, said the move toward a united Africa with its own parliament, common currency and military is good. They added, however, that African leaders must adjust their egos in order for the transition to work.

"Africa has to stop the killing, stop the coups and create another political system other than taking the mantles of power by force creating instability in these countries," said Bro. Leonard. "Liberia, for example, destroyed its total infrastructure over which group would lead the nation. Obviously, it would have been better if they had found a better method to debate who would lead the nation."

Bro. Akbar pointed out that the three main countries vital to Africa's security—Nigeria (most populous), the Sudan (largest land base) and the Democratic Republic of the Congo (most mineral wealth)—are in turmoil.

He noted that the massive display of military might by Libya in the anniversary parade held Sept. 7, and the participation by troops from other African nations, was symbolic that if the armies united, "we can defend our borders and be able to challenge those who oppose peace."

Bro. Leonard said the upcoming Congressional Black Caucus (CBC) meeting in Washington, D.C., would be an opportune time for Black legislators to voice support for the effort of a United States of Africa.

"It would be wise for the CBC to support that call in the interest of Africa and the stability of our people. I hope they would back this move and help nurture Africa into this whole new era," he said.

Copyright © 1999 FCN Publishing
" Pooling our resources and doing for self "